Merry Christmas
From DreamHomeDecorating.com!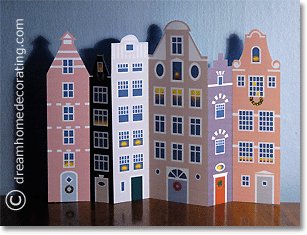 Here's my little Christmas present for you. It is inspired by the beautiful old houses of Amsterdam at Christmastime, and you can download & print it to use both as a Christmas card and a Christmas decoration.

(If this is difficult to read as an e-mail, read this letter online.)

Enjoy!






To download, you will need Adobe Reader installed on your computer. You can get it here (a new window will open so you can download it without leaving this page).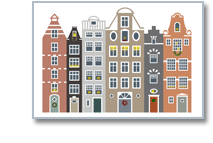 Please note that this is a copyright-protected design, so please do not use it if you are not in agreement with this site's Terms of Use.

Right-click here to download your Christmas card: Choose "Save Target As" or "Save File As", then select where you want to save the file on your hard drive. Once you have saved it, double click to open and print.



How To Make Your Card:
You need
white or cream-colored A4/letter size card (160gsm or heavier)
a cutting mat
a metal ruler
a craft knife
scissors
a (bone) folder or a blunt knife
standard (DL) envelopes for sending


When you cut the shape out, pretend there's an imaginary cutting line where a white pattern goes all the way to the edge of the design: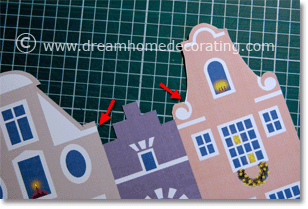 Next, locate the dividing line between each house and the next. Use a bone folder or the blunt edge of a knife to press grooves into the paper along these lines, to make sure you get sophisticated, clean, straight folds between the houses: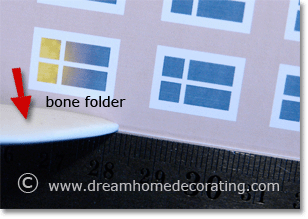 Use the back of the Christmas card for your message, and fold to fit the size of your envelope: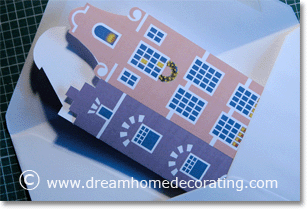 There, you're done!


If you like this project, please feel free to forward it and share it with your friends.

If you received this issue from a friend, why not subscribe to my newsletter so you won't miss out on all the creative home decorating info, ideas and news in upcoming issues.

Enjoy the Holidays!



---
Legal Stuff

How did you get on this list? You subscribed to Dream Home Decorating News through a double opt-in feature. I never add names to my mailing list except by request. I hate 'spam' and would not dream of subjecting others to it.

If you need to make changes in your subscription or wish to unsubscribe, click the link at the bottom of this newsletter. This only takes a minute, and by making these changes yourself, you can be sure the information I receive is correct.

I never rent, trade or sell my e-mail list to anyone for any reason whatsoever. You'll never get an unsolicited email from a stranger by joining this list.

Please feel free to pass on this issue to friends and associates - just keep the entire message intact and unaltered.


"See" you again on January 1, 2011 -
Renate Hering-Shepherd
www.dreamhomedecorating.com