Hello ...



And welcome to your new (or your first!) issue of Dream Home Decorating News. This month's issue is London-themed, with DIY ideas for parties, walls, and creative 'room jewelry'. Enjoy!

If you like this newsletter, please forward it to share it with your friends.
If you received this issue from a friend, please subscribe so you won't miss out on all the creative home decorating info, ideas and news in upcoming issues.

Thanks for joining me today, and enjoy this issue!
Renate Hering-Shepherd

PS) If the newsletter is difficult to read as an e-mail,
read this issue online.


---
IN THIS ISSUE:
---
OMG - It's The Jubilee!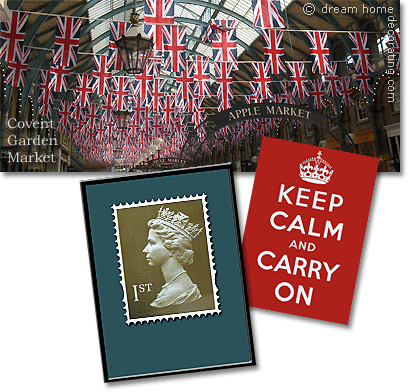 Britain is celebrating! Her Majesty Queen Elizabeth II (a.k.a. The Queen
) was only 25 years old when she succeeded her father, King George VI (as seen in The King's Speech
) to the throne.
60 years later, we're celebrating her Diamond Jubilee with street parties up and down the country, and on Sunday with a Jubilee Pageant on the River Thames (covered live by the BBC in many parts of the world).
The wartime poster above has long been 'updated' with various peacetime flippancies (similar items here
):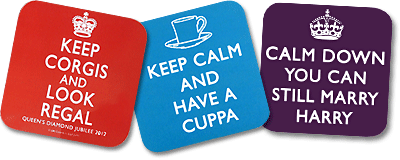 And if you can't celebrate with us in person, there are still ways to share in the fun! For example, click this 'soundtrack' for background music while you peruse the newsletter. (Jerusalem is our much-loved 'other' national anthem. Even Wills and Kate sang it at their wedding! The other recordings all prove that, whatever the Pomp And Circumstance, Brits know when not to take themselves too seriously :-)
So here are my post cards to you: somewhat patriotic DIY ideas and fun decorating tips, from London with love. Enjoy!
---
Post Card 1:
Love Letters To Liz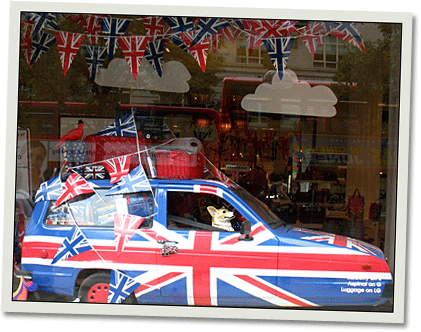 At the moment, our public places and shop windows are all covered in Union Jacks and Queenalia. Think car-driving corgis and tiny solar-powered, pink-clad Queen figures doing a very realistic royal wave.
I do like the Union Jack cushions and picnic paraphernalia ...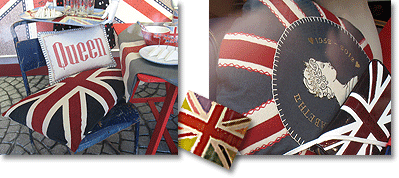 ... but I'm even more impressed with the creative handmade bunting.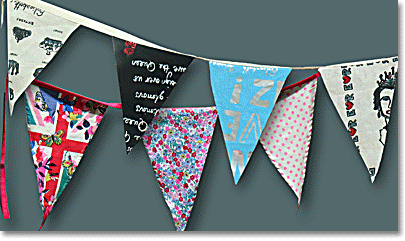 Some of the celebratory bunting designs I've come across:

♦   a hand lettered national anthem;
♦   "We Love Liz!"
♦   an Andy Warhol style portrait of the Queen with the caption 'E♥R' (Elizabeth Regina).

My favorite, though, were little drawings of the Queen's weekday and Sunday crowns (plus special crowns for birthdays and holidays):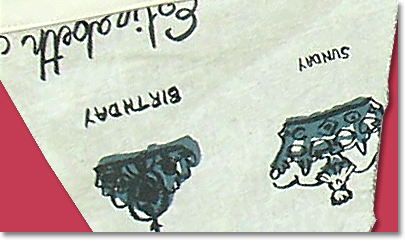 All these ideas can of course be translated into any other nationality!
How about ...
♦   handwriting parts of a founding document in the colors of your flag, and cutting it into triangular 'quotes' to make bunting? Or,
♦   decorate your bunting with a national emblem/flower or another 'key ingredient' of your culture. Or,
♦   you could play around with the actual design of your flag and create color and pattern variations.
Here is a vintage-looking Fourth of July bunting idea:


For the red-and-white stripes, I used some of the wonderful vintage French ticking my friend Wendy Lewis sells in her online shop. And the blue ground for the white stars could just be made from cast-off denims.
---
Post Card 2:
Feature Walls at Selfridges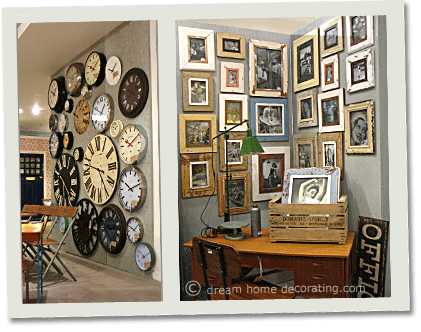 Selfridges is one of our posh department stores here in London, and their shop windows have a reputation for being rather cool. (Post Card 1 is a current Selfridges window!)
This card shows two pics I shot at Selfridges last week. Most people have a lonely clock hanging somewhere in their home, but I think there's wonderful scope in clustering large and small clocks, particularly if you have friends or family in other time zones!
The other photo shows a lovely collection of tightly hung, 'shabby' picture frames. Even with frames in different colors and sizes, you can create a sense of unity by using pictures in a similar style and color scheme, like black-and-white photos, sepia prints or drawings.
---
Post Card 3:
The Opposite Of Zen ...
... is this: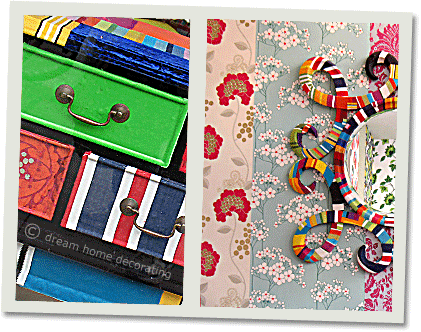 I found this great little shop full of custom-made colorful upholstery and tactile, fabric-covered accessories in Shoreditch (East London). You can commission a gorgeous piece of furniture from Squint Ltd, but just looking at their work can give you loads of inspiration to create your own pieces out of fabric, glue, and something old with good bones.
For example, when you look closely at these 'sweetwrapper' chandeliers, you can see that the fabric wrappers are actually quite coarsely done. You could gussy up an inexpensive chandelier in this style and create a personalized, one-off piece of room jewelry! See how they've covered even the 'candles' in fabric - alternatively, you could go for a mix of painting and fabric 'découpage' to save yourself time. Endless possibilities!

And that's it for this time! Have a lovely summer (or a nice rainy winter, Down Under) - and 'see' you again on August 1, 2012!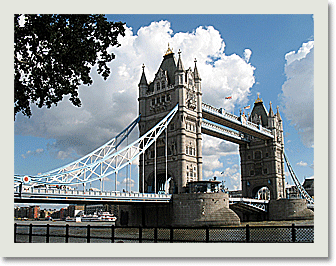 All the best for you & your loved ones,

---
Get Answers:

Looking for specific home decorating information, or want a question answered? Search Dream Home Decorating and the 'net here!



---
Legal Stuff

How did you get on this list? You subscribed to Dream Home Decorating News through a double opt-in feature. I never add names to my mailing list except by request. I hate 'spam' and would not dream of subjecting others to it.

If you need to make changes in your subscription or wish to unsubscribe, click the link at the bottom of this newsletter. This only takes a minute, and by making these changes yourself, you can be sure the information I receive is correct.

I never rent, trade or sell my e-mail list to anyone for any reason whatsoever. You'll never get an unsolicited email from a stranger by joining this list.

Please feel free to pass on this issue to friends and associates - just keep the entire message intact and unaltered.


Here's to a gorgeous home – yours!

"See" you again on August 1, 2012 -
Renate Hering-Shepherd
www.dreamhomedecorating.com