Hello ...



And welcome to your new (or your first!) issue of Dream Home Decorating News. This month's issue comes with a little Christmas present for you, along with my wishes for Happy Holidays and the Best New Year Ever.

If you like this newsletter, please forward it to share it with your friends.
If you received this issue from a friend, please subscribe so you won't miss out on all the creative home decorating info, ideas and news in upcoming issues.

Thanks for joining me today, and enjoy this issue!
Renate Hering-Shepherd

PS) If the newsletter is difficult to read as an e-mail,
read this issue online.


---
IN THIS ISSUE:
---
Merry Christmas!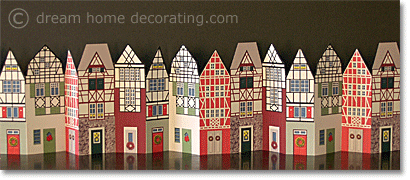 This little piece of Christmas stationery/decoration is my special present for you. I've loved creating it! The idea was inspired by the beautiful half-timbered houses that were such a big part of my German childhood (my great-aunt Änne lived in one of the oldest houses in town, everything was wonky - I have no idea how she kept her armoire from falling over).

The design folds harmonica-style and fits comfortably into a standard envelope, so you could give it away as a little add-on to your Christmas greetings, or write your Christmas greetings on the back of the houses for an out-of-the-ordinary xmas card/ornament.
If you want to create a long row of houses, use the connector flap for gluing; otherwise just cut it off. You can illuminate the 'village' from behind with LED tea lights: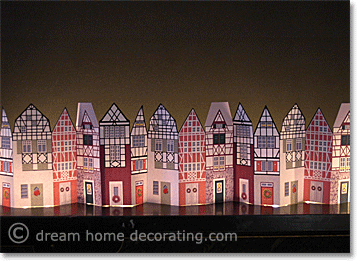 Before You Download ...
Here's what you need:
white A4/letter size card (as heavy as your printer will tolerate);
a ruler;
a bone folder or a blunt knife;
scissors;
glue.
The rest is easy: use the bone folder/knife to score all folding lines, including the flap. This will give your village a clean look & help it stand up straight (not that real half-timbered houses generally do ;-)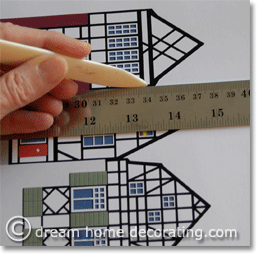 Here's what you need to know:
This is a copyright-protected design, so please do not use it if you are not in agreement with this site's Terms of Use.
You will need Adobe Reader - if you don't have it installed on your computer, you can download the latest version here (a new window will open so you can download it without leaving this page).
Click here to download your Christmas present!
---
Fast & Frugal Christmas
Decorating & Gift Ideas

I promised you I'd put loads of quick & easy Christmas gift ideas together for you in this newsletter. Well, here they are!
For good measure, I've also done some research into Christmas decorating and Christmas tree ideas ... Enjoy!
---
More Free Stuff ...

Here's a link to some wonderfully nostalgic prints, copyright-free for private use. They're not particularly Christmassy - you can use them all year to spruce up your giftwrap, create fabulous gift tags or personalized greetings.
---
Not Just Any Old Dream Home ...

I came across this amazing photoshoot a while back, and even though it's all summery and overflowing with roses, I'll share it now, for the heck of it (and if you're in Oz the timing's perfect).
Sophia Loren wasn't the only one looking amazing in the Sixties ... her villa was a stunner, too. 50 rooms, dripping with antiques and precious metals. Very very Italian!
And with that, I'll sign off for this year. I wish you happy, relaxed Holidays and a Seriously Good New Year!
All the best,

---
Get Answers:

Looking for specific home decorating information, or want a question answered? Search Dream Home Decorating and the 'net here!



---
Legal Stuff

How did you get on this list? You subscribed to Dream Home Decorating News through a double opt-in feature. I never add names to my mailing list except by request. I hate 'spam' and would not dream of subjecting others to it.

If you need to make changes in your subscription or wish to unsubscribe, click the link at the bottom of this newsletter. This only takes a minute, and by making these changes yourself, you can be sure the information I receive is correct.

I never rent, trade or sell my e-mail list to anyone for any reason whatsoever. You'll never get an unsolicited email from a stranger by joining this list.

Please feel free to pass on this issue to friends and associates - just keep the entire message intact and unaltered.


Here's to a gorgeous home – yours!

"See" you again on February 1, 2012 -
Renate Hering-Shepherd
www.dreamhomedecorating.com