Hello ...



And welcome to your new (or your first!) issue of Dream Home Decorating News. This month's issue has 40+ Easter Decorating ideas for some last-minute festive fun & gorgeousness, as well as six quick Spring Fresher-Uppers. Enjoy!

If you like this newsletter, please forward it to share it with your friends.
If you received this issue from a friend, please subscribe so you won't miss out on all the creative home decorating info, ideas and news in upcoming issues.

Thanks for joining me today, and enjoy this issue!
Renate Hering-Shepherd

PS) If the newsletter is difficult to read as an e-mail,
read this issue online.


---
IN THIS ISSUE:
1. Happy Easter Decorating!
2. Six Quick Spring Decor Updates
3. Legal Stuff
---
40+ Easter Decor Ideas
It was really Tonie's idea (below) that sent me on an afternoon mission to hunt down the nicest Easter Decorating Ideas for you.
And I found loads!  From easy, fun Easter egg decor to elaborate mantel displays, from simple table settings to elegant tablescapes, and let's not forget scrumptious Easter recipes (deviled eggs, hot cross buns - it's all there). Click the link & have a look!
---
Retro Easter Eggs
If you're dyeing your own Easter eggs, try this for a "retro" look: Instead of using white eggs, use brown ones. Because brown eggs come in different degrees of 'brownness', you'll get a beautiful variety of shades, and the brown eggshells cover up most of the small blemishes that occur in the dyeing process.
Even if you stain them with a run-of-the-mill Easter egg color kit, the eggs will look subtle and refined (in a retro way). Instead of like this ...


... they'll look more like this:



To use dyed eggs as place 'cards', tie a string or a strip of pretty fabric around the middle, attach a name tag & place the egg on a plate or a napkin. Done!
Come to think of it, you don't even need to dye  the egg. Just find a nice ribbon & give each egg a colorful cummerbund :-)
For a more elaborate version, create little Easter nests from shredded kraft paper. (Instructions here!)
---
Reader Craft Idea:
Li'l Egg Lites
Fellow Dream Home Decorator  Tonie sent this sweet Easter craft idea from Saint Petersburg, Russia:

She says, "... all you need is a half eggshell and a tea light, which is just the right size to fit into the shell. You could add some wax (light a candle and drip the wax around the tea light inside the shell, like we did), to get a more natural look. There! You're done!
Put several eggshell candles in tea light holders or in fancy eggcups. I am not a fan of egg colouring, I've never liked the results much - except for gilding maybe ;-) - so for me this works very well. No mess, half an hour's effort and NO extra money spent (most of us have the ingredients at home!) - and they do look cool. So here are the piccies!
Happy Easter to everyone at Dream Home Decorating!"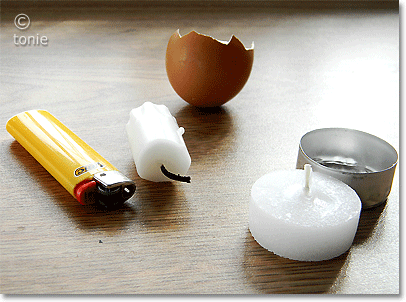 Thank you, Tonie, for sharing this! What a lovely idea! Much appreciated!


And if you, Dear Reader, happen to like coloring your Easter eggs, there's of course some scope here to play around with yummy color schemes:
Use dyed eggshells, and/or
paint them a different color on the inside, and/or
tint some hot wax with dye pellets, and create your own eggshell candles using wire-core wicks.
Have fun!
---
Six Quick Spring Decor Updates
Spring Has Sprung ...
... and there's a promise in the air of lighter, longer days and new beginnings! Whether you're planning a major makeover this year or 'just' a few little new touches, I wish you great success and satisfaction with your choices.

The following projects can all be done in under a day, some in half an hour. Enjoy!
Paper a single wall. It can give a room a major lift! And it's a risk worth taking - should the look not be what you expected, you won't have wasted a lot of money.)
Install a new window treatment, for example a soft curtain to replace a blind. This can completely change the feel of a room.
Rearrange the display on your bedside table. It's the first thing you see when you wake up - make sure it gives you a boost for the day! For example,

replace the lampshade on your bedside lamp;
lean a large framed photo/poster against the back wall to create a bold statement;
add a plant;
hang a tiny book hutch nearby (if you like curling up with a book).
Slipcover a chair, or add a lovely cushion to it.
Treat yourself to a new centerpiece on the dinner table, or to some gorgeous new table linen. (For inspiration, check out this gallery of fresh, stylish dining rooms & tablescapes)!
Change the headboard of your bed (have a look at these bedroom variations to see how a change of headboard & wall color can change the mood of a bedroom!)
And that's it for now! Have a gorgeous spring (or autumn, Down Under).
All the best for you & your loved ones,

---
Get Answers:

Looking for specific home decorating information, or want a question answered? Search Dream Home Decorating and the 'net here!



---
Legal Stuff

How did you get on this list? You subscribed to Dream Home Decorating News through a double opt-in feature. I never add names to my mailing list except by request. I hate 'spam' and would not dream of subjecting others to it.

If you need to make changes in your subscription or wish to unsubscribe, click the link at the bottom of this newsletter. This only takes a minute, and by making these changes yourself, you can be sure the information I receive is correct.

I never rent, trade or sell my e-mail list to anyone for any reason whatsoever. You'll never get an unsolicited email from a stranger by joining this list.

Please feel free to pass on this issue to friends and associates - just keep the entire message intact and unaltered.


Here's to a gorgeous home – yours!

"See" you again on June 1, 2012 -
Renate Hering-Shepherd
www.dreamhomedecorating.com