Home

›
Bedroom Colors
› Wall & Headboard Ideas
Bedroom Wall Colors: 6 Bedroom Color Ideas
For A Provençal Bedroom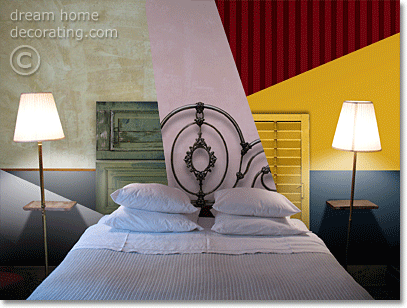 Bedroom wall colors may be all you need to transform a bedroom from blah to dream space.  This small bedroom in Southern France, with typical limewashed walls and a simple bedstead, will get 6 virtual makeovers that use only bedroom paint colors and headboard ideas.

Bedroom Wall Colors For A Sanctuary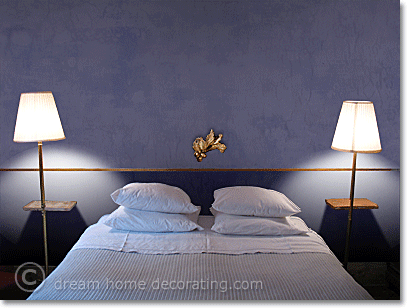 Purple bedroom wall colors:
A lighter purple tone was painted above the gilt 'chair rail' stripe.

Purple bedrooms in bluish plum hues make very intimate and soothing spaces.
Paler tints of purple will give your bedroom a calm, clear feel, whereas deeper bedroom paint colors create a peaceful and very personal 'retreat' space - a serene, calming sanctuary.
Accent color for a purple/yellow complementary color scheme): Use gold for a truly elegant look. If that feels too strong, go for a muted, brassy yellow or mustard yellow.
You can jazz up a simple platform bed by painting a gilt stripe at chair rail height - add a small giltwood ornament in lieu of a headboard, too (fragments look particularly artsy).
Instead of using giltwood, paint or attach a gilt 'tattoo' above the bed - even the simplest designs (e.g. a lozenge) create an amazing effect when they reflect a golden sparkle into the room!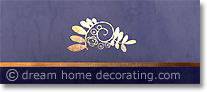 Sweet Pink With A Vintage Touch

Pink bedroom wall colors:
A 'chocolate ice cream sundae' combination of chalky, powdery tones.

There's no need for pink bedrooms to look girly and 'princess' - unless you want them to, of course. If you don't, use a chalky tone of pink, with hints of grey or purple, for a gentle and welcoming but non-sugary effect.
Deeper, saturate pink tones are 'advancing' colors (like red), so they will make a space look smaller than it really is.
The elegant lines of a dark wrought-iron headboard look their best against a pale wall. Painted white, the same headboard would stand out better against deeper, darker bedroom wall colors.
Best wood stain: Dark mahogany
Check out more pink bedrooms from Europe, plus a set of male-compatible pink color schemes :-)

Tranquil Bedroom Wall Colors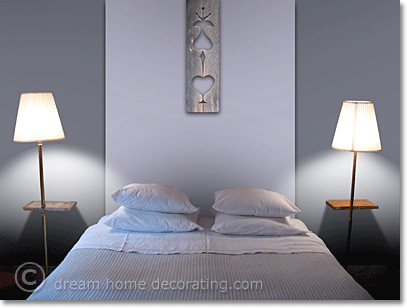 Blue bedroom paint colors:
Two-tone color scheme with added terracotta and grey.

Blue bedrooms (as well as blue/white ones) spell easy decorating success, and unless you use large vivid patterns, blue bedrooms look invariably calm and relaxed.
The best accent color for blue is its complementary, orange. Don't feel you have to use bright orange, though: natural terracotta, aged golden softwoods and similar warm reddish earth tones work even better (especially in a bedroom).
Blue/yellow are opposing colors on the 4-Primary Color Wheel, and they're very popular bedroom colors, too.
For instant drama (should it be required), paint a 'headboard' as wide as your bed all the way up to the ceiling. (Btw, the ornamental wooden plank on this wall was 'imported' from Swiss chalet style.)
Check out 9 additional blue color schemes here.
Best wood stains for blue bedrooms: Any.

'Aged' Bedroom Walls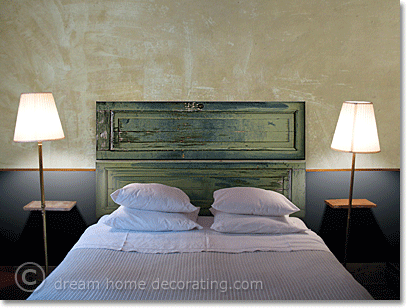 Green bedroom wall colors:
Shabby-chic, weatherbeaten green doors are the protagonists
in this blue-green, 'natural' color scheme.

Green bedrooms can look wonderful. For a pleasing natural look, always combine several hues of green. Shabby surfaces can give bedroom wall colors that added bit of 'history', a broken-in flair that goes well with vintage bedspreads and antique shop finds.
Best accent color for green: Red is the complementary of green and it always works a treat. Orangey reds as well as muted brick reds and earthy reddish browns (like red ochre) look great, too.
If you use an old door or ancient shutters as a headboard, do age the walls a little, too. Use 'manipulative' surface treatments (as detailed in the article on wall color ideas) to create old-world walls. For example,
◊  colorwash;
◊  add texture, and/or
◊  manipulate the topcoat paint.
Here are 8 more combinations with shades of green color.
Best wood stains for green bedrooms: Cherry & rustic cedar.

Mediterranean Style Bedroom Wall Colors

Yellow bedroom paint colors:
A blue-yellow opposing color scheme with Mediterranean flair.

Yellow bedrooms come in all tints and shades, from palest cowslip via sunny, 'golden' yellow to mustard (which is tinged with black, brown, green and orange).
Yellow hues make excellent bedroom colors for north-facing rooms: They warm up the space and create an illusion of sunshine.
Some people get quite cranky when they're surrounded by yellow, so make sure you test your bedroom paint colors thoroughly before committing.
Best wood stains: Cool dark browns.
Check out more yellow color combinations here!
"Regal" Red:
Seriously Luxurious Bedroom Wall Colors

Red bedroom wall colors:
Intimate, luxurious and sexy.

Red bedrooms look particularly good when you use a deep, glowing, warm red.
Check out more 'rustic' red color palettes here.
Also, have a look at French interior color combinations with red (very pretty).

Popular bedroom colors with dark red:
cool grey & milky white with warm red;
warm grey & linen white with cool red;
black & gold for accents.

For added luxury, use a suede-effect paint or a stencil/stripes in a deeper tone.
Or, stencil matt-on-eggshell in one single hue.
Best wood stains: dark hardwoods.
Picture Galleries


Bedroom Color
Photo Galleries
Beyond bedroom wall colors:
If you would like to browse inspiring bedrooms by color, do check out my Photo Galleries of real  bedrooms in popular bedroom colors.
You'll find easy-to-copy, inspiring bedroom color schemes in (mostly) European styles.
Explore more Bedroom Decorating Colors:
Click a Pic!
Mini Bookshop
(In Partnership With Amazon)
Yet to find the information you're looking for?
Type a word or phrase into the search box below: