Hello ...



And welcome to your new (or your first!) issue of Dream Home Decorating News. This month's issue contains a superbly simple fall decorating idea that you can download, print & make for your own home or as a gift. Enjoy!

If you like this newsletter, please forward it to share it with your friends.
If you received this issue from a friend, please subscribe so you won't miss out on all the creative home decorating info, ideas and news in upcoming issues. (Free printable Christmas card included in December!)

Thanks for joining me today, and enjoy this issue!
Renate Hering-Shepherd

PS) If the newsletter is difficult to read as an e-mail,
read this issue online.


---
IN THIS ISSUE:
From London, With A Sigh ...
---
From London, With A Sigh ...

I so cannot believe fall is already upon us! For some of my friends, this is their favorite time of the year. Not for me, though!
Well, never mind ... mustn't grumble ... and to cheer myself up, I've created a little gift for you to brighten up your winter months as well :-)
Read on for the instructions and download links!
---
Free Craft Gift:
Super Simple Paper Lantern!

Many of you have asked me to include more crafts in the Dream Home News, so the following is for all of you with crafty fingers - and for those with not-so-crafty fingers, because these paper lanterns are extremely easy & quick to put together!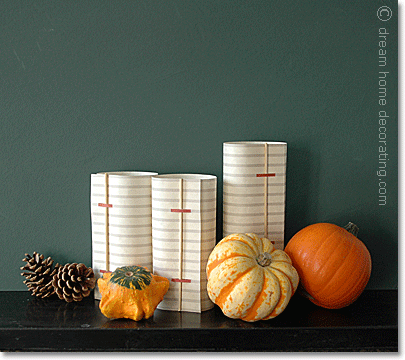 You will need:
translucent, printer-compatible paper, e.g. parchment or vellum;
1 kebab stick/skewer per lantern (alternatively, you could use skinny twigs, bamboo sticks, straws halved down the middle, even narrow strips of colored card will do nicely);
(metal) ruler;
craft knife;
cutting board.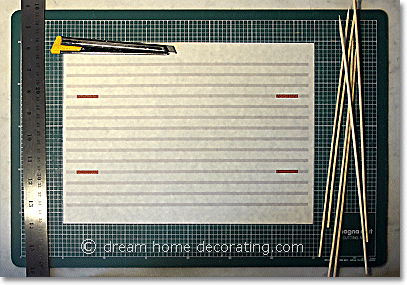 Step 1:
Print out a pattern sheet.
Step 2:
a) Cut away all paper outside the striped rectangular area (indicated by green broken lines, below).
b) Cut along the tops & bottoms of the narrow red 'bars':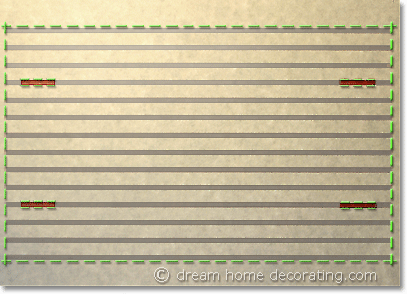 Step 3:
Roll the paper up from the short sides, superimposing the red 'bars' as in the photo: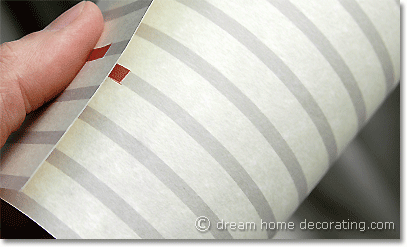 Step 4:
Carefully 'thread' the kebab stick underneath the red bars, through both layers of paper. (If your kebab stick is too long, shorten it first with a sharp knife or pruning shears.)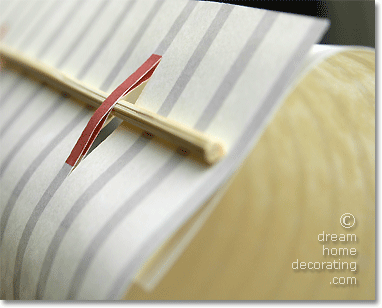 Step 5:
Use the lantern with LED tea lights only. If you're using live tea lights, put them in tall glasses and never leave them unattended. Be safe!!!!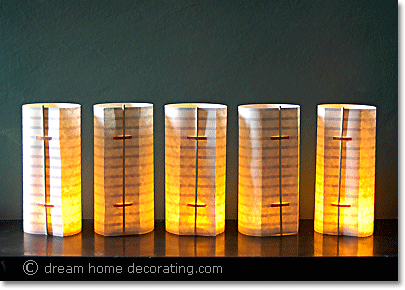 I've added a black-and-white version of the design, in case you want a more neutral color scheme or would like to print your paper lanterns onto colored paper.
You can adapt this craft pattern to unlimited color schemes, either by using colored paper for the lanterns, or by painting the kebab sticks (I dipped mine in India ink & glossed them up with a bit of PVA glue).
You could also cut out new paper 'bars' in a color of your choice, and glue them over the printed red/black ones.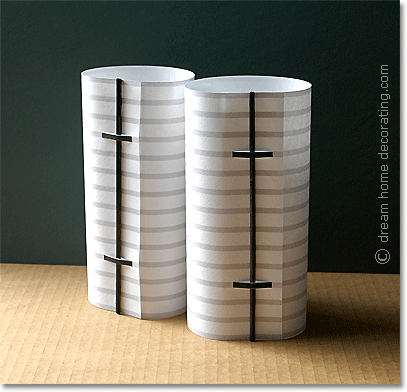 To download ...
... you will need Adobe Reader (the latest version is recommended) installed on your computer. You can get Adobe Reader here (a new window will open).
If you want to open the files in your browser window, just click on the links. However, if you want to download the files to view later, then right-click on the links and choose "Save Target As" or "Save File As". Then select where you want to save the file on your hard drive.
Once you have saved the file, locate where you saved it, and double click to open.
In order to print your lantern pattern, open the downloaded file, and select the "Print" option from the menu.

Right-click to download the paper lantern in gray & red.
Right-click to download the paper lantern in gray & black.

N.B.: These paper lanterns are not entirely round - they have something of a bean-shaped footprint. I find it adds to their charm ;-)
Have fun ... more paper lantern craft patterns & ideas here!
---

And that's it for this time - 'see' you again on December 1, 2012!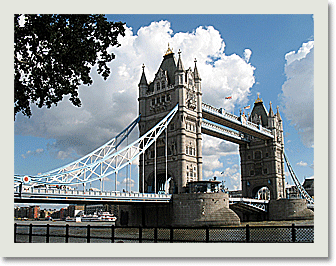 All the best for you & your loved ones,

---
Get Answers:

Looking for specific home decorating information, or want a question answered? Search Dream Home Decorating and the 'net here!



---
Legal Stuff

How did you get on this list? You subscribed to Dream Home Decorating News through a double opt-in feature. I never add names to my mailing list except by request. I hate 'spam' and would not dream of subjecting others to it.

If you need to make changes in your subscription or wish to unsubscribe, click the link at the bottom of this newsletter. This only takes a minute, and by making these changes yourself, you can be sure the information I receive is correct.

I never rent, trade or sell my e-mail list to anyone for any reason whatsoever. You'll never get an unsolicited email from a stranger by joining this list.

Please feel free to pass on this issue to friends and associates - just keep the entire message intact and unaltered.


Here's to a gorgeous home – yours!

"See" you again on December 1, 2012 -
Renate Hering-Shepherd
www.dreamhomedecorating.com