Home

›
Lights & Lanterns
› Printable Paper Lantern
Make A Paper Lantern:
Free Printable Paper Lantern Craft Idea
Make a paper lantern with free templates: simply print, cut & glue these paper lantern crafts and you're done.
The lantern design does away with glued 'back' seams: The elegant closures are the seams, so these lanterns look great from every angle!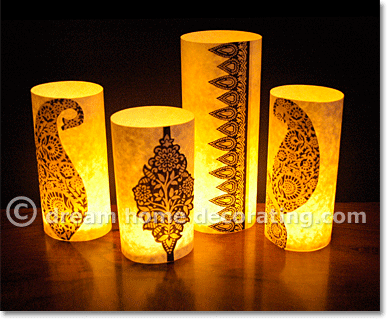 Oh, and did I mention they also make nice printable gifts? Just cut out a paper lantern making kit, flat-pack and send off with gluing instructions.
How To Make A Paper Lantern:
Materials & Tools
You will need:
quality, printable parchment paper
(metal) ruler
craft knife
cutting mat
scissors
roll-on adhesive or a UHU stick (the purple UHU glue stick is great because you can see exactly where you've put the glue. It dries completely clear.)
battery powered tea lights (LEDs) - [caution: do not use live candles inside these paper lanterns!]
How To Make A Paper Lantern: Step 1
a)  Download & print the paper lantern craft pattern of your choice.
b)  Cut out the template, making sure you cut inside the lines at the top, bottom & left side, so that the closure is the only black element: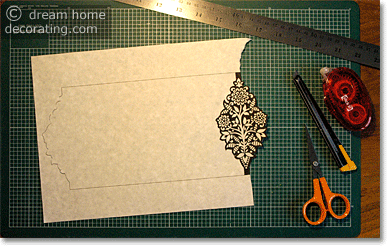 How To Make A Paper Lantern: Step 2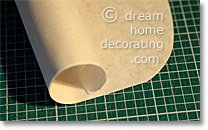 In the finished paper lantern, the left and right edges of the paper overlap to give the printed closure a 'shadow backing' of the same size and shape.
To prepare the shape, place the design face down & roll the sheet up from the short unprinted side, in the direction of the closure.
Test the look: Correctly aligned, the printed design should have a paper 'shadow' of the same size and shape behind it.
How To Make A Paper Lantern: Step 3
Gluing it all together: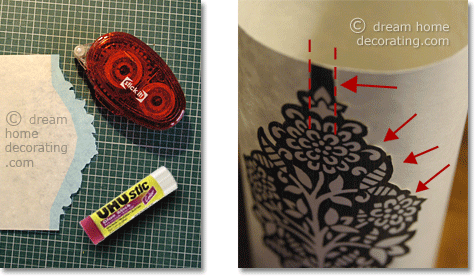 With the printed design face down, distribute glue along the short paper edge, making sure that all extruding bits have glue on them (as indicated above left, in blue).
Carefully roll the paper up again. Check that the edges underneath line up with the printed design on top.
Glue together once all sides are perfectly aligned.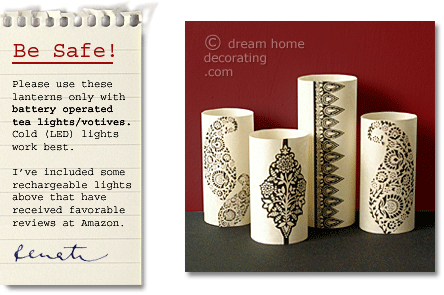 How To Make A Paper Lantern, Part 2:
Design Your Own Paper Lantern Craft Pattern!

The designs on this page were made using copyright-free stencils from a lovely little book by K. Prakash: 250 Stencil Designs from India (Dover Design Library).
If you would like to design your own paper lantern crafts, here are some books to check out:

So how do you make a paper lantern from one of these designs?

a) Create a master copy/template:
Scan or copy (if necessary, resize) a design/stencil - or draw your own!
Print & cut out the design.
Place it on the right-hand side of a white sheet of paper (A4 or letter size)
Draw the upper and lower borders of your template.
Copy the left border of the design to the left margin of your paper lantern template.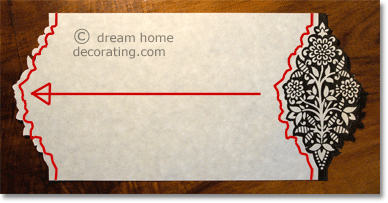 The designs that work best have a clear, uninterrupted, simple outline.   When you combine different stencils or patterns, make sure there's no 'dead' space between them, like there is in the photo below right - the shadow looks awkward because it's not part of the actual pattern (that's why I'm not offering this design as a download!)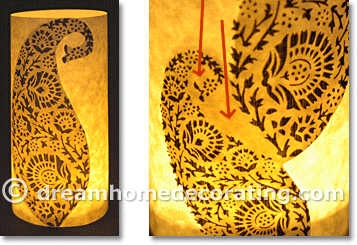 b) Make paper lanterns:
Print the finished template onto parchment.
Cut out & glue together as described above!
How To Make A Paper Lantern, Part 3:
Download Your Paper Lantern Craft Patterns!
You will need Adobe Reader installed on your computer (the latest version is recommended) in order to open and print the paper lantern craft patterns. You can download Adobe Reader here (a new window will open so you can download it without leaving this page).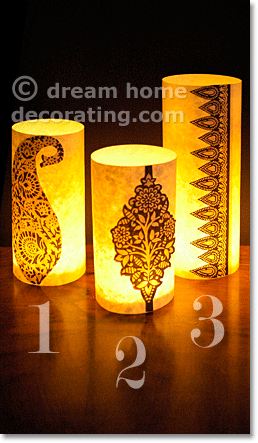 If you want to open the files in your browser window, just click on the links.
To download the files to view later, right-click on the links and choose "Save Target As" or "Save File As". Then select where you want to save the file on your hard drive.
In order to print the pattern to make a paper lantern, open the downloaded file, and select the "Print" option from the menu.

Right-click to download
Paper Lantern Craft Pattern #1
Right-click to download
Paper Lantern Craft Pattern #2
Right-click to download
Paper Lantern Craft Pattern #3
More Paper Lantern Crafts: Click A Pic!
Yet to find the information you're looking for?
Type a word or phrase into the search box below: