Welcome ...



... to your new (or your first!) issue of Dream Home Decorating News.
This month's issue is about the easiest, fastest way to makeover success - follow these 5 simple steps to get the look you want, while making the most of your time and resources.

If you like this newsletter, please forward it to share it with your friends.
If you received this issue from a friend, please subscribe so you won't miss out on all the creative home decorating info, ideas and news in upcoming issues.

Thanks for joining me today, and enjoy this issue!
Renate Hering-Shepherd

PS) If the newsletter is difficult to read as an e-mail,
read this issue online.

---
IN THIS ISSUE:
Product of the Month: Tuscan Ceramics
Tip of the Month: Makeover 101 - Five Steps To A New Look
Website of the Month: Catalog Living
Legal Stuff
---
Product of the Month:
Tuscan Ceramics

Every once in a while, I come across an irresistible product, something I can't not tell you about. This time, it's the collection of Italian pottery that Tiziana & Manuela of thatsArte.com
have put together.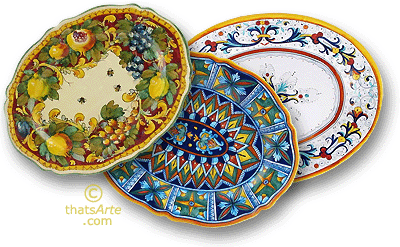 Sourced mainly from Tuscany, Umbria and Sicily, this is Italian dinnerware / kitchenware / serveware of sensational quality and superb design. You can even have your piece personalized
at no extra cost!

This Tuscan cookie jar is my favorite: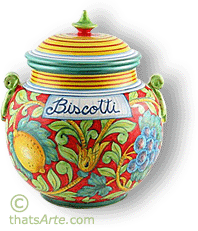 ---
Tip(s) of the Month:
Makeover 101

Looking to update a room? Unhappy with your current sofa? Needing a change of scene, but not sure how to create it? Here's the low-down.

1. State your goal
What do you not like about the room as it currently is?
How would you like to feel when you're in this room?
Have you seen any examples of how you would like this room to look?
What is most important to you about this room - the look, the feel, the comfort of use, the utilization of the space?
What do you like about the room as it currently is?

2. Set your budget

Knowing what you can afford to spend - or how much you want to spend at this point - will put a laser-sharp focus on your decorating decisions.


3. Prioritize
What would make the biggest difference in this room?

A change of color?
A change of furniture?
A new visual focus?
A different window treatment?
A new rug, carpet, or new paint for the floorboards?

4. Most expensive / hardest-to-find FIRST

Don't waste time trying to find a sofa that goes with your fashionable wallpaper, or the perfect bedding to match your newly painted accent wall. Your most expensive (or hardest-to-replace) item sets the scene, and all other decorating decisions follow on from there.


5. Wall color LAST

From a DIY point of view, this doesn't sound like a smart way to do things - you want to get the dirty work out of the way before you bring new furniture in.

But your wall color will take up a lot of visible space. It can make or break the room (unless all the furniture - or the wall paint - is strictly neutral). So you want to get it right. Test your wall paints thoroughly in situ, and make sure the color is right for all lighting conditions. It's time well invested, and you will be proud of the results!



---
Website of the Month:
Catalog Living

Have you ever leafed through a furniture catalog and wondered what in the world the stylist was thinking?

Well, someone out there has been studying the stack of suitcases underneath the bathroom sink, the chandeliers appearing out of nowhere above the garden picnic, and that giant string ball on top of the coffee table ... and tried to make sense of it all.




Enjoy!

All the Best,



---
Get Answers:

Looking for specific home decorating information, or want a question answered? Search Dream Home Decorating and the 'net here!



---
Legal Stuff

How did you get on this list? You subscribed to Dream Home Decorating News through a double opt-in feature. I never add names to my mailing list except by request. I hate 'spam' and would not dream of subjecting others to it.

If you need to make changes in your subscription or wish to unsubscribe, click the link at the bottom of this newsletter. This only takes a minute, and by making these changes yourself, you can be sure the information I receive is correct.

I never rent, trade or sell my e-mail list to anyone for any reason whatsoever. You'll never get an unsolicited email from a stranger by joining this list.

Please feel free to pass on this issue to friends and associates - just keep the entire message intact and unaltered.


Here's to a gorgeous home – yours!

"See" you again on November 1, 2010 -
Renate Hering-Shepherd
www.dreamhomedecorating.com