Home

›
Room Color Schemes
› How To Choose Paint Color
Choosing Paint Color 101:
How To Find Interior Wall Colors That Work.

Choosing paint color and interior paint color combinations:  An illustrated guide to choosing wall colors, from your first paint color ideas to finalized room color schemes. Use this surefire, step by step method for choosing paint colors & get perfect interior design color schemes every time.
Before you start ...
If you're wondering how to come up with great color combinations for your home, check out this step-by-step guide to interior design colors 101.
If you need interior design color schemes but don't know what you like or where to start looking, use these step-by-step instructions for choosing interior paint colors.
And if you already have some ideas for colors to paint a room, but aren't sure how to "translate" them into a room color scheme, here's how to turn paint color ideas into real decorating color schemes (another illustrated guide!).

For this page, let's assume you already have some basic paint color ideas in mind. Your next steps are:

Your New Living Room, Ma'am!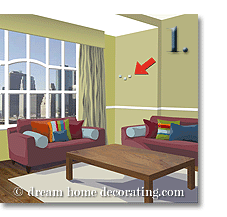 Let's pretend you've just moved into this apartment, and you're planning to paint new interior wall colors (for extremely obvious reasons!)
Your berry-colored sofas, coffee table and rug are already in the room, to make sure you're choosing paint colors against the right background and in the right lighting.
The summer sun will absolutely bake this south-facing room, so you want to look for cool paint color ideas - preferably a shade of blue that goes with the sofas and all the cushions. (Let's assume you're generally okay with blue wall color ;-)
You've already found some blue color swatches, but they're so small that it's really hard to tell what these interior paint colors would look like if they covered the entire wall.

(Return to Top)
Choosing Paint Color, Step 1:
Sampling
a) When you collect paint color swatches in your chosen wall colors, make sure you also pick up shades and tints of this color.

b) Buy a few tester pots of the most promising paint colors, a cheap brush , and large (2x3ft approx.) sheets of paper.
About Choosing Interior Paint Color Samples:
Colors look different depending on the paint finish, so make sure you test your paint color in your chosen finish!
Matt emulsion paint gives you a flat finish that can help to hide blemishes on the walls.
Eggshell and satin paints produce soft-sheen finishes that are easy to wipe clean, and
Semi-gloss and gloss paints are great for luminous, light-reflecting surfaces. You may want to reserve these for trims, and maybe for a perfectly smooth ceiling.
Faux and specialist finishes (textured, suede, metallic, etc.) can give you great additional wall color ideas, but they are also more expensive and labor intensive to apply.

Choosing Paint Color, Step 2:
How To Avoid Testing Mistakes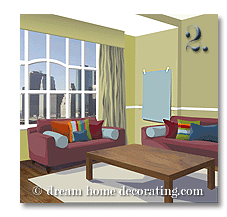 Here's a mistake many people make when choosing paint colors: They tape their color tester sheets over the old wall paint colors.
Picture #2 shows that this can't work, because you're now looking at a color combination that has nothing to do with your final color scheme!
The best way to eliminate a distracting color is to view interior wall colors against a neutral background. You can achieve this by either
painting the wall(s) with white primer, or
covering the wall behind the color tester with white paper.
If you're going to use a white undercoat (advisable if you're painting over a dark color like this one), you might as well bite the bullet and do it now, before making your final paint color decision.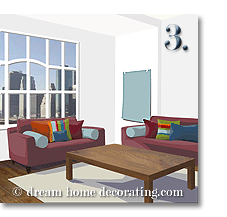 A neutral background will make choosing paint color that much easier.
Picture #3: Job done - now it's easy to see that the original duck egg blue is actually quite dark, looks a bit murky, and is at odds with the blue sky outside.
This color, on all walls, would turn the room into a deep-sea aquarium!  (Probably not quite what you had in mind.)

(Return to Top)

Choosing Paint Color, Step 3:
Adjusting Your Wall Color Ideas
Try out darker shades and lighter tints of the same color, until you find a version that works with all the other room colors (and the sky ;-)
Alternatively,
Test other wall color ideas (as in Picture #5 below).  Again, paint one, two or even three large sheets of paper in the new color and move them around in different parts of the room.
You may have to go through this process several times, but that means you'll end up choosing paint colors that really work. And the time you spend deliberating wall color ideas will sharpen your understanding of what's best for your room. This can take a while!
Most people will be tempted to take a shortcut at this point because they're impatient to slap the paint on the wall and be done. I know this because I'm one of these people! But it really pays to be slow and deliberate at this stage.

So study the room with the color samples in all kinds of light:
early morning
midday sun
a rainy day
evening light
mist (if you can get some made ;-)
the light of a reading lamp
any other lighting you're going to use in the room

Also, make sure you place the color sheets in different parts of the room:
in the shadows
right next to each sofa & every cushion
next to the floor
next to the window
on a sunny stretch of the wall
on both sides of a corner
near the ceiling.

Once you're convinced that the color suits the room, then go for it. If you're still scratching your head, start over with a different color (see Step 4). You're choosing a paint color from thousands of candidates, and the right one is definitely out there, waiting for you!

(Return to Top)

Choosing Paint Color, Step 4:
Alternative Wall Color Ideas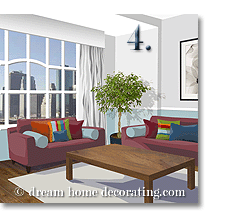 Picture #4 shows one possible solution to the 'duck egg dilemma': reducing the area where the color will go, and choosing a tint of blue that is light and subtle enough for the job.
This has several advantages:
the color is only visible near the sofas/cushions, and ties them together into a visual unit
the hue does not contrast too much with the color of the sky
you've still got a "cool room".
If this is too cool for you, consider warming it up with added color, for example the potted tree that brings more green into the space and ties in with the green cushion color. Or, you could replace the blue wall color with a warmer manila brown, as in Picture #5.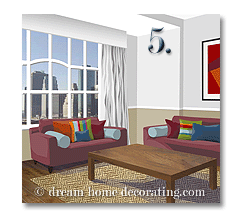 By dividing the wall as I have done here, you achieve two results:
1. The lighter, neutral color above the chair rail, as well as the curtains in the same hue, create a transition and soften the contrast between the dark floor/sofas and the bright white ceiling.
2. Should you ever want to substantially change the appearance of the room, all you need to do is paint new interior wall colors beneath the chair rail and replace a picture or two. Maybe the rug as well. (Here are some examples of how colors would change this room!)
Picture #5 shows that in order to warm up the room color, you needn't sacrifice its lightness - you just play up the warm colors that are already in the room by adding a few warm neutrals to them (the rug & the brown wall paint).
There. Choosing paint color made simple. Give it a go, and do let me know how you get on!


Neutral Color Schemes - The Book:
Learn more about using neutral color palettes in your home! Understand what makes neutral color schemes look their best, and what happens when you inject 'real' color into neutral color palettes.   It's FREE!!
Check out the possibilites of different Room Color Schemes.
How do you choose Interior Design Colors? Click here for a (foolproof) step-by-step process.!
Red in the bedroom? - Color Psychology will tell you why - or why not - that's a good idea.
Yet to find the information you're looking for?
Type a word or phrase into the search box below: