Hello ...



And welcome to your new (or your first!) issue of Dream Home Decorating News. This month's issue looks at some of the most important trends for 2012 (plus ways to 'do' them easily & cheaply).

If you like this newsletter, please forward it to share it with your friends.
If you received this issue from a friend, please subscribe so you won't miss out on all the creative home decorating info, ideas and news in upcoming issues.

Thanks for joining me today, and enjoy this issue!
Renate Hering-Shepherd

PS) If the newsletter is difficult to read as an e-mail,
read this issue online.


---
IN THIS ISSUE:
2. 2012 Decorating Trends:
3. Free Online Shelter Mags:
Why Pay More Than Your Broadband Connection?
---
Best Wishes ...
... for a superbly satisfying New Year. Here's to your success, health and happiness! Also, I'd like to thank everyone who mailed their enthusiastic comments about my 2011 printable Christmas card - I'm chuffed you liked it so much! If for any reason you missed the 2011 edition, there will be a new, exclusive design for Dream Home News subscribers on December 1, 2012. (Of course, before we get there we've got a whole year of decorating adventures ahead of us :-)
---
2012 Decorating Trends, Part 1:
Colors Of The Year

According to Leatrice Eiseman, executive director of the Pantone Color Institute, the zeitgeist color of 2012 is (drum roll...)


You're likely to see a lot of this hue in the coming year, both in fashion and in the 70s retro decorating trend that is currently going strong.
Several paint color companies have recently launched 60s and 70s paint color collections, for example Little Greene's Retrospectives and Fired Earth's Mid-Century.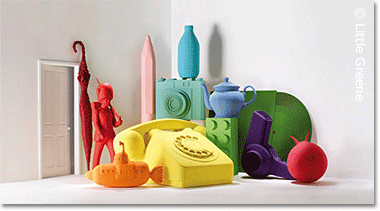 Check out the latest offerings from stores like Anthropologie or just walk through a few trendy shops, and you'll find they're full of 70s-inspired 'pop' colors. (Oh, and here's some 70s bedroom inspiration in orange, too.)
Of course, if you're into calm, clutter-free zen living, you'll want to give eye-popping orange a wide berth.
On the other hand, orange in all its varieties (including earthy terracotta) makes a great accent color for cool greens like seaglass, celadon, and other 'watery' green hues. It's also the perfect complement to almost any tint, tone or shade of blue. So I guess what I'm saying here is, if you do like orange, now's the time to stock up on it ;-)
2012 Decorating Trends, Part 2:
Eclectic & Personal

We don't want homes out of a catalog - we want a home that no one else has. We want special possessions, a personal style and a unique place to live. And there are several ways of getting all that.

a) Simple Choices.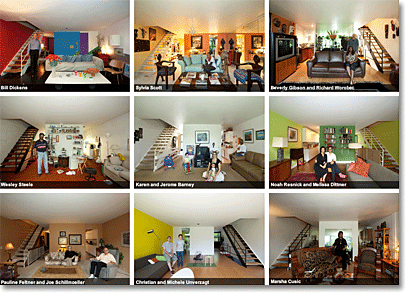 This picture shows identically designed rooms in Lafayette Park, Detroit (courtesy NY Times; hat tip to Sharon, who made me aware of this article). Note how different the rooms look, even though they all share the same architectural blueprint. The only things that change are the color/furniture/accessory choices, their combination and placement. So one way to create a special home is to experiment with what you already have, and make it look gorgeous.

b) Special Things. I'm not talking precious heirlooms here. Thrift stores and car boot sales are gold mines of unique, amazing (and often very valuable) items. Here are 14 excellent tips for finding what you want on the thrift circuit, at ridiculously low prices.

c) Adapt & Personalize. Sometimes all it takes is a lick of paint, and voilà - you own something unique. Even when there's a little more effort involved, it's rarely an all-consuming job. Here's a list of 50+ simple ideas for re-using & re-purposing found/old objects and turning them into something original.

d) Make It. If all else fails - get the Singer out and sew that apron :-)
---
Free Online Shelter Mags:
Why Pay More Than
Your Broadband Connection?

Much-loved Domino has closed its doors, but brides.com carries a selection of beautifully photographed and ultra useful decorating articles from Domino, and more will be uploaded in the future.

Even though Lonny magazine hasn't published a 2012 issue yet, their archive will keep you entertained for a long time.

Lifestyle mag Rue has a new issue out, with some very nice ideas to copy.

Australia-based, fresh & upbeat Adore magazine has a new issue out as well, with loads of bright color inspiration. Enjoy!
And that's it for this time ... as we're slowly moving into spring, I wish you a beautiful, fun-filled, happy year ahead.
All the best for you & your loved ones,

---
Get Answers:

Looking for specific home decorating information, or want a question answered? Search Dream Home Decorating and the 'net here!



---
Legal Stuff

How did you get on this list? You subscribed to Dream Home Decorating News through a double opt-in feature. I never add names to my mailing list except by request. I hate 'spam' and would not dream of subjecting others to it.

If you need to make changes in your subscription or wish to unsubscribe, click the link at the bottom of this newsletter. This only takes a minute, and by making these changes yourself, you can be sure the information I receive is correct.

I never rent, trade or sell my e-mail list to anyone for any reason whatsoever. You'll never get an unsolicited email from a stranger by joining this list.

Please feel free to pass on this issue to friends and associates - just keep the entire message intact and unaltered.


Here's to a gorgeous home – yours!

"See" you again on April 1, 2012 -
Renate Hering-Shepherd
www.dreamhomedecorating.com