The End Of Grey, Part 2
by Sharon
(Arizona, USA)
Once the colors were chosen and the paint mixed ... it was a waiting game. Would I like it? love it? After a few repairs and removal of some window treatments that would be replaced - it was time to paint!


Tim, my wonderful contractor (electrician/painter/plasterer/plumber), put tape on each wall with a note to himself:
'Deep Navy',
'Blackberry Wine', or
'Marshmallow White'...
...as I was forced to make final decisions.

He then set out to paint in his own order of importance.

The first day I left the house as the anticipation was getting me.

When I got home, Tim had painted a wall in 'Blackberry Wine'.

YUM!!!

I was speechless when I walked in the door. It was so ... absolutely perfect ... worth every bleepin' minute of angst!

After that, I was so pleased and confident that I completely left it up to Tim. The next few days, I'd just get the coffeepot ready for him and go out for an early AM swim ... and then come home to some new and astonishing wall of color!


Tim is a perfectionist, so lines are neat and clean, and the effect of dark and light is terrific. My neighbor says the 'Marshmallow White' has a "glow" to it.
While Tim was painting, I embarked on a
re-decoration purge
.
Only two items survived.

One is a Japanese Temple Drum I spent nine months bargaining for in Iwakuni, Japan.

The wizened antique dealer knew when the DOD (Dept of Defense USA) teachers left, and he relented and let me buy the drum the day before he knew our things would be packed and shipped. I have used it with a glass top, as a coffee table, since 1971.

The second keeper is a black lacquer Chinese chest that belonged to an elderly aunt of mine in Ohio. I found a mirror at a house sale two years ago that matches quite well. So, the chest remains. (You can see it in Part 1).


And here's one of my formerly crammed, post-purge shelves: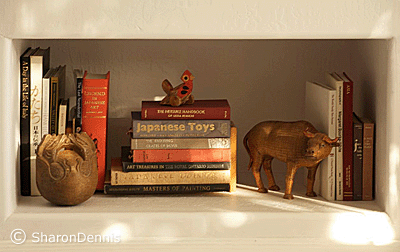 A few other things got recycled.
My old
office
...
... didn't just get a new wall color ...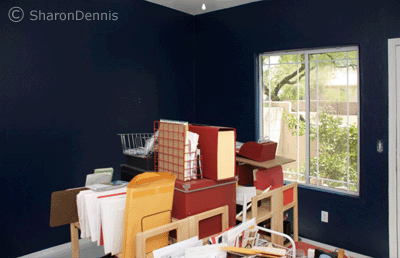 ... it got
all-new furniture
, too!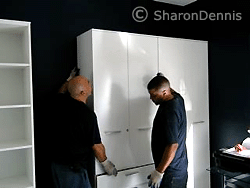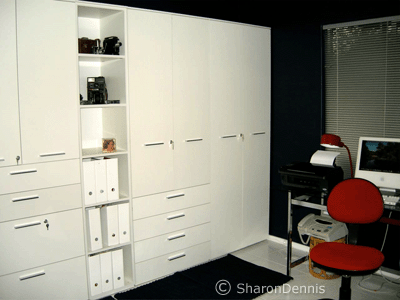 The former office cabinets are now installed in the garage. They hold golf, swim and other athletic paraphernalia and cleaning supplies as well as hammers, screw drivers and a few other house repair items.
In addition to furniture, some things were replaced.
Having rented most of my life, it never even occurred to me
when I bought my condo eleven years ago that I could make some minor changes to make things work better for me or look more attractive.
Often, small changes can make a huge difference to the look of a whole room. So, I opted for new medicine cabinets.
I replaced the original, cheaply made metal framed ones with more stylish cabinets with beveled glass.
In fact, I had the master bath cabinet removed, the wall filled in and put a beveled glass triple-door cabinet above the sink. It holds twice as much.
The dining room is done, too. This was the old one ...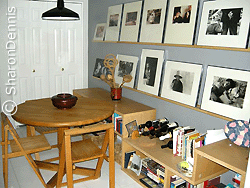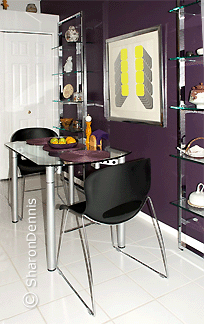 ... and here's the new one.

A print I have had for years, by a German artist, is on the wall between two CB2 metal and glass shelving units which hold some of my ceramics collection.

A round glass table from Copenhagen, Scottsdale with drop leaves (they cleverly fold under the table on levers) completed the dining room.

All of it is in front of the one kitchen wall painted in Blackberry Wine by Behr Paint.


Speaking of wine - - my small wine rack (formerly on the shelf by the dining table) now sits on the floor guarded by a print of a snail, coincidentally in complementary colors: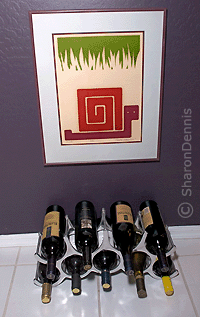 Soooo different from the place I began with all this .... what a journey..............!!!!
Though long from finished, my project has been more joy than work, and more of a pleasant surprise to me than anything.
I had some definite and some vague concepts, but I let
serendipity rule
in the end. Many things just fell into place.
The colors were a last minute fluke and I love them.
I replaced teak with bamboo, glass and metal, and still retained the type of flat art, Folk Art and ceramics I collected from friends, artists and my many years' living in various parts of Asia.
My office is better organized than it has been in decades
, and peace ... real serenity and peace has come to my home.
So far, soooo much better. (More next month, when I get some art on the wall and can show you more details.)
Hope you like it! I do!
Renate's comments:
Love it, Sharon. The colors are gorgeous and the overall look is calm and serene but not austere. I look forward to Part 3!
(Skip back to:
Part 1 of The End Of Grey
)