Home

›
Bedroom Colors
› European-Style Color Palettes
Bedroom Color Schemes To Set The Scene:
Five European Bedroom Color Ideas.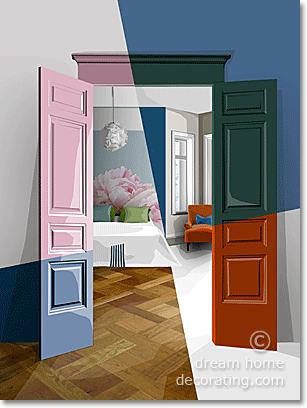 Bedroom color ideas: 5 virtual makeovers for a Victorian bedroom in London.

Bedroom color schemes can completely transform the look & feel of a bedroom.

Create easy, graceful rooms with these popular bedroom colors:
 ♦ 70s London,
 ♦ British Seaside, or
 ♦ Romantic.

Bedroom Color Schemes #1:
A Classic French 'Desaturated' Look
With neutral bedroom color schemes, there's currently an interesting trend towards tones that hover between real color and neutral "non-color".
I've seen this a lot in Provençal homes: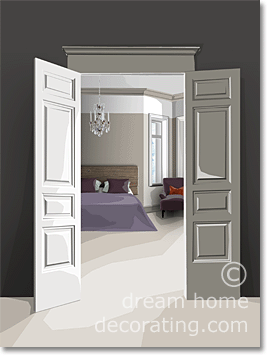 Bedroom color schemes, #1:
Warm gray played off against cool, dusky lavender/plum
with deep lipstick red accents.

You have to treat these almost-neutrals as proper colors  (because they interact with other colors), but you may need to keep a muted, restrained palette fresh and interesting with
texture (e.g. tactile fabrics, brushed wood, textured/pleated leather accessories)

crisp white highlights (e.g. bedlinen, paintwork, trims, window blinds)
a few injections of 'real' color (chianti red looks great with dusky plum)
a bit of "soft black" (e.g. deep dark purple or espresso).
Check out more examples of neutral bedroom palettes!
Return to Top
When you're (re-)decorating, hold off on the bedroom wall colors as long as you can.

There's always a bigger choice of paints than of fabrics, carpets & furniture.
Bedroom Color Schemes #2:
"70s London" Paint Colors For The Bedroom
Have you noticed?  The Seventies are, um, kind of back.  The decade that taste forgot.  (Yes, I was there when it happened ... *sigh* :-)
Interestingly, nowhere was that decade more 'hip' than in London. So rather than heading for one of those appalling orange-green-brown combos, let's use retro 'pop' colors selectively and surround them with plenty of white, like this: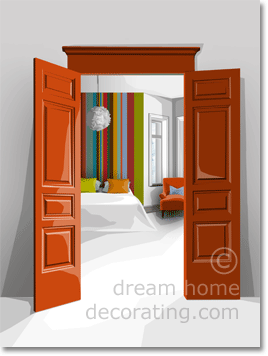 Bedroom color schemes, #2:
Burnt tangerine & other citrus colors,
aqua blue, turquoise, raspberry red, lots of white.

Actually, the classiest original Seventies interiors used loads of white.
If white isn't right for your bedroom, try neutral grays (i.e. grays that are made up of clean white and black, with no color admixtures), or cool (=bluish) greys).
Check out more bedroom color palettes in  red  |  orange  |  green!
Bedroom Color Schemes #3:
Romantic Summer Pastels
To get from the Seventies palette (#2 above) to these 'sweet pea' bedroom colors, all you need to do is repaint the walls & door and slipcover the chair & 3 throw pillows. Voilà, you're in a different decorating universe!

Bedroom color schemes, #3:
Pastel pink, aqua, white, citrus green, lemon yellow.

Pastels are very popular bedroom colors - they are easy on the eye, soothing and refreshing at the same time.

The secret here is to limit the palette to two main colors (e.g. pale pink & aqua) and use any other hues (e.g. citrus green, lemon yellow) very sparingly.

Note how, against a white background, you don't need particularly bright or dark colors to create an impact. The reason is that when we look at an expanse of white, our pupils contract and make any color appear darker than it actually is.

Some bedroom color ideas for your headboard:
◊   Paper a wall section behind the bed with the Most Gorgeous Wallpaper you can afford. Varnish or cover with perspex for protection, and match your bedroom wall colors and bedding to this wallpaper.
◊   Have a gifted person paint some supersize roses or peonies ('painting-by-numbers'-style) onto plyboard or mdf, cut along the outline and bolt the board to the wall (example illustrated above).
◊   Bedspreads are another great source of bedroom color ideas: Make your bedspread the star of the show and choose a limited palette of bedroom paint colors in matching hues. Paint one of them as a rectangle on the wall behind the bed (in lieu of a headboard - see these examples of country French bedrooms!)
◊   More pink bedrooms here  and non-girly pink color schemes here!

Bedroom Color Schemes #4:
Victorian Bedroom Color Ideas
Victoriana have been moving more into the spotlight recently, with lots of paint colors, embossed wallpapers, wall & floor tiles currently available.
Traditional Victorian bedroom colors often build on a blue-brown base (with the brown looking slightly mousy or tan). The blue/brown foundation is then topped with a few deep, glowing hues like teal, vermilion and mustard yellows.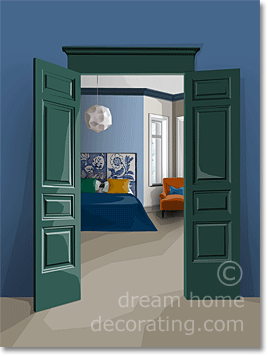 Bedroom color schemes, #4:
Buff brown, cool blue, majolica white, deep 'jewel' accent colors.

Original Victorian interiors can feel heavy, dark and gloomy, but contemporary bedroom color palettes don't need to go there! To brighten things up, just add tints like pale blue, fresh linen white and light grey.
(By the way, the "headboard" consists of scaled-up, mounted photographs of original Victorian wall tiles from a London fireplace.)

Popular bedroom colors that work well for Victorian-style interiors:
Return to Top
Bedroom Color Schemes #5:
Nautical Bedroom Color Ideas
Let's take the blue-brown bedroom color ideas from #4 and turn them into a fresh, dapper, Shipshape-and-Bristol-fashion color palette. (For non-Brits: "neat, clean & in proper good order")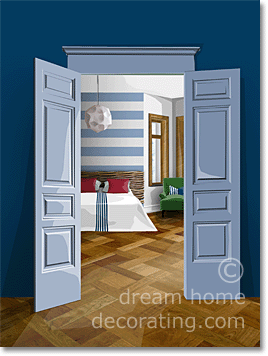 Bedroom color schemes, #5:
Cool blues, Old Glory  red, white, rustic natural wood tones
(green accents optional)

Nautical color schemes are among the most popular bedroom colors ever.
Use any neutral color palette (brown, grey, white) as a basis, and then just add white, blue and red.
Stripes are great for accent walls and accessories (but they're very easy to overdo!)
Return to Top
Picture Galleries


Bedroom Color
Photo Galleries
More bedroom color ideas:
If you would like to browse inspiring bedrooms by color, do check out my Photo Galleries of real  bedrooms in popular bedroom colors.
You'll find easy-to-copy, inspiring bedroom color ideas in (mostly) European styles.

Explore more Bedroom Color Schemes:
Click a Pic!
Mini Bookshop
(In Partnership With Amazon)

Yet to find the information you're looking for?
Type a word or phrase into the search box below: