Welcome ...



... to your new (or your first!) issue of Dream Home Decorating News - this month, it's very much about COLOR.
If you like this newsletter, please forward it to share it with your friends.
If you received this issue from a friend, please subscribe so you won't miss out on all the creative home decorating info, ideas and news in upcoming issues.

Thanks for joining me today, and enjoy this issue!
Renate Hering-Shepherd

PS) If the newsletter is difficult to read as an e-mail,
read this issue online.

---
IN THIS ISSUE:
Publisher's Note
The Color Course Sneak Preview: Color & Pattern, Part 1
List of the Month I: What color goes with … ?
Reader's Question: "What should I put on a French Provincial hutch?"
List of the Month II: Four colorful things to do for your home this fall.
Legal Stuff
---
Publisher's Note

I hope you're having a wonderful summer/winter! Here at Dream Home Decorating, 'color questions' have been pouring in to [distract] [keep me up at night] support my work on The Color Course. Thank you so much! Your questions are great, and they give me a sense of what type of color information is most important to you.

For this issue, I promised you a sneak preview of The Color Course; scroll down a little and you'll see it.

You may also have noticed that the format of this newsletter has changed slightly. The new category of "Readers' Questions" owes its existence to the interesting messages you, the dream home decorators, leave on the site. I'm planning to include one or two questions in every issue where the reply may be of interest to more than just the person asking. Let's experiment with this new feature for a while, and let me know if you like it (or not). - Enjoy!



Color Course Sneak Preview

Here it is: Color & Pattern, Part I

If you want to open the file in your browser window, just click on the link. To download the file to view later, right-click on the link and choose "Save Target As" or "Save File As". Then select where you want to save the file on your hard drive. Once you have saved the file, locate where you saved it, and double click to open.

If you haven't got Adobe Reader, you can get it here (a new window will open so you can download it without leaving this page).




List of the Month I:
What Color Goes With … ?

The list has now migrated to this page!


Reader's Question:
"What should I put
on a French Provincial hutch?"

Q: We are moving into a new house. My husband does not want to part with his parents' French Provincial hutch and table and chairs. They are in beautiful shape. What knickknacks can I put on the hutch to bring out a French countryside feel?
Thank you! - Patty

A: Great question, Patty. Basically, you can bring out a French Provincial countryside feel by using specific
colors (e.g. sunflower yellow and yellow ochre, cornflower or lavender blue, leafy greens, rose madder, tomato red, linen white), and
materials (e.g. glazed earthenware, straw, wicker), and
imagery (photography, art prints, paintings, post cards).

Now for the bad news. I'm afraid I don't know much about French knickknacks! I don't remember seeing any on French hutches, shelves, or sideboards. What I have seen displayed in French country dining rooms is household pottery and sometimes art, especially paintings. With respect to the crockery, here are a few examples that would give you an authentic French country look:
deep mustard-colored or yellow umber earthenware dishes and bowls, or
glazed earthenware in green midtones and dark greens, or
simple, raw terracotta pots and plates (with a brown or transparent glaze on the inside), or
off-white faience plates in different sizes, or
simple creamware jugs, jars and vases, or
a collection of antique soup tureens (faience or just white porcelain), or
simple white china and glasses, or
fine porcelain painted with floral patterns.

You'll get the most convincing French countryside feel with yellow or green glazed pottery. A set of plates would be enough, or a few glazed bowls in green or mustard or terracotta. You could supplement the look with straw and/or wicker containers (click here for some examples!)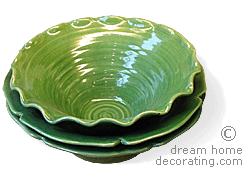 If you wanted a more colorful look, you could place pictures on the shelves as well – country French postcards, or an art/photography poster in a landscape format that fits into one of the hutch compartments.

Alternatively, try this:
Buy a length of Souleiado fabric (the company still produce original Provençal prints - they have an office in Westport, CT and they sell online).

Go for typical Provençal patterns like
Petite Fleur Des Champs, or
La Fleur D'Arles, or
La Petite Mouche.

Line the back wall of the hatch, behind the shelving, with this fabric. If the shelves can be taken out, that would be the easiest way to do it. If they're fixed, measure the individual 'compartments' of the hutch and cut strips of the fabric to size (with a good seam allowance), fold them over at the edges, iron into place, and tack them to the back of the hutch compartments with tiny decorator's pins.

Alternatively, cut foamboard or flat cardboard to the exact size of the compartments (minus a fraction of an inch), and cover one side with the fabric. Fold the fabric over to the back for a nice finished edge, and stick it down with double-sided tape (pull taut before gluing). Then just push the "upholstered" lengths of cardboard against the backs of the hutch compartments. This won't leave a trace on the hutch.

Complete the look with a tablecloth, or napkins, seat cushions, or small accessories in the same fabric, to conjure up the French Provincial countryside.

PS) If you're reading this and your name isn't Patty: This technique is a cool way to update any shelf, cupboard, or bookcase. For an even quicker fix, just paint the back of the structure in the color of your choice.




List of the Month II:
4 Colorful Things
To Do For Your Home
(And Your Spirit)

1. Put a new (inexpensive) splash of color where it will make a difference – remind yourself of all things bright and lovely!
Some examples:
doormat
kitchen gloves
towels
shower curtain
toilet seat
cachepot
notebook
desk pad
tablemats
napkins
bedlinen

2. Postcards make informal & pretty displays. For inspiring eye candy, choose a topic or a color family. Some ideas:
tourism posters reduced to postcard size (for a vintage look, try the gorgeous graphic designs from the first half of the 20th century.)
flower close-ups (roses are incredibly photogenic)
Japanese wood cuts or screen prints
abstract, meditative images (e.g. Mark Rothko paintings)
Once you have a nice batch together, attach a small bulldog clip to the top of each card and hang them as a group – a line along the chair rail, or 2-above-2, or larger rectangles of several rows. If you're using black-and-white images, see what they look like when you use colored bulldog clips to hang them up.

If you can't find good postcards, buy a picture book instead. Cut out the pages you like and frame the images.


3. For an inexpensive splash of 'live' color, buy a test tube, fill it with water and stick it into a pot with a green plant (e.g. a fern, or something with elegant tendrils ). Buy a single flower for the test tube whenever you feel like it.


4. Eat in Technicolor. Make fresh fruit salads with plenty of red berries. Cook with all the yellows, oranges, reds, purples and greens that nature has to offer. Try edible blossoms as well, for example:
rose petals
nasturtium
marigold
angelica
courgette & squash blossoms
dill,
chive
marjoram
rosemary
hibiscus
thyme
and so on …
Make sure the blossoms haven't been sprayed with pesticides or fertilizers. Serve on simple plates and a pattern-free tablecloth, to bring out the full effect of the food colors. Of course, color displays like these don't have much of a lifespan, but they make up for it by being …

… extremely good for you!




Get Answers:

Looking for specific home decorating information, or want a question answered? Search Dream Home Decorating and the 'net here!




Legal Stuff

How did you get on this list? You subscribed to Dream Home Decorating News through a double opt-in feature. I never add names to my mailing list except by request. I hate 'spam' and would not dream of subjecting others to it.

If you need to make changes in your subscription or wish to unsubscribe, click the link at the bottom of this newsletter. This only takes a minute, and by making these changes yourself, you can be sure the information I receive is correct.

I never rent, trade or sell my e-mail list to anyone for any reason whatsoever. You'll never get an unsolicited email from a stranger by joining this list.

Please feel free to pass on this issue to friends and associates - just keep the entire message intact and unaltered.


Here's to a gorgeous home – yours!

"See" you again on November 1, 2009 -
Renate Hering-Shepherd
www.dreamhomedecorating.com