French Country Kitchens:
How To Give Country French Kitchens
An Authentic Look & Feel.
French country kitchens are more about the cook than about the look.

Here's a treasure trove of simple, 'lite makeover' tricks to create a convincing French kitchen look and atmosphere!
These are quick country French decorating ideas that will give your country kitchen a playful, warm, elegant, authentic 'French accent'.
However, if you're planning a major overhaul and need design essentials for French country kitchens, check out the Country French Kitchen Design page.
There you will find:
the right style of country French kitchen cabinets
authentic surface materials
classic flooring types for country French kitchens, as well as ...
the overall design style of authentic French country kitchens.

Elements For Decorating
French Country Kitchens
Clicking the links will take you to the relevant sections on this page:
French Kitchen Accessories I: Country French Pottery
French Kitchen Accessories III: French Country Fabric
How to 'doctor' country French kitchen Cabinets
Kitchen Color Schemes, and
But let's start with the ...

... Ground Rules For A
French Country Style Kitchen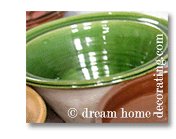 French country kitchens are warm and informal places where family and friends gather for long, leisurely meals.
Most country French kitchens are eat-in kitchens. And the French take eating - as well as food preparation - very seriously  (it's basically an art form :-)

Come dinnertime, no matter how simple or sophisticated a French kitchen looks, it will be filled with the fragrance of fresh herbs and the mouthwatering flavors of locally grown produce.

You can create the atmosphere of real country French kitchens by following these decorating rules of thumb:
Your French country style kitchen needs to look like you're using it for cooking (not as an exhibition space).
Choose humble materials and simple shapes.
Fill your kitchen with things you use, and avoid items that will just sit around looking pretty (unless you really love them).
A bit of patina is perfectly fine; it comes with the territory.
Return to Top

Country French Kitchen Accessories I:
Country French Pottery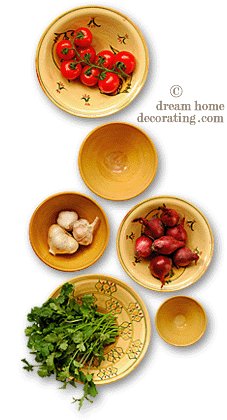 Earthenware pots, plates and bowls are a staple of country French kitchens.
Country French pottery comes mainly in glazes of yellow ochre and different hues of green, but you'll also find brown, earthy red, blue, and multicolored pieces.
Use them
to store ingredients that aren't kept in the fridge (like onions, garlic, some fruit and veg)
to eat from (if that's a bit too rustic for your taste - and it can be tough on shiny cutlery - use simple, heavy porcelain instead).
(For information about Provence Pottery, have a look into the chapter on Provence Interiors.)

French Country Kitchen Accessories II:
Wood, Wicker & Straw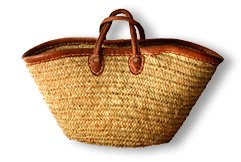 Wood, wicker and straw are particularly important if your current kitchen is a bit on the high-tech side.
You can add instant French country appeal with any or all of the following items:
1. Wooden chopping boards in different shapes (including irregular ones) and sizes .
2. A straw bag for market day. The one in the photo is from Saint-Rémy-de-Provence. Everyone there has a bag like this - or will be happy to sell you one from their market stall ;-)
Just in case you're not planning to visit the South of France in the near future, here's a selection of French market bags from eBay.

3. A wooden bowl or two (olive wood looks great).

4. A wicker basket, to hold fruit or vegetables.
You could also use a wicker basket with a flat bottom to tuck away some water glasses filled with fresh kitchen herbs.
If convenient and practical, use a few more wood/wicker/straw containers to stash things away in - cooking utensils, napkins & the like.
5. Chairs with straw seats are quite typical of Southern France, and a bit of a 'must' for Provence-style kitchens.

French Country Kitchen Accessories III:
Fabrics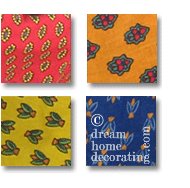 Fabrics are one of your magic weapons in French country interior decorating.
As you can see in the picture at the top of this page, the space underneath the worktop is covered by a linen curtain.
This is typically done in many French country style kitchens - and curtains come in handy when you want to conceal some of your kitchen technology and 'white goods'.
In addition, you can use fabrics to slipcover chairs, add a few cushions and, if your kitchen table is of the modern persuasion, allow it to disappear graciously under a good-sized, simple tablecloth.
Last not least, use French country window treatments to spruce up your kitchen's Country French credentials!
The little swatches above are traditional fabrics from Provence, and you can often find similar fabrics on eBay.
Check out what's on offer today!  
If you're into Toile de Jouy, check out the following pages:

Doctor The Cabinets!
If you want to take the makeover a step further (from 'lite' to 'labor of love'), you could change a few details about your kitchen cabinets:
Paint them.
If they're really plain, add simple ornament (e.g., stick on some molding, or cut out small ornamental 'windows') before painting them.
Change the hardware (use simple knobs made of wood, metal, or porcelain).
Add some metal fittings (the lozenge shape is a typical ornament in Provence).
Get a new countertop. I know this sounds a bit drastic, but a tiled, or stone, worktop is a large chunk of color and texture and can make a striking difference to the look & feel of your French country kitchen.
In case you find your kitchen cabinets could do with a new coat of paint, have a look at
Fab Frugal Jane's
article,
How To Paint Kitchen Cabinets Like A Pro
. Jane's site,
Home Remodeling & Decorating
, is a treasure trove of hands-on knowledge about getting the look you want, at a price you find acceptable. Highly recommended!

French Country Kitchen Colors
Clinical white and French country kitchens don't mix. Below are a few color ideas to keep the look mellow - just don't use them all in one kitchen ;-)
Check out the page about French Country Colors for some additional kitchen color scheme inspiration.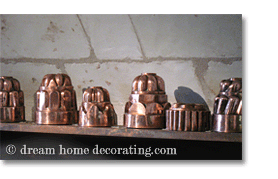 1. Real wood - it can be untreated, waxed, oiled, bleached, or varnished.
2. Yellow: butter, straw, sunflower, or pale yellow – all these make good wall colors.
3. Green: from deep fir greens through olive (and even lime) to the faintest grayish hint of green - all these work well in French country kitchens, especially as paint on the cupboards.
4. Earth colors - terracotta, umber, coppery reds. They're particularly great for the flooring, but also for worktops and even for splashbacks.
5. Blues can look good for slightly distressed, antiqued surfaces. Use them for cupboards and maybe the curtains underneath the worktop, but rarely on the walls.
6. Ivory, cream and whites in antique, slightly grayed hues, or a light écru - these are less 'country' than the other colors, but they do work. You could use a very light, chalky white paint to 'whitewash' the walls and any masonry in the room (if you have brick-built storage, for example).

Wall Treatments
& Other Country French Decorating Ideas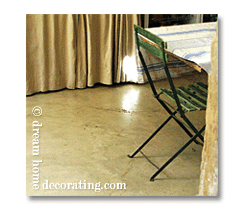 If you live in a modern building with straight lines, razor-sharp corners, and UPVC windows - don't try to make your kitchen look ancient and 'totally country'. It won't work.
But you could use some of the following ideas as "quotations" from French country kitchens:
Colorwash the walls with a few layers in very subtle, mellow colors - that will make them look more 'alive' and less flat.
Hang some of your pots and pans from hooks on the walls (near the hob if possible).
Stack earthenware crockery and/or cookware on a rustic-looking wooden shelf above the worktop.
Use slightly irregular, glazed (or stone) tiles for your splashback.
And if your floor is up to it, you could put wrought-iron around the kitchen table. (If you have wood or vinyl flooring, these chairs would be to heavy - but you could use lighter, wooden garden furniture instead).
There. That's all for the topic of getting the look of French country kitchens.
If you're yet to find what you're looking for, do check out the chapter on Country French Kitchen Design. You may find it there!
French Country Kitchens:
Bookshop (in Partnership with Amazon)
Yet to find the information you're looking for?
Type a word or phrase into the search box below: