Bathroom Color Schemes In Turquoise And Mint
by Stella
(UK)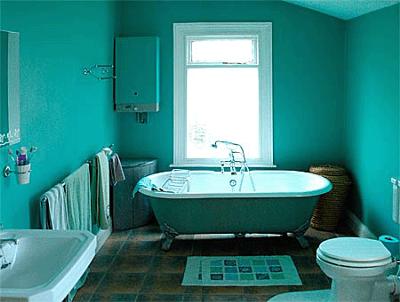 Our old turquoise bathroom

Our family bathroom used to be painted a chalky turquoise color. It looked good and felt good, as long as it was a sunny day outside. On a cloudy morning, the room made you want to crawl back into bed.

We agreed that "something" had to happen.


For a while, we considered a completely new color, but we couldn't find one we all fancied.
Bright yellow? Too in-your-face.  Pale yellow? Too whimpish.  Dove grey? Pale and uninteresting.  Pink? No thanks, we're English.  Terracotta? Too claustrophobic.
In the end, we settled on a lighter version of the old turquoise/earthy browns color scheme.
The new wall color is actually a mint. It's a little greener than the original turquoise, and it really brightens up the room. It looks good with our old wicker furniture as well, and there are speckles of the mint color in the floor tiles.
I decided to paint the radiator a sort of space-age, silvery "mint metallic" (honestly can't remember now what paint we used!). My husband found the color really weird. I'm including a photo of it here. (Hubby is coming round to it now.)
I hope you don't mind the smallness of this before-and-after! I decided to submit anyway because the difference the lighter color made surprised us all!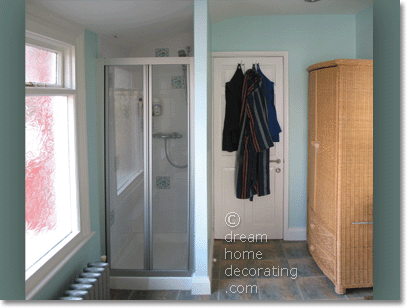 View back to shower and bathroom door (new mint version)

Renate's Reply:
Thank you, Stella, what a great example of how you can change the atmosphere of a whole room with just a fresh lick of paint! Your "new" bathroom looks great!