About Me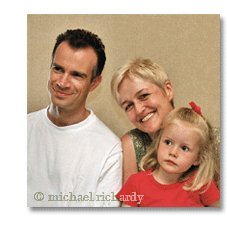 Hi! I'm Renate.
I thought I'd introduce myself so you can put a face to my name. Also, I'd like you to meet some of the VIPs in my life - this is my darling husband, Duncan, and my niece Franziska.
Duncan is the most un-geeky mathematician I have ever met, and Franziska ... oh, you know how your family's kids are always the loveliest in the neighborhood!
If You Have a Dream,
Don't Wait.
I went to Design School at a stage in life when most people get ready to become grandparents: I was well into my 40s when I decided to quit a secure, lifetime teaching job in Germany to pursue my lifelong love of beautiful interiors, crafts, and textiles.
It was a now-or-never  leap in the dark.
I'd just handed in my resignation when this amazing guy named Duncan sauntered into my life. Just as I was getting ready to move to Australia, here comes a London boy!  What's a girl to do?
Well, I packed my bags and bought a ferry ticket to England.  For a while, I 'temped' my way around London as a secretary and translator, and went moonlighting as a design student in evening and weekend classes at the University to fill my application portfolio.  Here are a few snippets from it:



Dreams Come True!
When I finally put my application in, one of the top British design schools offered me a place on their BA (Hons) course in Design/Textile Design. They even let me skip the year of Foundation Studies.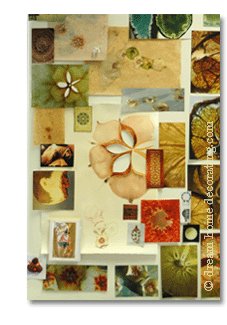 Whoa! So back to school I went ... shaking in my boots ... joining a class of fantastically talented people who were at least 20 years younger than me.


Chelsea College of Art & Design is part of the University of the Arts in London, and an amazing place - a talent hothouse where all the teachers are practicing, cutting-edge designers.
I reckon the three years on that course took about 20 years off my brain.
I went from being a notorious listmaker and thinker-abouter to thinking with my hands. It was quite scary and great fun.
Okay, so the fun part took some getting used to  ('What do you mean, have fun at work?  This is serious!  If I mess it up, then what?').
Well, erm, I did see the light ... eventually. Here's some 'post-revolution' work:



During the second year I was invited to spend a two-month internship designing quilts for an interior furnishings company in New Delhi.
Working in India - and living with 'real people', not in hotels - had been one of my big, big dreams. I have always loved traveling - I've lived and studied in the USA, Spain, and Mexico, and worked as a translator in several European countries and in Australia. I'd never been to India, and it was one of the highlights of my course.
Here are some of my quilt designs:



Result...
At 48, I graduated with a BA (Hons) in Design (with First Class Honours).
International Textiles Magazine featured my work twice (843/2005 and 848/2005).
One of my research papers (about a 16th-century Mughal hunting coat, would you believe) is now in the study library of the Victoria & Albert Museum, London.
Oh, and then US fashion designer Diane von Fürstenberg bought part of my all-white exam collection.  Yes, I was seriously chuffed.


After graduating, I spent a few months as Designer in Residence at Amagansett Applied Arts, a college on Long Island, NY, to explore new design ideas and come up with a 'battle plan' for the future.


The biggest mistake people make in life
is not making a living at doing what they most enjoy."

Malcolm S. Forbes (1919-1990)
Well, what I really wanted was to keep developing creative ideas and provide them directly to people who can use them - you. And that's how come I started this website!
I'm growing the site very slowly - I want to provide you with quality information, and a lot of research goes into every page. But I have plans for loads more articles, e-courses, ideas books and craft patterns you'll find here in the future. So ...
... check in from time to time to see what's on offer!
Better still, subscribe to my blog through the RSS feed (top right on this page) - that way you'll automatically stay updated whenever I change or add something to the site (and you needn't leave your contact details with me).
Or, you could decide to receive my free e-zine, Dream Home News. It'll keep you supplied with fresh home decorating inspiration year-round.
Also, I'd really love to hear from you with any comments about this site. Let me know if there's anything you would like to see more of, anything you think could be added or done differently.
Your contribution will be much appreciated!


And ... whatever it is you're up to, I wish you the best of luck.


Kind regards,

Renate Hering-Shepherd


(PS - For more information about my design philosophy, have a look at two interviews: One conducted by future interior design student Zoe de la Varre, and the other by Lee Stevens, owner of Easy Curtain Ideas. Enjoy!)
If you have a dream ...
... don't wait.