DIY Tuscan Bathroom Design, Part 2: Bricks, Rocks & Cracked Wood
by Elisabetta
(Ohio (USA))
One aspect of our little bathroom that always plagued us was the one strip where wallpaper wouldn't hold and paint chipped off. There's some sort of metal thing that runs the length of that one little portion of the wall and the paint would always peel off, revealing colors from previous owners.


Our local DIY store suggested what to do to cover it the last time we painted, and it held for a while but was now peeling through again.
Turns out, with the old look we were aiming for, my husband found a way to make it fit right in. It's now a focal point of the bathroom!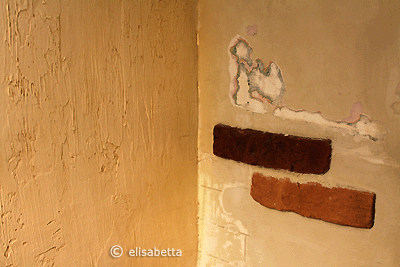 The previous owners had left us some
"bricks"
from doing the kitchen backsplash. I don't much care for those, but they work great in the bathroom!
My husband creatively placed them on the wall and it gave us a great look. We remembered many Tuscan homes have brick under the windows, so we added some there as well.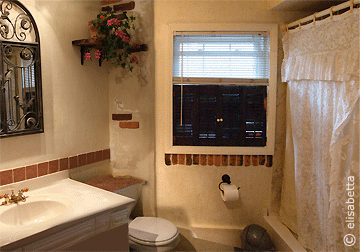 We couldn't afford to
tile
the walls, but were able to get a few tiles very cheaply and to create a pattern going around, like a chair rail. You can see it in the background in this picture (in the foreground our expensive-looking marble soap dispensers & toothbrush holder from TJMaxx :-)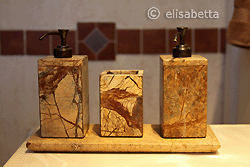 During that 1/2 off sale, we looked around Hobby Lobby and picked up some rustic-type pieces to accent. Also, we remembered that many places in Tuscany had rocks stuck in the walls. We had some marble samples from Carrara in Tuscany, so we stuck those in at various places and found some cool rocks to stick up as well.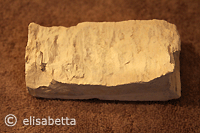 My favorite rock
(and I don't have a place for it yet) sits on the back of the toilet till I find its rightful home.
It's from Formicula, Italy. My sister and my parents went to Italy three years ago, and were going to be meeting up with some relatives that we (and they) had never met.
When my sister asked what I wanted her to bring me back from Italy, I said something old from the relatives' town, something they see every day, something very "everyday" to them, a part of their lives, nothing expensive, out of the ordinary.
What luck! The cousin they met was remodeling his house, my sister grabbed a piece of the foundation of the house that was being removed. Love, love, LOVE it! It's a great color, it's a great texture and is like nothing I've ever seen here! Did I mention I love it? (Any suggestions on where to put it? How to display it?)

Also wanted to mention that the
shelf
was a fun addition. I wanted to have trailing flowers in the bathroom. (I took pictures of real ones from my garden but I can't keep them permanently in the bathroom because the tiny window (which we have to keep closed usually for privacy) only gets morning sunshine---not enough to keep those beauties alive.
Don't really want to do artificial ones. (Any suggestions?)
Anyway, so when we were in Hobby Lobby (having found our great mirror) we found those cool, heavy shelf supports. I had a picture in my mind of using an old piece of wood across the top--very rustic--but, what my husband ended up doing way surpassed my initial thought.
He found a really interesting piece of wood in the garage (we tend to save such things for just such an occasion---not going to commit as to whether that's a curse or a blessing . . . but in this case, it truly was a blessing!) It was too large for that little space and had a crack in it. Brainstorm:
He decided to
not cut it, but
just try to break it where it was cracking
. Beauteous! It split perfectly and looks all rough hewn. I love it.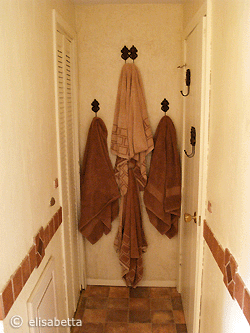 The last thing I have to offer, and it's really no big deal, but I liked it, was that we did splurge on some new towels (didn't have any new ones since our wedding 18 years ago!)
We bought some to match the color, earthy scheme, and then put hooks on the back wall and used them sort of as decoration.
We don't have a lot of room in the bathroom, so using this wall behind the door for a useful, yet decorative purpose, was great. (My husband's sister gave us that idea!)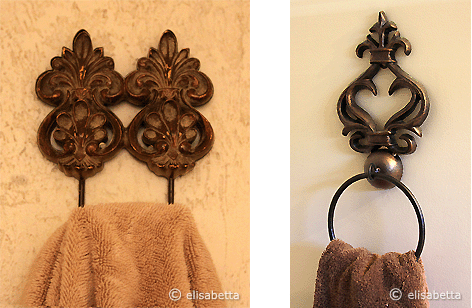 The last item on my list is the
window
. I now have the shutters just sort of sitting in it, but they're not right, too dark, too short. They were what the previous owners had in the bathroom when everything was very, very dark in the whole house.
We had since switched to the mini blinds, but I put the shutters back up to kind of get a feel for what we want to do with that window. Also, still have the old shower curtain up---it's white so it works for now, but we'll be finding something new for that, too, when we travel to Tuscany next week (I'll send an update & photos when we're back!)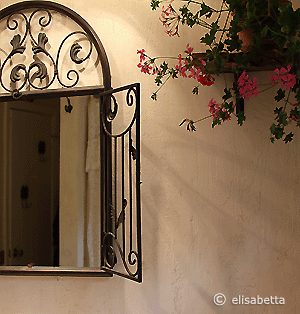 Renate's Reply
: What an amazing job you've done, Elisabetta - this is seriously scrumptious Tuscan bathroom design. Your shelf is a stunner, and I love the idea of putting bricks underneath the windowsill ... it has added heaps of Mediterranean character to the room. So much creativity in
one
household! I wish you a glorious trip to Tuscany - you'll come home bursting with new ideas - can't wait to see the result of
those!
(Return to
Part 1 of DIY Tuscan Bathroom Design
)