Funny Wooden Chairs in Amsterdam
by Peter
(Bristol, UK)

I found these chairs on a trip to Amsterdam, Holland. They were made out of raw wooden boards in an extremely simple design, easy to copy.


Even though I expect the ladies will have a bit of a problem with the untreated surface, what with stockings and cashmere sweaters and all that, these chairs are still a cool design.


I especially liked how they contrasted with the elegant antique surroundings of the 17th-century house they were in. (Trust the Dutch to come up with something like that.)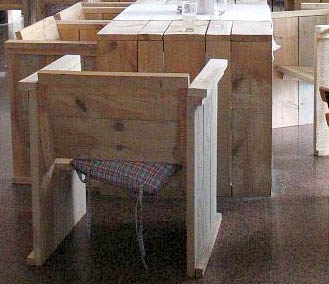 Dutch wooden chairs (close-up)
The close-up shows that to make chairs like these yourself, all you need is some planks, some wooden slats, and a decent power saw.
Renate's Reply:
Great find, thank you for sharing it, Peter! What a cool idea for a not-so-lazy Saturday afternoon.
To overcome the stocking/pantyhose problem, you could of course use reclaimed boards, or strip and wax them before you invite the ladies over. I'm sure they'd appreciate it ;-)