How To Decorate A Bedroom In 4 ... Months!
by Lesley
(UK)
I moved into my house in October 2008, and for the first time ever decided to treat myself to a new bedroom (I've always made do with the children's castoffs, and nothing ever matched.)


I had recently bought a
navy
duvet cover and lampshades,
cerise pink
curtains, and
white
sheets and pillowcases, so thought I would continue with those bold colours that seemed to go well together ...
... and have white walls, not too feminine as the white and navy blue calmed the pink curtains. I thought new wardrobes, chest of drawers and bedside tables would really look good.
I was wrong – or at least so I was told!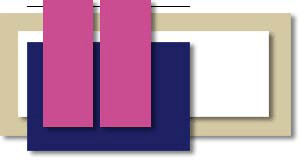 My new partner does not do pink
in any form and got more adamant as time passed that either the pink curtains went or he did.
We had a few debates about what colour to use ...
he wanted green
; if not green then blue or yellow. The one thing we
did
agree on was that we wanted it to be warm, modern, fresh and relaxing.
I absolutely hate green
, and always have, so there was no way I wanted that colour - any colour but! I didn't want yellow because my previous bedroom was yellow. Blue seemed too cold, and I couldn't think of a warm colour to go with it. I tried an aqua but he didn't like it, and teal blue made the room look smaller and cold.
I like lots of colours, and tend to be a warm-colour person, so I suggested orange and cream ... too old-fashioned. What about red? That didn't go down well either: what effect was I looking for? (As the room is not that big, it would have meant having at least three of the walls white, if not all of them, with red accessories.) So the red got shelved. Lilac? No, that was too like pink ... and feminine. Plum colours with a cream colour? Too dark and too like pink/red.
The bedroom wall soon became a patchwork quilt of all the sample pots I brought home, but each shade looked very different when I put them on the wall.
The
furniture
was purchased in a
light beech
colour, light, modern and easy to match with any colour. And it was stored awaiting the transformation. Little did I realise I would have to store it for 4 months!
After endless 'debates' and 2 months of 'thinking' and looking for a compromise, I found a
soft lime green
which I decided to give a go ... but then what colour do I put with it? More choices. Navy blue? It looked good when I got a swatch of material, so bought the curtains, but I was disappointed. They were not right. The colour was too harsh and the colours didn't flow together. They seemed to be blocks of colour which just didn't give the right feel. So the navy curtains got moved to the back bedroom.
I conceded that lemon or a golden colour might look good. The hunt was on for bedding and curtains, which I thought would be quite easy ... wrong! We tried every site on the internet, with no joy ... we went out to every store we could think of but faced a wall of beige ("we don't do beige, we are not
that
old"). Apart from that: vibrant pinks, reds, purple and plum colours - all the 'in' colours for bedrooms this season were exactly the colours his lordship didn't want to wake up to!
Eventually we found a duvet that was mainly white, but had the same green as the walls in it.

Although it has flowers on (too girly!) there was just a couple of large duck egg blue and yellow in the flowers so they were a hit ...
anything
to agree to getting this room finished ... and they made curtains to match! YES ...
It didn't take long to get the paint on, and I have to admit it looked ok. I could certainly live with it (though I think I would have lived with
any
colour just to get the room done, things unpacked and not be thinking of decorating!).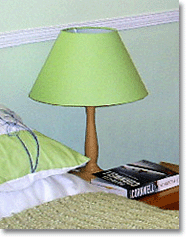 With the painting finished, we laid the new carpet (long-pile, in a flecked cream color - the one thing we found and agreed on within 20 minutes!) The wardrobe and chests of drawers got built and the bed arrived, together with the new leather headboard (you'll see it in the slideshow below).
The headboard was a compromise: I really liked the suede ones, but suede doesn't combine well with my young children and their sticky fingers.
It finally started to feel like a bedroom.
One last shopping trip managed to get us the lampshades and accessories we wanted to complete the room.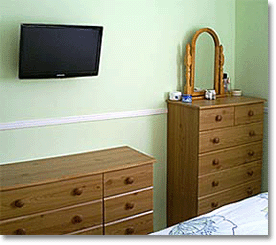 I have a large glass vase that is in the shape of a cocktail glass which is at a local florist having a silk flower arrangement made of green, blue, white and yellow flowers.
This will stand in the space between the two chests of drawers as a feature to lift that area.
Looking around me now, I am very pleased with the result and glad it wasn't rushed (a little quicker would have been nice!) It feels cosy yet light, airy, fresh and clean. I've had a lot of great comments and compliments on my efforts.
And yes, I'm glad I did choose the soft lime
. Everyone laughs when I say it's green ... I get a lot of "but you don't do green" so I'm not as predictable as they thought!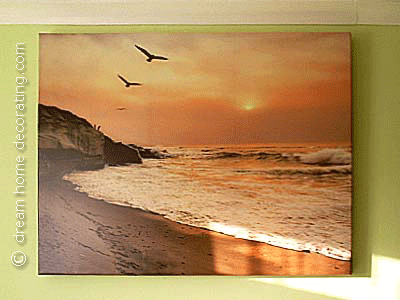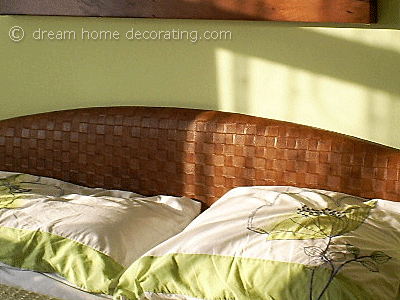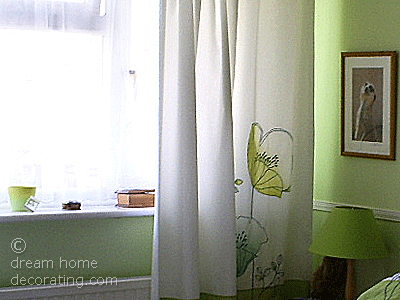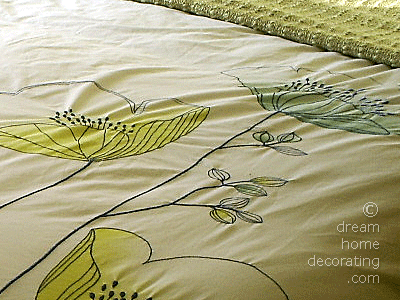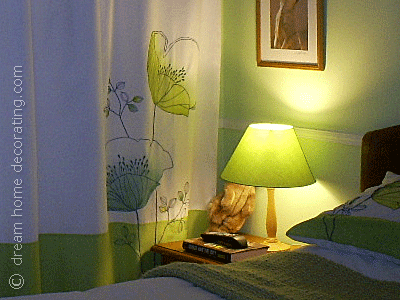 I now have the bug for decorating, and am looking forward to my next project ... though I can't decide which will be first, the bathroom or the lounge.
Both will have to wait until the garden has been done ... I just hope they don't cause as many debates on the colours etc as the bedroom did!
Renate's Reply
: What a story, Lesley - thank you for sharing it! (I'm very glad it has a happy ending ;-) Your bedroom looks great. Your disciplined color scheme - just the green, white, and the natural wood & sepia tones - works perfectly. I love your attention to detail (even the green pot and the wooden box on the windowsill are on 'color message').  Slow, deliberate process => great result!