1. Small Apartment Design Ideas
by Tonie
(Saint Petersburg, Russia)
Hi, it's great to be back! This update is about my initial design ideas for my apartment. First, though, I need to tell you a bit about my current lifestyle, so you know what kind of design constraints we're dealing with here.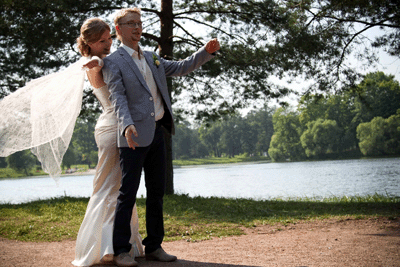 In August my fiancé, Theo, and I got married, and we now live together in this tiny apartment in Saint Petersburg. We're both in our final year at university, which means we're both writing our master's theses this year. We also work part-time as English teachers and interpreters ... so a well-organized
workspace
was top of the wish list!
We're into sports, too, so we have to make sure there's enough
space for our equipment
, like skis, tennis stuff, camping tents and so on.
I love cooking for Theo and for our friends, and it's important for me to have a nice and comfortable
entertaining space for lots of guests
.
And of course we both want some
space just for the two of us
, where it's quiet and peaceful, with no job, no studying, no cooking, no dishwashing or anything of the sort.
Given that we have
less than 40 square meters for all of this
(430 square feet) - yep, that's a bit of a challenge! Here's a floor plan with my ideas about organizing the space we have: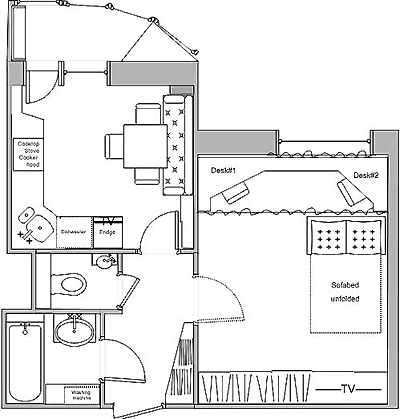 Initially I wanted to
pull down a couple of walls
and build them in other places, but then we decided against it - seeing as there may well be more than the two of us here in the near future, and then we'd have to move to a bigger apartment and rent this one out.
So, given that we don't know how much time we'll have to enjoy this place, and given all the problems you get as soon as you start altering things (you have to get consent from authorities if you want to pull down walls, and
that
- in my part of the world - requires either a lot of time or, ahem, a great deal of money :-) we decided to leave the walls where they are for now.
Now to the
floor plan
itself.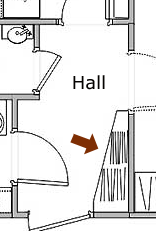 Walk into any home and there's a coat rack of some sort at the
entrance
. But with a tiny hallway that has five doors in it, where do you even put a hatstand?
I've designed a small wardrobe for the hallway, and it will be the only piece of furniture in this space.
It'll have two floor-to-ceiling, mirrored sliding doors. And it's not just for coats, shoes, scarves, gloves and umbrellas ... we'll use it to store household tools as well.
The shape of the wardrobe won't obstruct your path when you enter the apartment, and the mirrors, together with the wallpapered shorter sides, will make it 'disappear' visually (I hope ...)
Although the
bathroom
is very small, we're lucky to have enough space to put the washing machine there. There's a separate, tiny room for the toilet, just big enough to have a sink beside a suspended toilet and a boiler above it, hidden behind curtains or doors.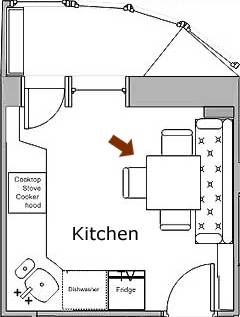 The
kitchen
is spacious enough to double as a dining room, with a comfortable sofa that can be folded out into a guest bed.
Most of the kitchen appliances are built-in and hidden behind cupboard doors, which will make it look less like a kitchen and more like a dining room.
The only
bedroom
of the apartment is simultaneously a
library
,
two offices
and a
living room
. Everything on less than 14 square meters (150.7 square feet)! I would love to have a full bed there, but eventually opted for a sofa-bed to have more open space and to give it more of a 'living room' look.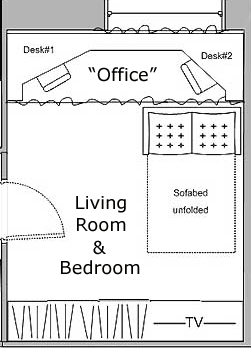 For the
workspace
, we decided to build one long worktop of a complicated shape, along the window wall. It's got a lot of space for work, and can also be used for serving food when there's a party.
This work area is divided from the bedroom part by curtains that match those on the windows.
The wall opposite the window is occupied by a wall-to-wall, floor-to-ceiling
wardrobe
. Despite its size it won't look heavy because some of the doors will be mirrored, while others will be wallpapered to match the walls.
As you can imagine, this wardrobe won't just be for clothes. It will house the vacuum cleaner, ironing board, camping equipment and suitcases, and the part opposite the sofabed will be a 'media center' with a large TV screen, space for DVDs, audio system, stuff like that.
And when the sofabed is folded out & curtains & wardrobe doors are closed, we'll have a perfectly private and quiet space for the two of us.
Next, I'll send you some pictures of the place as it's shaping up. And I'll write about colour schemes and some more design ideas.
All the best,
Tonie
Renate's comment:
Wow, Tonie, I love your creative ideas (great mood board, too, and excellent illustrations!) I very much look forward to seeing it all come together!
And thank you for sharing a wedding piccie, too ... you guys are one adorable couple!