4. Table Lamp Ideas
by Tonie
(Saint Petersburg, Russia)
I hated that lamp over our dining table, and couldn't wait to replace it with another one that would hang on a level with the wall lamps and have a bigger lampshade than the current one. (There will be a spotlight right under the ceiling, which will highlight the area between the wall lamps – eventually, there will be some kind of decor in this area.)

Whilst thinking about the shopping I wanted to do for my apartment – mostly for the kitchen – I noticed how difficult it was to
picture the final look in my mind's eye
.
So I decided to actually create that picture
myself
, with the help of a couple of photos and
Photoshop
. That was sooo much fun,
and
...
... it helped me make up my mind which of the options I liked best.
As it turned out, my
initial ideas
weren't particularly brilliant, both in terms of design and price. After drawing the whole picture of my
dream dining area
(well, Photoshop kindly did most of the 'drawing' for me) I tried a number of lamps (found the pics on the web), and the one that really clicked with me was a total surprise! I wouldn't even have looked at it in the store!
Here are the pics. I must say I liked them all, but in the end decided to go for #4:
1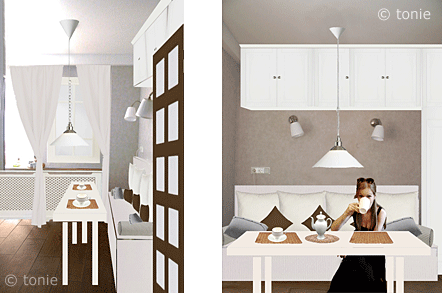 2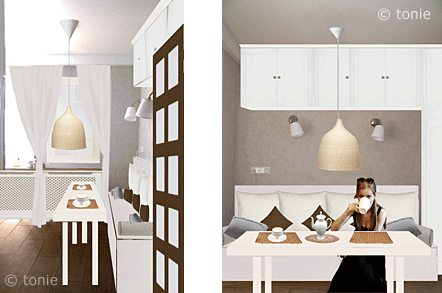 3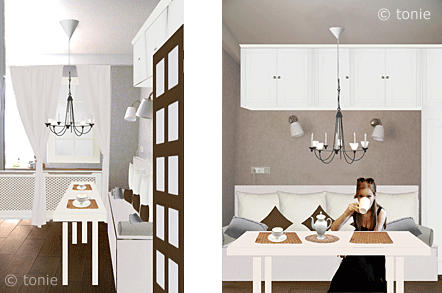 4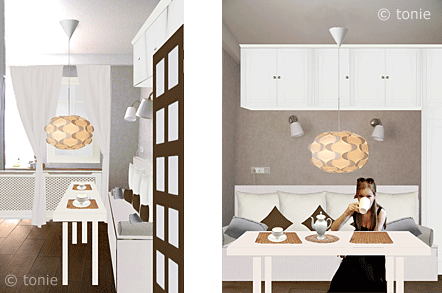 So off I went to the store, bought lots of stuff, including the lamp for the kitchen and some decor for the side table. Here's the before-and-after of our
dining area
: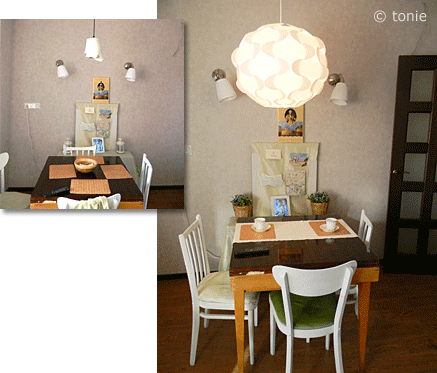 My husband wouldn't let me hang the lamp lower. May be he's right, but I still would like it to be a little lower, especially when I look at the front view (above)... The good thing about this lamp is that it didn't cost much, so even if we get tired of it - no big deal!
Renate's comment:
Loved your illustrations, Tonie! I'm getting a real sense of how this kitchen is going to come together ... thanks for sharing the process!