Extreme Kitchen Makeover
by Jai Williams
(London, UK)
Evidently, the biggest and most expensive renovation is usually the kitchen. I have a total budget for the entire flat so have to be careful not to blow most of it right at the beginning of the project.


I tend to have an idea of how I want things to look in my head, and then work from there depending on budget and how the materials blend together and fit into the character of the property.
Taking the old kitchen out
was straightforward.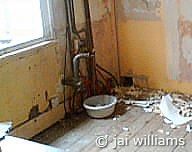 The biggest fright
was when the plaster
and
render under the sash window came away with the old worktop, leaving daylight between the brick work and the underside of the window sill.
This I fixed, but it added to the budget and slowed the project down by a day.
Then I sanded and varnished the
floor
. A few of the 120-year-old floorboards were so decayed that I had to replace them. The new ones don't quite look satisfactory - it's one of the few places in the flat that are still niggling me.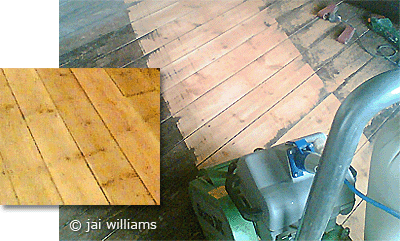 The only part I had to get a tradesman in for was the boiler re-plumbing and the supply to the gas hob.
All electrics were in place and simply needed domestic improvements by way of decorative
nickel fused switches
for the cooker, plugs, and light switch.
I
tiled
using an electric
diamond wheel-cutting machine
. It is noisy and messy, but very accurate & fast.
Here my ethos is 'give it a go' - because it's
your
home. If you mess it up you can always re-do it. Ok, mistakes cost money, but in the long run, the experience is worth far more than getting a tradesman do it. However,
safety is first
, so ensure you feel confident in using such equipment safely.
Before: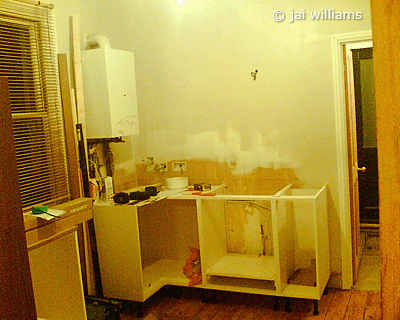 After: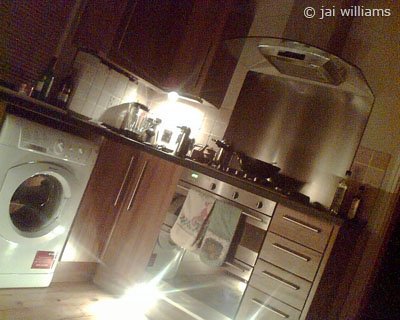 The
units
are from
Wickes
(a 'Home Depot' type store here in the UK) and the matt black work surface is from
Ikea
.
Sprucing up the look:
I would have loved to have black, polished
granite worktops
, but that would have exploded the budget. The Ikea countertop works fine, and may even have an advantage over the granite in that you don't easily see your fingerprints all over the place.
I hid the boiler behind cupboard doors, put
down lighting
under the top units and
in the kick boards
to light up the sanded floor boards.
These are all easy, cheap but effective ways to
make the finishing touches look classy
and thought about.
The []tiles are small 100x100 sandstone that lift out in colour against the dark wood units and worktop.
I painted the walls in a vintage mushroom and added a splash of colour with added
artwork
(will add some photos of this!)
Renate's comment:
What a transformation! I love the narrow, slim proportions and the polished look of the place. The brushed-steel splashback looks great next to the wooden surfaces. I look forward to your additional
'after'
piccies!