Victorian Remodel In London, UK
Jai has been turning a decrepit Victorian flat into a mix of 'man cave' and perfectly presentable, proper period property.

(If you're currently (re)decorating or remodeling your home, how about sharing your home makeover, too!)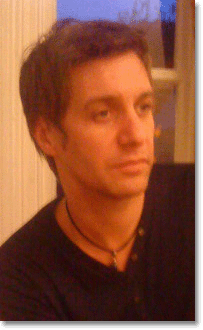 Jai Williams
London, UK.
Hi! I'm Jai. (Apologies for the gloomy double portrait of myself & a flu bug ...)
I'm a sound engineer for the film industry by trade, but home improvement is probably in my DNA.
My parents purchased their first home when I was about two years old. Over the many years I watched my father work with his tools, building and adding to our home. It seemed he could turn his hand to almost any area of DIY. Being an electrician he could re-wire all sorts of projects too.
Dad didn't directly teach me any of those skills but he is always on the phone if I need advice. My mum was always a steady hand with a paintbrush and still is today.
My brother has a friend, Ivan, and he is a professional builder. He has advised me so much. I helped him install our first kitchen. It was then that I realised how easy it was.
I guess somewhere along the line all that watching rubbed off on me. When I finally moved into my first home in Ealing, I received a fantastic DIY book from my brother and the rest, I guess, is history.
I am always slightly nervous when starting a project, and sometimes I wish I hadn't started, but the rewards are such that it is always worth it.
Here's my latest: a Victorian conversion flat from the 1880s.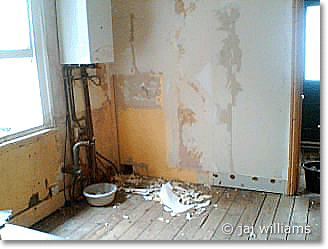 I purchased this flat for a number of reasons. Firstly, I was attracted to its size and character along with the fact that I could put my personal stamp on it. In fact, I could almost re-write its future. It was in a poor state of repair, with little to no real work done on it for many years.
Could you do something like this, too?
Basically, yes. Start with a deep breath and a giant leap of faith. Do your research and give it a go. With a really good DIY book and a basic understanding of how houses are put together, you will be surprised at what you can achieve and the money you can save.
Do something easy first and work your way forward.
Be safe, be careful and let your creativity flow!
Jai's Decorating Updates
If you're not Jai, please do not use this submission form.  Instead, click here to go to Home Decorating Pictures: Before & After, and use the form on that page to tell your decorating story.  We look forward to hearing from you.  Many thanks!
How's The Remodel Going?
Click below to see what Jai has been doing to his Victorian flat:

Small Victorian Bedroom With An Open Fireplace

The smaller bedroom in my Victorian flat was simple and relatively easy to remodel ... apart from that little wallpaper glitch and, well, the built-in …
Victorian Front Room

I had 'Sherlock Holmes' as a very loose theme for the front room. I also loved to see into the opulent homes around St James's Square in London at night …
Extreme Kitchen Makeover Not rated yet
Evidently, the biggest and most expensive renovation is usually the kitchen. I have a total budget for the entire flat so have to be careful not …
Yet to find the information you're looking for?
Type a word or phrase into the search box below: