Home Remodel, Step 1: Have a glass of deep rich red wine, and consider the possibility that you might be crazy!
by Wanasai
(Hobart, Tasmania, Australia)
"You will need a bit of luck with that!!!!" That was the main reaction from my friends when they saw the slum that I was going to move into in 6 months .....


The house had been a rental for 20 years, with the most recent tenant refusing all access for maintenance.
The carpet was threadbare to the point of looking like hessian glued to the floor, curtains were so dirty that they stood up by themselves, successive tenants had slapped all sorts of paint wherever they thought it might stick.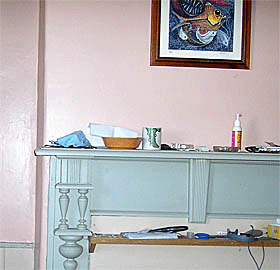 The kitchen was out of the ark ...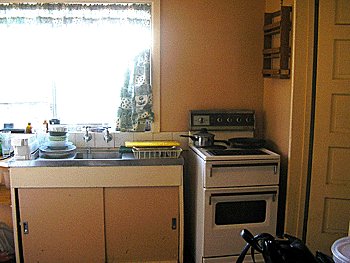 The bathroom (see photo @ top) was so putrid that the plaster had literally decayed before the tenants had taped up some rather striking blue plastic with gaffa tape. And twenty years of dripping rusty taps had left their authentic marks in the basin (and no, I'm not showing you a close-up of the toilet.)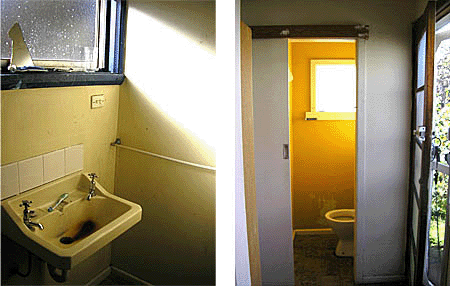 All in all
nothing was worth saving
except the beautiful time-worn timber step which had once been the back door step of the house.
Luckily I was undaunted by the current condition of the house, instead reveling in the opportunity to do a radical makeover - it was such a dump, after all, that anything I did could only make it better! Nothing about the house was particularly precious, and ... best of all, being for my future use, nobody else's opinions to consider!
Where to start?
With a lot of consideration about how I want the house to be when finished:
as light as possible, despite being mainly East facing,
with a relaxed, comfortable feel,
as spacious as possible given the small size,
uncluttered (sigh!), and
with a bit of a funky design edge so that the property will bring in a good rent.
Next, a floor plan
that will explain the structural changes to both myself and, hopefully, my builder: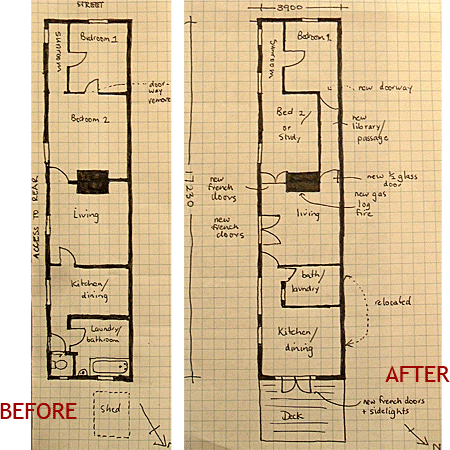 (From here on in, you will find close-ups of these plans throughout the 'story', together with pictures to give you an idea of how I've changed the house).
Then - to find a builder.
I asked a friend of mine did she know any builders, and my friend said - well there was a young man who came looking for a room to rent a few weeks ago - she gave me his number, I gave him a call, he popped round with his builder friend, "yep she'll be right!" , they said (an Australian expression meaning "I know precisely what you mean and I have things perfectly under control").
The young builder had just moved to the city from the country, and was keen to establish his business and build up a good reputation- initially through my contacts as a designer, so he made it quite clear that he would be doing his best work - a very mutually beneficial arrangement!
They were ready to start in two weeks
- so things started to get a bit hectic from there on in!
Renate's comment:
This is going to be interesting ... a frog in need of a multitude of kisses (ugh!) ... what a project to take on!