How To Remodel Your Home (And Have Fun)
How to remodel your home? Wanasai has bought a wreck - and is planning to move in soon!
Let's see if she's having fun right now!

(If you're currently (re)decorating or remodeling your home, how about sharing your home makeover, too!)


Wanasai
Hobart, Australia.
My name, Wanasai, means "bringing in with grace", and I apply this vision, along with heaps of passion and enthusiasm, to every aspect of my interior design work!
I am constantly exploring the world of colour and design and deepening my understanding of how to directly influence people's wellbeing through thoughtful application of the principles and elements of design.
My design history began when I was 30, when I retired from my Financial Management career and headed back to formal education at the same time as starting my family.
I raised two delightful sons with my partner, studied art and design, on the way training and practicing as a training consultant and a counsellor, then formally studying Interior Design and eventually setting up my own practice as a specialist colour consultant.
For the past five years I have also delighted in teaching in the Certificate in Design at the Tasmanian Polytechnic, and I am a member of the Colour Society of Australia.
My most significant personal design achievement to date is working with my students on a project to completely recolour the Psychiatric Unit at the nearby Teaching Hospital - this project, even in its phase 1 stage of implementation, has been voted the Most Effective Clinical Intervention for the whole Unit in 2009!
Has any of this given me sufficient knowledge of how to remodel your home (or rather, how to resurrect a wreck)? Nope. Welcome to Home Remodel 101 as seen from the deep end!
Here's the house I've bought: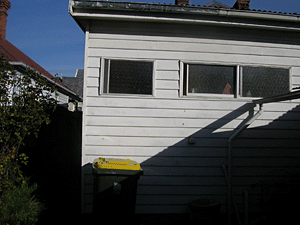 (No, it's not the Leaning Hut of Hobart, it's the leaning camera of Wanasai!)
The house is a conjoined working-mans cottage, built in 1905 and with a shonky 1960's addition. And if you think it doesn't look all that bad, wait till I open the back door for you.
So why did I buy it?
It's in an excellent location, within easy walking distance to the University, downtown, a local beach and the Royal Yacht Club of Tasmania.
With the right interior design, it will be rentable for top dollar during the summer months and provide me with income while I travel.
I got it at a very nice price ;-)
Wanasai's Remodel Updates
If you're not Wanasai, please do not use this submission form.  Instead, click here to go to Home Decorating Pictures: Before & After, and use the form on that page to tell your decorating story.  We look forward to hearing from you.  Many thanks!
How's The Remodel Challenge Going?
Click below to see how far Wanasai has got with her resurrect-a-wreck project:

Yet to find the information you're looking for?
Type a word or phrase into the search box below: