3. Improvising A Small Kitchen
by Tonie
(Saint Petersburg, Russia)
We've lived in this apartment for over 6 months now, but it's nowhere near done. We had to move in as soon as the floor, ceiling & walls were ready, and all the furniture we had at that point were some old hand-me-downs from our families!

So here's our current kitchen at night (inset is a reminder of what it looked like at the outset!)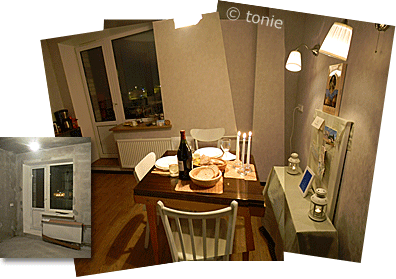 "Russian" Wall Art
Just in case you're wondering – the thing on the right-hand wall that
looks like a Russian icon
is actually a
chocolate box
:-)
The oval portrait shows
Catherine the Great
- the empress who very successfully reigned throughout the second half of the 18th century, and corresponded extensively with Diderot and other
Encyclopedians
and Enlightenment personalities.
The landscape at the bottom (the reproduction of an oil painting) shows one of the nicest squares in the historical center of
Saint-Petersburg
on a festive night: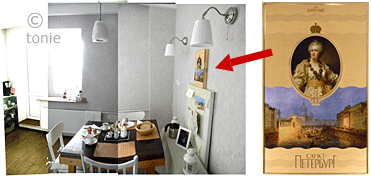 Underneath
Her Majesty
's image, and above the narrow side 'table' (where the future sofa will be), I've pinned a few
honeymoon souvenirs
on a board - train tickets from Florence to Rome, a postcard of the
Colosseo
, a business card from the nicest gift shop I've ever seen (in Florence), and a map of Rome with our visit traced over it.
New Kitchen Floor Plan
I decided to develop a new floor plan for the kitchen/dining area, because even though it's usually just the two of us dining here, I wanted the design to be
flexible enough
for us
to receive guests comfortably
. So here's the new floor plan: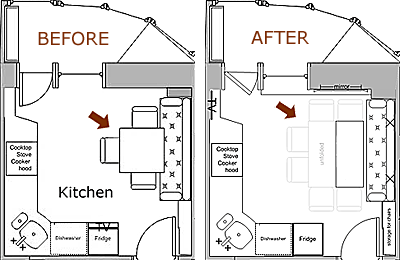 This will require many bespoke pieces, but we knew that anyway - most of the furniture for this apartment will be made to measure, to
replace the old stuff we currently have
.
The kitchen sofa is going to be a sofabed that folds out to double width.
We'll have an extending table that folds out to double width as well, and
the folding chairs will be stored in the closet (with sliding mirror doors) behind the door.
Wall Mirror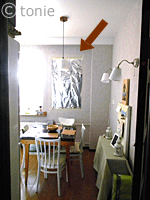 I've always wanted to have a mirror on the wall to the right of the window, so I made a
model
with painters' tape and
tinfoil
(apologies, Environment ... I promise to bake chicken in it afterwards!)
Now I know exactly what I need
12 beveled mirror panes, 25x30 cm each, plus
10 cm wide moldings to make a frame.
Here's a picture of the kitchen with the "mirror" drawn into it (also includes the future curtains).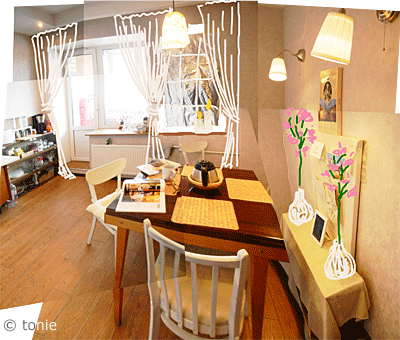 That's it for now ... next up,
a new lamp over the kitchen table
!

Renate's comment:
... loved that chocolate box, Tonie! What a cool idea for inexpensive wall art! The floor tiles look great, too. I can see how this kitchen will change once the sofa & new chairs arrive. Do keep us updated!