Advent Party Table
by Anja
(Germany)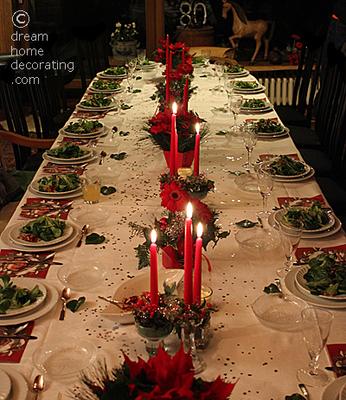 Advent party table in red-green-white-silver
We set this festive Advent table for my mother-in-law's 80th birthday party. The colour scheme was red, green, white and silver.


Red: Down the entire length of the table we had a row of large bright-red flowers (poinsettia and gerbera) mixed with red winter berries, red Christmas baubles and red bows. And of course, they were in red ceramic pots :-)

In between the flowers we placed clusters of matching red candles.


Green
: We added sprays of evergreen (ivy and conifer twigs) to the flowerpots and the candles. We didn't have enough proper candle holders, so we filled drinking glasses in different styles (and a few small vases) with green florist foam and used them as candle holders, too. Every candle was decorated with greenery and red berries.
White
: The tablecloth and plates were the only white items in the decoration.
Silver
: Because the cutlery was silver, we didn't want to use gold in this Advent colour scheme. We started with a few silver candlesticks and added bushels of curly silver tinsel to the flowers and candles. We also scattered tiny stars in silver and red on the tablecloth, which added a nice shine when all the candles were lit.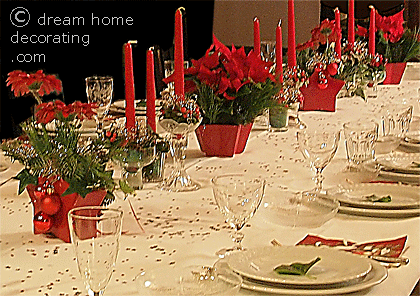 The
place 'cards'
were dark green ivy leaves. We wrote the names with a silver pen and placed a leaf on each plate.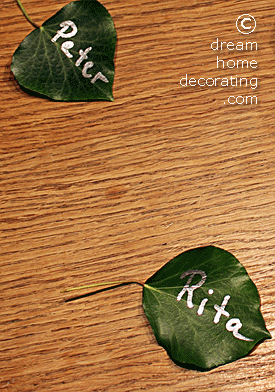 We prepared a four-course meal for the Birthday Girl, her 3 sisters and 2 brothers-in-law, her 4 children, 4 children-in-law and her 7 grandchildren. In some of the photos you can see the starter plates: lamb's lettuce with bacon bits and pine kernels.
There were speeches, funny skits, a personal poem and music. And for several days afterwards, our Mother was on top of the world :-)