Home Decorating Ideas To Steal!
Dream home decorating made easy!  Easy-to-follow tips and ideas to give your home style, personality, and an intriguing European touch.
Hi!  I'm Renate, a London-based designer. On this site, you'll learn step-by-step:
How to create the look  you want for your home, using design tricks and shortcuts for easy, elegant interiors.
How to tap into a treasure trove of European design inspiration and interior decorating styles: Tuscan, French, Scandinavian, Swiss, and other Country styles from the North Pole (well, almost) to the Mediterranean.
How to use color to create the 'wow' factor;
7 simple tips to create a home that works for your  lifestyle;
How to achieve beautiful interior design results on a budget;
How to develop your own, 'signature' home decor style.
And ... we'd love to see you show off your home remodel/makeover when you're done!

So what about the "Dream" in Dream Home Decorating?
Well, ever since I did my BA (Hons) in Design at the University of the Arts in London, I've seen over and over that it doesn't matter whether you're decorating a tiny apartment or a princely mansion. You can turn any  home into your dream home ...
If you're looking for something specific, try the search box in the top right corner.
You'll know right away if what you're looking for is on this site, and where to find it.
... as long as you know which design elements to focus on, and which ones to forget about.
♦  But how do you know what's essential and what isn't?
♦  Even more important, how do you know what you like - home decorating styles, colors, materials, patterns?
That's where this site comes in. You'll find original pictures of distinct styles, how-to instructions, and a large section about choosing color schemes (I can't stress enough how important colors are!)  Most of all, you'll find ...
... countless ways to give your home that unique, special touch.

So, does size matter?  Nope. On the contrary, great design usually happens when you drastically limit the options. Limitations are magic creativity boosters. (I'll show you how this works.)

By the way, would you like to receive my bi-monthly eZine, Dream Home Decorating News?  It comes with a copy of Stylish Neutrals, a 26-page, richly illustrated FREE e-book. (Check out the e-book here, and the newsletter here!)

Also, if you have any interior decorating questions, or suggestions on new interior design topics for this site, please do feel free to contact me. I may not always be able to respond straight away, but you will get a reply.

 And now, let's turn your home
into your Dream Home!
Where would you like to start?  Here are a few ideas:

How To Use Color:

Browse through Great Color Combinations to find the best ones for your home.
Learn how to combine Interior Design Colors to create room color schemes that really work.
Choosing Paint color can be daunting, but if you stick to a few rules, success is almost guaranteed!
Check out the 'Overview' page about Room Color Schemes - almost everyone has the same questions about home decorating with color. And if you would like to ask your own Color Questions (either about Exterior or Interior color schemes), you're most welcome to do so!
Home Decorating Styles:

In Europe, we have a great variety of Interior Design Styles.
We love mixing urban chic with Country Decorating Ideas and elegant, Old World decorating elements.
French Interior Design is a prime example of this; no one's ever surprised to find classy furniture and 'aristocratic' looking accessories in French Country Decorating!
Scandinavian interior design tends to mix sleek Contemporary home decor with authentic, raw country elements and a bit of Zen minimalism.
Swiss and Italian Country decorating have an even more rustic feel.
Tuscan Decorating is similar to French interior decor in that it's mostly done in humble materials and shapes, and yet you'll find lots of elegant Italian Renaissance art & design references in Tuscan homes!
Kitchen Ideas:

Small Kitchen Design is an art, particularly if you're remodeling your kitchen on a budget.
You'll find plenty of inspiration for French Country kitchen design in these pages, as well as ideas to help you create the look of French country kitchens.
Tuscan kitchen design is less known internationally (and often confused with French styles), but our readers have shared some lovely (and pretty authentic) Tuscan-style kitchen makeovers on this site - as well as several other great looking kitchen remodels.
Bedroom Interior Decorating:

Bedroom Interior Design can give you a soothing sanctuary, a seductive boudoir, a minimalist haven, the ultimate dream space - decorating choices are endless!
Even though you'll spend most of your hours here with eyes closed, you should use the effects of Bedroom Decorating Colors to develop a bedroom color scheme that looks & feels perfect for you.
Get inspired by French Bedroom Design, especially the gorgeous mix of modern and rustic decor you'll find in many Provençal bedrooms.  Or, create a traditional-looking Tuscan Style Bedroom for dreamy, authentic Mediterranean flavor.
Generally, Country Style Bedroom Furniture will open a treasure trove of home decorating options, from rough-hewn to elegant handcrafted bedroom decorating pieces.
Bathroom Interior Design:

In the current trend towards smaller, more colorful bathrooms, the page about French Country Bathrooms shows a series of fanciful, fun and elegant spaces very unlike your average, white-on-white cleaning lab. And what's nice - the look is quite easy to copy!
For more home decorating ideas, check out our readers' bathroom makeovers, an English one in turquoise & mint, and another with exuberant Mediterranean accents (2 parts).
Living Room Decor:

The Living Room Ideas on this site range all the way from rustic cabin interiors to buying tips for area rugs.
Of course, Country Style Living Room Furniture deserves a special mention here for its versatility and comfort, and there are special sections on French and Tuscan living rooms as well.
Beyond furniture and accessories, Living Room Color Schemes can make or break a room - this topic is always worth your careful consideration.
Color Theory Made Easy:

The Color Wheel Chart is a much-used tool for picking decorating color combinations - learn what it can, and cannot, do.
When you understand the basics of Color Psychology, you'll find it easier to choose the 'right' home decorating colors for your rooms.
Window Treatment Ideas:

European Window Treatment Ideas can be superbly colorful, with painted shutters and lavishly planted windowboxes.
Exterior Window Treatments in Southern Europe are great for color scheme inspiration, even though most interior curtains, for example Tuscan Window Treatments, tend to be white.
Whilst you're in this section, also check out Country Window Treatments in the Alps and - in an entirely different home decorating universe - gorgeous, sassy French Country Curtains.
Before & After Home Makeovers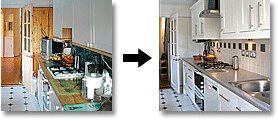 From drab to fab: Many readers have sent in photos and stories of their makeover projects.
So get inspired by your fellow Dream Home Decorators' redecorating and remodeling ideas for living rooms, bedrooms, kitchens, and two bathrooms (so far - more to come  :-)
Christmas Decor, Crafts & Gifts

The Christmas Decorating Ideas on this site are a totally crafty affair.  (A number of them were featured in a recent book, The Ultimate Christmas, by HCI, publishers of the legendary Chicken Soup series).
Create simple decorating items like Christmas tree crafts and table decorations, and try out some homemade gift ideas, too (including my Mom's scrumptious rum balls recipe).
If you're not the crafting kind, you could always check out my GIFT SHOP for some personalized, monogrammed pressies!
And for a dose of Christmas nostalgia, here's my account of Christmas Traditions in Germany - starting with home decorating in Advent, it covers all the things that can make Christmas a time of wonder and magic for children everywhere.
Trends & Tips

Frugal living and thrifty home decorating is the order of the day for many people right now.  So you'll find a large collection of ideas and shortcuts to frugal home decorating in the section about Cheap Home Decor.
Clutter is another big issue for almost everyone I know. I've sketched out a Daily De-Clutter Routine that works really well and has garnered some rave reviews.
Home decorating books - which ones really deliver more than pretty pictures and some fluffy copy? Check out my Interior Decorating Book list for suggestions. (Oh, and do get my Free E-Book about Neutral Color Schemes whilst you're at it.)
Site Info

Meet me on camera 3 ... but much more importantly, please read the Site Policies!
For a full table of contents, please visit the Site Map. And if you would like to contact me with any home decorating questions, here's my Letterbox!