Home
›
Christmas
› Christmas Tables
Christmas Table Settings & Christmas Table Decoration Ideas From Europe & The Americas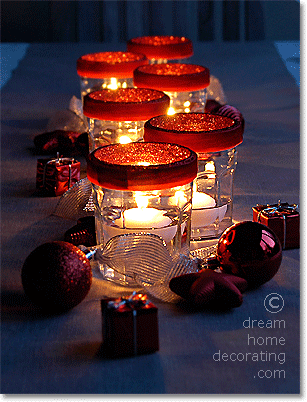 Xmas table centerpiece with jam jars & floating candles
The 20 Christmas table settings on this page were all part of last year's Dream Home Decorating Christmas Contest.
The sheer fun, inventiveness and diversity of the participants' ideas was incredibly inspiring!
Many of these Christmas table settings come with excellent DIY instructions, so I'm hoping you'll make your own versions next Christmas :-)

First Prize:   Val's  Silver Walnut Tabletop Tree combines lavish looks and easy DIY, and her elegant place cards impressed us as well. If you want to copy this look, the elements are very easy to create. Val's entire Christmas table is a restrained mix of natural simplicity and sophistication, with a very effective color scheme. Congratulations, Val, you deserved to win!

Second Prize:   The folks at Craftideas.Info created a warm, wonderfully inviting Christmas Coffee Table Setting out of very inexpensive materials. Christmas ornaments hung from a T-bar stand, glass jars turned into table lanterns with the help of red craft sand, all set up with handsome finishing touches and a cheerful sparkle. We love it!

Third Prize:   Louise  laid a Rustic Christmas Breakfast table with handmade initials as place 'cards' and a beautiful long line of pine cone candle holders. Instructions for making are well illustrated and easy to follow. And the pared-down contemporary country look really shows off the natural beauty of the cones and the thoughtful decorative details of the setting. Yum!
There's more ... have a look around. Get inspired. Formal or casual, rustic, traditional, cool or whimsical Christmas table settings - it's all there. Enjoy!
Special Mentions ...
This contest produced some wonderful contributions that I really didn't see coming. For example, great storytelling! Check out Jessica's Xmas Picnic In Costa Rica for a jungle adventure complete with a visit from wild monkeys! Not quite your grandmother's Christmas table setting!
Annette submitted a meditative Advent table setting that traces the Journey of the Magi to Bethlehem through the four weeks of Advent, gradually moving them across the table towards the Holy Family and the manger. A beautiful, contemplative idea, and a Christmas dinner table that lasts a whole month!
Finally, there were several gorgeous, authentic Old World style decorating ideas for Christmas tables: Sabina's homage to her Grandmother (Switzerland), Marita's account of wreath making in her tiny Black Forest village (Germany), and Hans & Ursula's quirky and nostalgic Austrian Christmas table centerpiece.
Join In The Fun: Show Us Your
Christmas Table Settings!
Now, even though this Christmas Contest is over ...
... you can (and indeed you should :-) submit your own Christmas table decor ideas here. Be assured, you'll inspire folks around the world!
So go ahead and snap your Holiday table. Show it off in the best possible light, and tell us how you created it.
Have you got a styling tip, DIY tutorial, or crafty decorating detail to share? We want to know about it. Let your ideas inspire Dream Home Decorators around the globe!
All Christmas-themed table settings are welcome, from Advent coffee to Christmas dinner party.  Send us last year's Christmas table settings, 20th-century ones, or pre-Christmas mock ups if you want to show a few of your ideas!
You can submit a friend's or a family member's table, but your write up and photos must be your own. They can't be copied from any other source, and must not appear elsewhere on the web.
Show Off Your Christmas Table Setting!
Join in the fun, and share your Christmas table decoration with us!


Dream Home Decorators' Christmas Table Settings:
Click below to see contributions from other visitors to this page...

Yet to find the information you're looking for?
Type a word or phrase into the search box below: