Christmas Coffee Table Setting
by The Folks At Craftideas.Info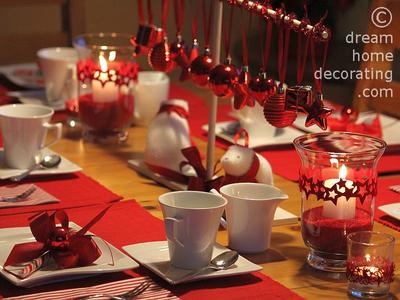 Christmas coffee table setting in red & white
There is nothing like sitting down at the table with good friends over a cup of hot coffee or tea during the holiday season. A decked table in the colors of red and white looks inviting and comforting and will keep your guests relaxed for hours to discuss all of their upcoming holiday events and plans.



After setting the table with red place mats and a white porcellan coffee service, simple and easy decorations were necessary to give it that special Christmas feel.
The embellished
glass candle holders
with the starry design were created by simply adhering Christmas felt ribbon around the glass using a clear non-permanent double-sided adhesive. The advantage is that the ribbon can be removed after the holidays so that you may use the candle holders for other occasions.
Then the larger candle holders were filled with fine red rocks and a white candle and the smaller ones with only a tealight.
Ribbon garnished candy canes
are placed in each plate to adorn them. A double-looped ribbon bow was first created and tied off with a thin piece of satin ribbon. Then a glass bauble was added to the ribbon and then tied off around the candy cane.
The
centerpiece stand
was purchased at the popular Swedish furniture store and embellished with red garland and ornaments. A ribbon bow was tied to the bottom of the stand and two polar bears with red scarves finish off the decoration.
All in all the table is quickly set up once you have the supplies and can be easily repeated in the following years.
Renate's comment:
Wow, who wouldn't want to sit down at this coffee table! Gorgeous table decorating ideas - you've created an effortlessly beautiful, polished Christmas look that can be copied on a very low budget! Thank you very much for sharing it with us!
(
Note:
This entry was 1st runner-up in our
Christmas Table Settings Contest 2012!
For more great crafting, visit
craftideas.info
- a lovely site, full of super inspiring craft instructions.