Christmas Tea For Two
by Sabina
(Muerren, Switzerland)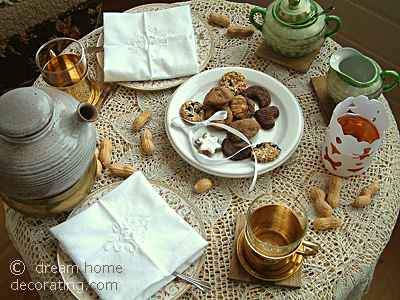 Christmas Tea for Two
My Christmas Tea for Two turned into an homage to my Grandmother. Because all those knitted, crocheted, and handmade bobbin lace tea-cloths and doilies used to be hers, and she gave them to me. They were buried deep in an old suitcase for many many years, together with her wedding dress!


My Grandmother had a big garden.
My mother used to play there when she was a little girl, and in due course I got to spend a lot of time in this garden as well.
It is here that I developed a deep love for plants.
Therefore a Christmas Tea for Two that's decorated with my Grandmother's handmade doilies must (of course) have plants in it, too: oranges, nuts, dried rose hips, burl wood, apples, tangerines, fir branches ...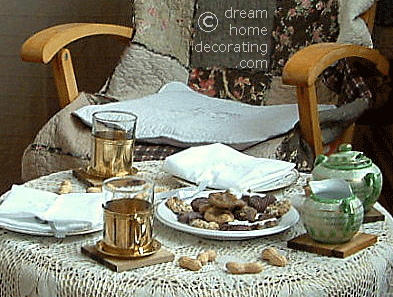 The veranda where I have set the tea table is home to many house plants – it is really a mini garden (sorry you can't see that in the pictures!). And come to think of it, even the Christmas cookies and the tea are an entirely vegetarian affair :-)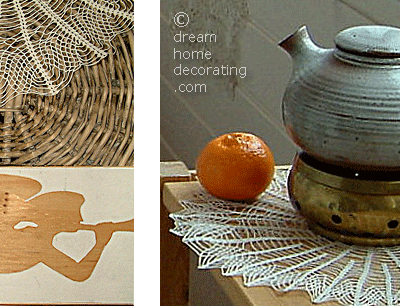 Happy Christmas!
Renate's Comment:
Wow, Sabina, your Tea for Two is like a postcard from another era, with a copperplate stamp in faded greens and ivory, and the flavor of Italian oranges! Beautiful. I love the 'wintryness' of your color scheme, too. Thank you very much for sharing this Christmas table, and Happy New Year to you!
(Check out Sabina's artwork
here
!)