Winter Wonderland Christmas Dinner Table
by Ljiljana
(Dorset, UK)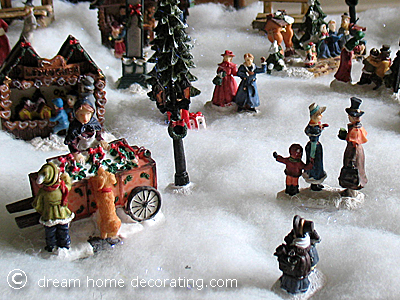 Christmas village
I have always loved Christmas, it is my favourite time of year. It is not about the presents! It's all about the tradition of decorating your home for the holidays and laying and decorating the table for that special Christmas meal you will share with family and friends.



My 'Winter Wonderland' Christmas dinner table decoration was inspired by many winter holidays in Austria and Germany over the past decade.
Some of the journeys through the countries were done by train.
The Alpine scenery, adorned with seasonal snow, gave me the idea of creating a Christmas village back at home.
German Christmas markets are an excellent source of hand-made Christmas decorations including festive figurines (made of clay) ...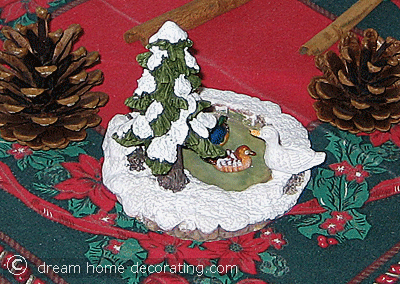 ... as well as stalls, buildings, wooden carved animals and many wonderful things to eat. My favourites are Christmas cinnamon stars. The smell of cinnamon is just so soothing and comforting for me.
Every year I go back to Germany in the weeks before Christmas and bring back new additions. I also create a Christmas village on the table in the lounge. (A detail is shown in the right-hand photo at the top!)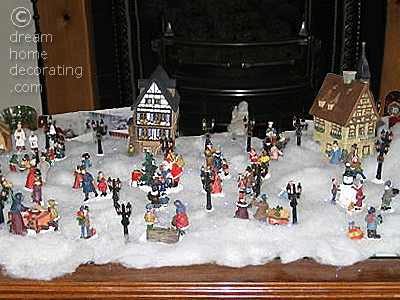 The "snow" on my table is a shop bought thick roll of artificial snow and it's laid out on a plate that I bought in Munich - my very first German Christmas market!
Some of the figurines were bought by my friend who sometimes visits the markets with me.
I collected the fir cones in a forest near my town whilst walking with my friends.
The dining table is covered with shimmering gold fabric that gives it a chic festive feel.
Every year the same decorations are on my table and they never lose their magic.