Hello again!



Happy Holidays, and welcome to the Christmas issue of Dream Home Decorating News! This time, we have an exciting Christmas Table Decorating Contest (Grand Prize $100!) and an exclusive, printable Christmas card/decoration for you to enjoy.

If you like this newsletter, please forward it to share it with your friends.
And if you received this issue from a friend, please subscribe so you won't miss out on all the creative home decorating ideas and fun contests in upcoming issues.

Thanks for joining me today, and enjoy this issue!
Renate Hering-Shepherd

PS) If the newsletter is difficult to read as an e-mail,
read this issue online.


---
CONTENTS:
---
Welcome To Our 2012 Christmas Contest!

With Christmas approaching fast, creative minds are clicking into gear! This is a wonderfully productive time of the year, and a great opportunity to share ideas ... even better, you could win up to $100 just by sharing yours!
To enter, all you need to do is upload a photo of your Advent or Christmas table and tell us how you created it.
It's super easy to join in - just click here to go to the contest page!
---
Free Printable Christmas Card/Decoration:
Instructions & Download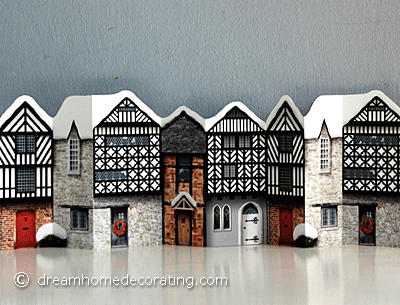 My Christmas gift to you this year was inspired by English country cottages and the gorgeous patterns of 16th-century Tudor timber framing. It is a 2012 exclusive, just for my newsletter subscribers. I will not make this design available on the site for another year!
The card folds harmonica-style and will fit comfortably into any standard envelope if you want to send it as a Christmas card.
And if you join several print-outs together, they make a very pretty mantel ornament. Try displaying it surrounded by white cotton wool or artificial snow, and place LED tea lights behind the 'village' for atmospheric Christmas lighting!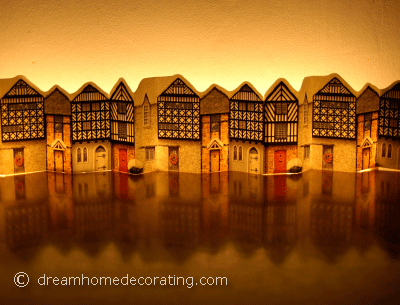 Before You Download ...
Here's what you need:
white A4/letter size card (as heavy as your printer will tolerate);
a ruler;
a bone folder or a very blunt knife;
scissors;
glue.
The rest is easy: align your ruler with the green fold lines, and score the paper using your bone folder/knife. Score the connector flap, too, if you're using it to make a 'village'. Then cut out the design and fold it.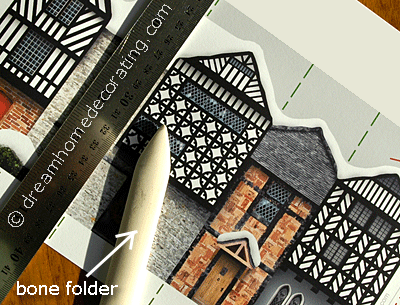 To download, you need Adobe Reader - if you don't have it installed on your computer, you can download the latest version here (a new window will open so you can download it without leaving this page).
Click here to download your Christmas present (and if the link doesn't work in your e-mail setup, please contact me!)
---

Here are some of Dreamhomedecorating's Christmas Favorites. My most-published, most-pinterested, facebooked & tweeted pages. Enjoy!
1. For Foodies:

Frosted Fruit - a Christmas table decoration idea that caught the eye of Jeanne Bice (of Quacker Factory fame) and was published in her book, The Ultimate Christmas
. It's great for country Christmas table centerpieces and rustic Xmas table decorations that can later be eaten for dessert.

For a chocolatey Christmas gift or dessert, try my Mom's Recipe for rum balls. (Jeanne Bice loved those as well :-) Give them away in a fancy box, or serve them with espresso after Christmas dinner, stacked into an elegant, mouthwatering pyramid in a footed bowl. Yum!
2. For A Hand-Decorated Christmas Tree:

Gilded walnuts are a very old, very traditional European Christmas tree ornament. And they used to be covered in real gold leaf! Those were the days! Well, thankfully we can now create that beautiful, rich look on the cheap :-)

This set of super-easy printable paper Christmas ornaments looks great on a tree, but you could hang them (on pretty ribbon) from practically anywhere: e.g. curtain rods, lamps, door knobs, armoire keys, or a mantel. They also make lovely Christmas gift tags!
3. Gifts By Post:

A perennial Pinterest favorite, these paper lantern houses are very easy to make - and what's best, you can send them in a regular envelope as a Christmas present. They really do look nice and are very versatile. (Use only for deserving folks!)

And that's it for this time! Have a wonderful, love-filled, happy Christmas, and a great New Year. 'See' you again on February 1, 2012!
P.S. Do feel free to forward this newsletter on to family and friends who might also enjoy it or want to enter our Christmas contest. Let's share in the fun!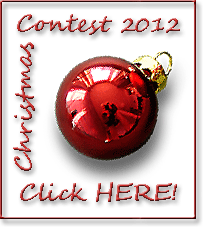 All the best for you & your loved ones,

---
Get Answers:

Looking for specific home decorating information, or want a question answered? Search Dream Home Decorating and the 'net here!



---
Legal Stuff

How did you get on this list? You subscribed to Dream Home Decorating News through a double opt-in feature. I never add names to my mailing list except by request. I hate 'spam' and would not dream of subjecting others to it.

If you need to make changes in your subscription or wish to unsubscribe, click the link at the bottom of this newsletter. This only takes a minute, and by making these changes yourself, you can be sure the information I receive is correct.

I never rent, trade or sell my e-mail list to anyone for any reason whatsoever. You'll never get an unsolicited email from a stranger by joining this list.

Please feel free to pass on this issue to friends and associates - just keep the entire message intact and unaltered.


Here's to a gorgeous home – yours!

"See" you again on February 1, 2013 -
Renate Hering-Shepherd
www.dreamhomedecorating.com