Christmas Craft Gift Ideas:
3 Paper Lantern Craft Houses

This Christmas craft gift fits into a standard envelope!

It's an easy to make, frugal Christmas craft gift idea that ticks several boxes:
easy to flat-pack & send round the planet
Don't just use these paper craft templates for Christmas  crafts; they're also great for
or just to make someone happy!
History On Your Mantelpiece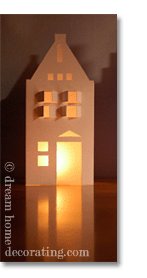 The inspiration for this Christmas craft gift idea came from 16th-century Renaissance houses in my native Germany.
You can download three of the 'houses' as free paper craft templates at the bottom of this page, and turn them into Christmas paper and craft projects - the whole row of them, or just one or two.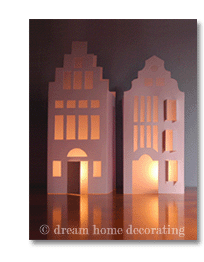 The houses look great as paper lanterns with tea lights inside (place the tea light in a glass for safety, or use LED lights!) and they make easy Christmas decorating ideas for a mantel or a windowsill.
You could personalize your Christmas craft gift by writing a door sign or adding a little ornament to the entrance...
... or combine the paper houses with other homemade Christmas arts & crafts for a more opulent display.

To jump right to the download links, please click here. Or read on for the detailed instructions (you'll get to the download links at the bottom of this page).
How To Make
This Christmas Craft Gift
You will need:
access to a laser or inkjet printer
white or cream-colored A4 card (160gsm or heavier)
transparent (layout) paper (50gsm or heavier - the stronger the paper the more sophisticated it will look)
a cutting mat
a (bone) folder or a blunt knife
a metal ruler
a craft knife
a pair of scissors (optional)
non-drip glue or a glue stick

All three lanterns have the same 8 x 8cm ground plan, and they're between 19 and 21 cm high. For each paper house, you'll need two sheets of card and two 7.8 x 21cm strips of transparent paper.
Print out each paper lantern craft template twice (back and front are identical and 'plug' into each other).
Now locate the lines that will be folds (1) (I've marked them as red lines in the picture on the right). This is important - your paper house lantern will look much more sophisticated if all the folds are in clean, straight lines.
If you don't have a bone folder (2), just use the blunt edge of a knife to press grooves into the paper where the folds will be (3). There are tiny notches in the border of each paper lantern that will help you find the corners of the house.
Once you're done with the grooves, cut along the lines of windows and doors (4) and the tongue and slit where the two halves of your Christmas craft gift plug into each other.
Leave the outline of the paper house until last (5); that makes it easier to hold the card down whilst you're doing the cutwork. Then cut the whole house out - just cut away everything that's gray.

Fold the sides of the paper house back, then turn the façade face down and distribute glue in strategic places on the back.
Then place the strip of transparent paper onto the back of the façade (6). The sides of the house will help guide the strip safely into place. Cut away any excess transparent paper.
Plug the two halves of your Christmas craft gift together in the way you see in picture (7): make sure the tongue goes from the outside in. And then
... you're done!
By the way, you will find that the paper lantern craft templates on this page are printed in a very faint gray color. So it's not easy to see fine detail - you need really good lighting whilst you work. But there's a method in this madness ...
... I don't know about your craft knife, but mine really likes to have things its own way. (Of course this doesn't have anything to do with my craftsmanship. Not at all. It's just that my craft knife has a habit of taking unannounced detours sometimes ;-)
So if your craft knife is a bit of a character as well, here's the good news: No one will notice! The gray color is so faint that you'll get away with rather individual cutting lines on your paper house pattern.
Handy Hints
If you're making this Christmas craft gift for yourself and are planning to stand the paper houses against a wall, don't bother with the windows and doors at the backs.
Just cut out the silhouettes and the tongue & slit for connecting the front and back of the house. (It'll buy you time for another Christmas paper craft project!)

Finally, a few words of caution:
Firstly, this is a COPYRIGHTED Christmas craft gift idea, and you are obviously not allowed to republish my paper craft templates without permission, or pass the designs off as yours.
Also, for the exclusion of any doubt, you cannot sell the designs, or any products you make from them. You are, however, most welcome to use these free Christmas paper crafts for as many of your own holiday craft gifts as you like.
Finally, these paper lanterns are safe - as long as you place the tea lights securely in glasses that are high enough (or use LED tea lights instead). And of course, never, ever leave a burning candle unattended. Be safe!
To Download The Christmas Craft Gift Templates ...
... you will need Adobe Reader (the latest version is recommended) installed on your computer in order to open and print the paper craft templates for houses no. 17, 22 and 59. You can get Adobe Reader here (a new window will open so you can download it without leaving this page).
If you want to open the files in your browser window, just click on the links. However, if you want to download the files to view later, then right-click on the links and choose "Save Target As" or "Save File As". Then select where you want to save the file on your hard drive.
Once you have saved the file, locate where you saved it, and double click to open.
In order to print the pattern for your Christmas craft gift, open the downloaded file, and select the "Print" option from the menu.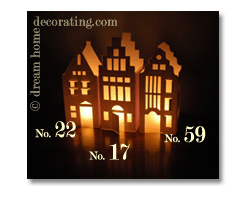 Right-click to download the free craft pattern for House no. 17.
Right-click to download the free craft pattern for House no. 22.
Right-click to download the free craft pattern for House no. 59.
If you've read all the way down to this spot, you're probably the craftin' kind! Check out some of the pages below, for more Christmas craft gift & paper lantern craft ideas:
Yet to find the information you're looking for?
Type a word or phrase into the search box below: