Homemade Christmas Tree Decorations:
Easy To Make Christmas Ornaments


These homemade Christmas tree decorations have been featured in a recent book, The Ultimate Christmas (by HCI, publishers of the legendary Chicken Soup  series).
Gilded Walnuts & Apples
Gilded walnuts & apples are easy Christmas ornaments to make, and the tradition goes all the way back to sixteenth-century Alsace, Germany, and Switzerland.
So if you're looking for simple homemade Christmas ornaments with a traditional, rustic European country twist, these quick Christmas crafts would be the perfect country Christmas tree ornaments for you!

Historically, a wealthy Old-World household would have used walnuts covered in real gold leaf, thereby reflecting both the candlelight and the owners' prosperity.
But it's easier, faster, and far less expensive to re-create the "rich" look by using gold paint for these DIY Christmas ornaments. So create your own version of these homemade Christmas tree decorations - they're very  easy Christmas ornaments to make.

You will need:
1 package of clean, whole walnuts in their shells
1 tub/tube of permanent gold paint
1 small package of wire, for hanging (as an alternative, you could use heavy-duty yarn or metal eyelets)
1 package of ribbon (plain red velvet or gingham looks very nice)
Instructions For Making Christmas Ornaments:
Gilded Walnuts & Apples
For a convincingly rustic country look, gild only some of the walnuts and leave the rest in their natural colors.
To Hang The Walnuts ...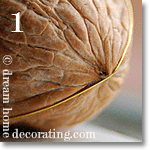 (1) Cut a little notch into the bottom, or crack the two halves open just a fraction at the lower tip, and wedge the wire into the notch (the way I've done here).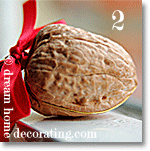 Then (2) pull the wire up along the 'seams' and lock it tight at the top.

Finally, (3) create an eyelet for your homemade Christmas tree decorations by winding a strand of the wire around the end of a pencil or knitting needle. Secure and cut the leftover bits off.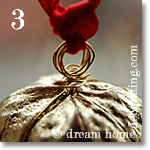 Alternatively, just hot-glue a little loop or metal ring to the top. That should work, too - a nut isn't exactly a heavy load!
The advantage of making the slightly more involved wire construction is that if you lock it tightly, it can't really fall off, and you can conveniently hold the walnut by the wire eyelet whilst you're smothering it in gold paint.
About The Apples ...
In a tradition where Christmas trees went up on December 24 ("Holy Evening") and were dismantled on January 6 (Epiphany, or Three Kings Day), apples were perfectly suitable homemade Christmas tree decorations.
This has changed - we're now used to central heating and much warmer rooms, and Christmas trees generally stand for considerably longer than just 14 days.
But here's how you can still use apples as homemade Christmas tree decorations:
Take red-cheeked 'winter apples' that mature late in the year and age gracefully (going wrinkly instead of just rotting),
Keep your room temperature a bit on the cool side.
Make sure you get small apples - they're easier to thread with wire and won't weigh down the branches of your Christmas tree.
As an alternative, try using crab apples, harvested before they're ripe. (Crab apples are not  edible Christmas crafts, by the way!)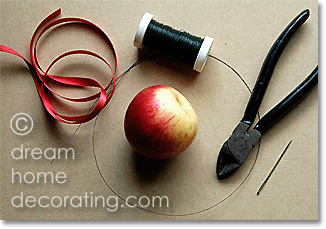 I'm sure there are many ways to construct the apple ornaments to create unique Christmas tree decorations. Here's mine:
Cut a 10in length of gardening wire per apple.
Twist one end into a small loop, as in the picture below left.
Thread the other end through a thick, long needle.
Feed the needle/wire through the apple, and make a second loop at the other end (as in the central picture below).
Add ribbon for decoration and for hanging the apple into the Christmas tree. (The bow @ the bottom also helps stop the wire from disappearing into the apple, in case it does go soft)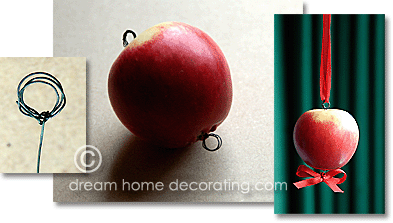 You'll find more ideas for homemade Christmas tree decorations in the box below:
Yet to find the information you're looking for?
Type a word or phrase into the search box below: