Christmas Table Decoration Idea:
Frosted-Fruit Xmas Table Decorations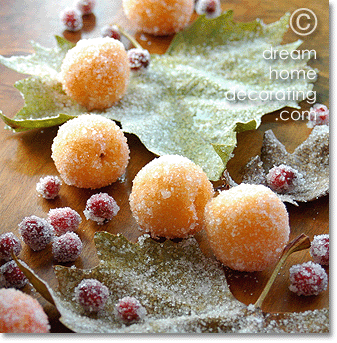 This Christmas table decoration idea makes for unique Christmas table centerpieces! It has been featured in a recent book, The Ultimate Christmas, (by HCI, publishers of the legendary Chicken Soup  series).
a) How to make these edible Christmas decorations
b) Troubleshooting
c) Setting a Christmas table: centerpiece ideas & Xmas table decorations
How To Make Frosted Xmas Table Decorations
It doesn't take much to turn fruit into amazing Christmas table centerpieces!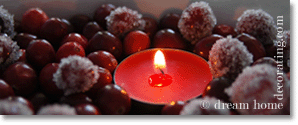 All you need is:
firm, pretty fruit
large leaves (optional),
egg white,
a brush, and
granulated sugar.
1. Choose the right fruit: go for a variety of shapes & colors, e.g. pomegranates, pears, apricots, plums, cherries, and green / yellow / brown leaves.
2. Simply brush your selected fruits and leaves with a thin layer of egg white, and then coat each one with granulated sugar.

3. Dry the fruit thoroughly on a plate or on baking parchment - not on kitchen paper! The sticky sugar coating will 'glue' the fruits to the kitchen paper, and it won't peel off easily.

How to increase the lifespan of your Xmas table decorations:
If you intend to keep these edible Christmas decorations for more than a week, choose solid, less juicy fruit that keeps fresh longer - for example apples, cranberries, and clementines. Select slightly unripe fruit and keep it away from heat sources and in a cool pantry overnight, if possible.
Christmas Table Decoration Idea
Troubleshooting Tips
Make sure you test-drive this Christmas table decoration idea before Christmas, so you get the hang of the technique and know exactly what looks best in your Christmas table setting.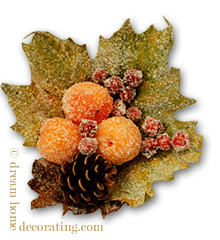 Experiment with different types of granulated sugar, so you get a degree of 'frost' coarseness that you really like.
If you find the sugar coating too thick (it happened to me when I tried it the first time - I had way  too much egg white on the fruit) - let the fruit dry completely and then rinse until your Xmas table decorations look just right ('icy' but not 'lost in a snowdrift').
If rinsing doesn't yield good results, just wash off the sugar coating as well as the egg white, dry thoroughly, and start over with the frosting process.
Once dry, arrange the fruit on your Christmas dinner table (check out the list below for Christmas table decorating ideas!)
Christmas Table Decorating Ideas List
It's really worth experimenting with these edible Christmas decorations, because the general concept adapts very well to most interior decorating styles.
For an elegant, contemporary look, place the fruit on a metal or glass plate, or in a chic, simple bowl.
For a rustic Christmas table setting, scatter the fruit (add some leaves and pine cones) over a wooden board - or directly on the table.
For a romantic Christmas dinner table, place the fruit on a white lace doily or in a fine, footed bowl.
Or, create formal Christmas table centerpieces by piling the fruit up to a sleek 'pyramid' on a circular bed of shiny dark green leaves (check out examples of Christmas fruit pyramids here).
For a 'zen' Christmas table decoration idea, take a shallow wooden bowl or a beautiful, simple plate and cluster a few, select pieces of fruit on it. Think less is more.  With this style of Xmas table decorations, because it's such a sparse look, you want seriously gorgeous pieces to create a 'wow' factor.
Create low-budget/big-impression Christmas table centerpieces by increasing the leaves-to-fruit ratio.  Focus on large, handsome leaves with interesting shapes.


Don't stop at Christmas table centerpieces. Try small compositions, for example:
Place a few pieces of fruit on a large & gorgeous frosted leaf (as in the small photo above left).
Fill frosted fruit into tall(ish) glasses or glass bowls.
Crowd a fruit-and-leaf, garland-style wreath around the bottom of a plain red pillar candle.
Line pieces of frosted fruit up on a windowsill or a mantelpiece. (Looks cool & minimalist when they're all the same kind of fruit).
Add a few pieces of frosted fruit in to a bowl of fresh, glossy, unfrosted ones, for contrast.
Use frosted fruit to decorate the Christmas pudding (or any other dessert).
Place pieces of frosted fruit with pretty name tags in the table setting: place cards-cum-dessert.
More  Edible Xmas Table Decorations:
Christmas Table Settings With Decorative Food


Xmas Table
Centerpieces
Christmas table centerpieces make very simple, Christmas table decorating ideas.
They tend to look sleek and low-key, but also offer plenty of opportunities for over-the-top decoration (should you so wish ;-)
The article contains a list of ideas for creating tabletop-Christmas-tree-shaped,   edible Christmas table centerpieces at little cost (of both time and money).


More Xmas Table
Decorations
The page about Christmas lights & decorations has additional Christmas table decoration idea & inspiration material. (For example, create a central feature down the length of your Christmas table setting, using this apple/nuts combo in sparkling glasses.)
Also, check out the page on Christmas candles for additional Xmas table decorations featuring live candles.
Yet to find the information you're looking for?
Type a word or phrase into the search box below: