Christmas Decorating Ideas:
European-Style Country Christmas Decorations


Unique Christmas decorating ideas from Europe: try your hand at some of these creative Xmas decoration ideas and make your own, Old-World style traditional Christmas decorations.  Easy & gorgeous!



Christmas Decorating Ideas 1:
Christmas Table Settings & Centerpieces


Christmas Table
Settings
Check out ideas for Christmas table settings from Europe and the Americas!
Submitted by site readers, these Christmas table decorations cover a large range of Christmas decorating styles, from formal/traditional via casual, rustic and cool to the outright whimsical.
Have fun exploring, and submit your own Christmas table, too!

Edible Christmas decorations used to be the order of the day here in Europe.
A century ago, Old-World Christmas decorations and Xmas table decorations consisted of gingerbread, nuts, almonds, apples and - if you were lucky and could afford such a luxury - oranges from Italy.


Christmas Table
Centerpieces

So here's an idea for Christmas table centerpieces whose usefulness goes beyond setting a Christmas table.
Fruit pyramids make lovely (and  frugal) 18th-century English Xmas table decorations. (The one with oranges also contains a little secret for filling the house with a delicious Christmas scent.)
The article contains lots of ideas for variations on the 'pyramid' theme that will give your home a European 'Country Christmas' look, feel, & flavor.
(For a chocolatey version, try my Mom's Recipe for rum balls and stack the rum balls into an elegant, mouthwatering pyramid in a footed bowl ;-)


Xmas Table
Decorations
My frosted-fruit Christmas table decoration idea is great for country Christmas table centerpieces and rustic Xmas table decorations that can later be eaten for dessert.
It was also featured in a recent book, The Ultimate Christmas, by Jeanne Bice (of Quacker Factory  fame).
The frosted fruit looks exquisite, and particularly festive when presented in an elegant footed bowl, or on a fine white paper doily.
(For rustic, primitive Xmas table decorations, place the fruit on large frosted leaves or directly on the table.)

Christmas Decorating Ideas 2:
Homemade Christmas Tree  Decorations

'Old' Christmas decorating ideas work beautifully in today's interiors - and they can actually look quite modern in contemporary surroundings. So create a Holiday with a difference - with homemade, elegant or quirky Xmas decorating ideas that you won't find in the shops!


Christmas Tree
Ornaments

Get inspired by a collection of Christmas tree decorating ideas and create your own, unique, homemade Christmas tree decorations. (Some of these were featured in Jeanne Bice's book as well!)
You'll find several styles of country Christmas decorations to choose from, and plenty of individual Xmas decorations to make, including:
6 free printable Christmas decorations & a list of ways to use them for gifts or Xmas decorating, plus
5 detailed instructions for creating your own, unique Christmas tree decorations,
loads of additional ideas for easy, inexpensive Xmas decorations to make & hang on your Christmas tree, plus
a potted history of the Christmas ball ornament :-)

Christmas Decorating Ideas 3:
Homemade & Traditional Christmas Decorations
Well-made traditional Christmas decorations have a timeless appeal.


Xmas Candles

In Europe, live Christmas candles are an integral part of Xmas decorating - without them, Christmas somehow wouldn't be the same.
Read up on:
Christmas decorating ideas for unique tea lights,
information about scented candles (not good!), plus
Christmas candle centerpiece ideas.


Paper Lanterns
Speaking of Christmas decorating lights, here's a collection of Christmas craft gifts that can happily double-task as a free online printable Christmas cards.
The European-style paper houses are easy-to-make Christmas decorations, designed to fit into standard envelopes.
They come in three download patterns, complete with detailed instructions for making them.  Enjoy!


Paper Snowflakes
Papercut stars/snowflakes are lovely Christmas family crafts. They're also cheap  Xmas decorations, they travel well, and would make fun additions to a family Christmas card.
Download five 8-pointed Paper Snowflake Templates - Just fold & cut ... done! Also, try your hand at hexagonal snowflakes (comes with 4 snowflake paper patterns to download!)


Xmas Mantel
Decorations

If you're looking for really simple,  fast and effective Christmas lights & decorations, check out the Xmas decorating ideas on this page:
a quickie way of using apples & nuts as country Christmas decorations or with 1950s/retro Christmas decorating themes, and
three designs for small Christmas lights in recycled glasses.


Christmas Wall
Decor Idea

The final item in this group is anything but traditional - I created the DIY project from surplus, birthday picnic paper plates that I still had kicking around in a kitchen cupboard. These Christmas wall decorations could include words or decorative shapes, all cut out of paper plates and painted in a color scheme of your choice.
Use the step-by-step photo tutorial to spell out your  Christmas message on a wall, door, or mantelpiece. Very easy!



Christmas Decorating Ideas 4:
Xmas Decorating For The Nose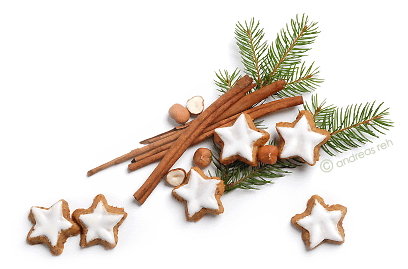 My childhood Christmases were all spent in Germany, which meant frost and snow outside and warm, sweet, spicy, heavenly  scents wafting through the house.
My Mom made fragrant cookies with nutmeg, cinnamon, cloves, aniseed, cardamom, candied orange, nuts, almonds and chocolate. If you're looking for 'miniature' Christmas decorating ideas that spread the flavor of Christmas all around your living space, try cookies.
It doesn't matter whether you bake them yourself or use store-bought ones:
hang them on ribbons from the mantel / from the banister / in the Christmas tree / in the window / from a chandelier / from a cupboard key or knob / anywhere in the house! You'll find some creative ideas in the article about Gingerbread Christmas Decorations. The article shows that not all handmade, unique Christmas decorating ideas have to be hard work - not even beautiful old-fashioned Christmas decorations.
How  old-fashioned?  Check out Liliana's  story of Christmas tree decorating in Poland!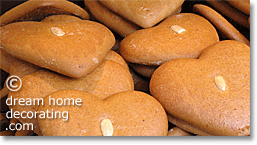 If you've never tried Lebkuchen, you should give it a go just once. It's a love-or-hate thing. (I love it, my husband doesn't.)
Lebkuchen is a German version of gingerbread, except it doesn't have ginger in it.
Tradition has it that the witch's house in Hänsel & Gretel was made of Lebkuchen, but that's not literally true; according to the Grimm Brothers' original version of the fairytale, the witch's house was made of bread, cake and sugar (well, I guess that's sorta kinda close enough ;-)
Obviously, the wicked witch's 'gingerbread' house wasn't meant to display her innovative Christmas decorating  ideas, but she definitely relied on the attractive look, smell, and taste of her richly decorated roof tiles. And it did work - at first. So you could try something similar. (Just don't act suspicious around the oven.)


Another fabulous (and decorative) item to pull out of your oven - just thought I'd mention it - is my friend Gerhild's Hazelnut Torte Recipe. (Have a look at her site, she's got some great German Christmas cookie & cake recipes!)

Christmas Decorating Ideas 5:
Technicolor Or Traditional?


Christmas Colors

In many countries, traditional Christmas decorating is a red and green affair - inspired by red winter berries and evergreen leaves.
If that color combination doesn't work for your home, but you would still like to stick with traditional Christmas decorating ideas, try one of the following 'Christmassy' color schemes: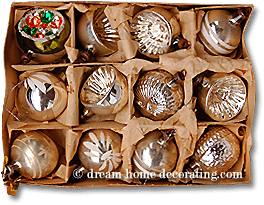 White & gold or silver;
Dark green or  white & any other color;
Gold or  silver & any other color;
White & silver or  gold & any other color;
Dark green & silver or  gold & any other color.

If you're using white accents (bows, candles, ornaments), make sure none of the white items have a bluish tint - they will look 'fake' in combination with natural hues. Consider replacing a crisp, hard white with ivory or cream if that fits in better with your other Christmas decorating ideas.

If you would like to experiment with non-traditional Christmas color schemes (as in the pic above left), but tend to err on the side of caution (like I do), then try replacing dark green with dark blue. Midnight blue is very sophisticated (but then it doesn't say 'Christmas' as loudly as dark green does).
And if you want to go ever so slightly over the top (ahem!) use ...
... gold and  silver. This can  work as long as you make sure that one of the two dominates (either use a lot of gold with a few fine silver accents, or the other way round). That way, the two won't compete.
If you're not sure about the mix, it's much safer to keep the look clean and classy by choosing either gold or silver.

Christmas Decorating Ideas 6:
What To Do With Your Christmas Cards

At Christmastime, messages of love and goodwill are sent around the planet by the millions. So how about using Christmas messages as a starting point for Christmas decorating ideas?
For example, click here for a List of Christmas quotes and ways to use them in your Xmas decorating.
And what about the Christmas cards you receive? Do you stand them on your mantel or windowsill? Here are some more Christmas decorating ideas for showing them off:
Stretch pieces of string along a wall (or across the room, like a clothesline) and suspend the cards from them with little 'Christmassy' pegs.
Instead of string, hang a length of very broad, luxurious ribbon down from the top of the door or wall (velvet works a treat) and clip the Christmas cards to it with pegs or paperclips.
Or, stick the backs of the cards between books on a bookshelf, the way I've done in the picture above. You won't be able to see the books, but since it's Christmas, you won't have time to read them anyway :-)
Yet to find the information you're looking for?
Type a word or phrase into the search box below: