Recipe For Rum Balls:
My Mom's Famous Chocolate Rum Balls Recipe
This recipe for rum balls was featured in a recent book, The Ultimate Christmas, (by HCI, publishers of the legendary Chicken Soup  series).
It's a no bake rum balls recipe that works for coconut rum balls or Bacardi rum balls as well.  Chocolate rum balls make unusual xmas gifts, too. They're the perfect food gifts in a jar ... see below for a list of packaging ideas!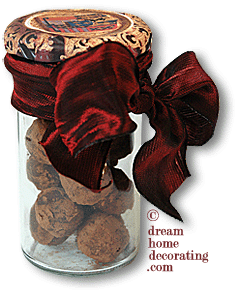 I have never met anyone who didn't love my mother's recipe for rum balls. In our family, it's the stuff of legend.

Everyone used to wait for the first batch of Christmas chocolate rum balls to come out of her kitchen on Nikolaustag  (that's December 6, "Santa Claus Day" in Germany).
I'm sure she's now making them in Heaven.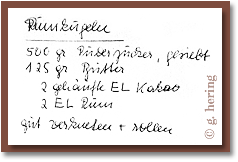 Here is my Mommy's original, handwritten chocolate rum balls recipe.
(You'll notice that this is not health food. Relax, it's Christmas :-)
Gerda Hering's Recipe For Rum Balls
Prep Time: 20-40 minutes
Servings: 30-40 Rum Balls (depending on size).
To Make:
1. Assemble the following ingredients in a mixing bowl:
500g/1 pound confectioners' sugar, sifted
125g/1 stick/4 oz unsalted butter
2 heaping tablespoons pure, unsweetened cocoa powder (take only high-quality, fragrant, bitter-tasting stuff. Don't use powdered 'drinking chocolate', it won't work!)
2-3 tablespoons rum (any good rum - 40% upwards - will do).
My sister and I have found that you can add another 3 tbsp of rum to this recipe with no ill effects (ahem). If necessary, balance the additional liquid by adding more cocoa powder. Tastes luxurious.
2. Roll up sleeves, wash hands, take off any fancy rings, & knead the mixture into a brown, gooey mess. (In goo-fest terms, nothing beats this recipe for rum balls.) The mixture is right when it stops sticking to your hands. If it's too soft & sticky, add a little more cocoa powder.
3. Pinch off pieces the size of smallish walnuts (or XXL hazelnuts), and roll into balls.
4. Coat the rum balls with
cocoa powder or
chocolate flakes or
toasted, chopped nuts or
dried coconut flakes (if you're making coconut rum balls)
5. Leave to dry for an hour or so, then
place in an airtight container and
keep in a cool place.
If your rooms tend to be cool anyway, there's no harm in leaving the rum balls out in a bowl. They will dry a little on the outside, but the inside stays moist and chewy. They also somehow disappear much more quickly, at least in my house.
Recipe For Rum Balls:
Ideas for Packaging
1. Fill the chocolate rum balls into cellophane bags, add lavish bows and handmade nametags, or
2. Place the no bake rum balls in individual colored paper cups and arrange them in a decorative (Christmas) tin, or
3. Present them as food gifts in a jar: recycle a jam jar & cover the lid with a circular piece of pretty fabric.   As an alternative to fabric, you could use paper photocopies.
Think along the lines of copying, for example,
your favorite striped shirt, or
a piece of embroidery, or
a photo of something that's perfectly round - say,

♦   an antique porcelain plate, or
♦   a funky brooch, or
♦   a flower head (there's no limit to round things you could copy!)
Cut out a circle that's 2in wider than the lid itself, smooth it over & tuck under the lid before screwing it on, and complete the gift with a name tag.
Or, instead of name tags, how about creating personalized labels for your food gifts in a jar? Make them special by hand-writing a line from the recipient's favorite poem or song, or a few words that say how much you appreciate having them in your life.

You could also add a hand-lettered recipe for rum balls, rolled up and attached with a bow, or tucked into a greeting card.

Chocolate rum balls make perfect Christmas homemade food gifts, but they're also great cheap & last-minute  food gifts in a jar for
birthdays
housewarming parties
special occasions ...
... well, most occasions, really. As long as, for obvious reasons, you stick to the cold months of the year ;-)

So go ahead and sweeten someone's life with my Mom's recipe for rum balls. Or treat yourself!
Yet to find the information you're looking for?
Type a word or phrase into the search box below: