Black Snowflakes On My Christmas Table
by Mia
(Denmark)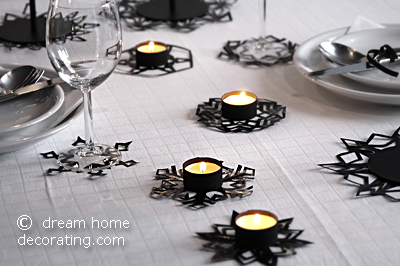 Black snowflakes on my Grandmother's white tablecloth
I will be hosting several small pre-Christmas dinner parties and was looking for a simple yet effective table decoration. I don't like centerpieces because they always get in the way of the food!

So I decided to cut 'snowflakes', spray them with black gloss paint and place them under glasses, candlesticks and tealights.
I made the snowflakes from
plain printer paper
.
I thought that would be the lazy option, but it turned out to be very hard to cut through up to 8 layers of folded printer paper! The paper kept sliding ... I kept messing up the pattern ... nerves started fraying ... not good!
In the end I took a craft knife to get the job done.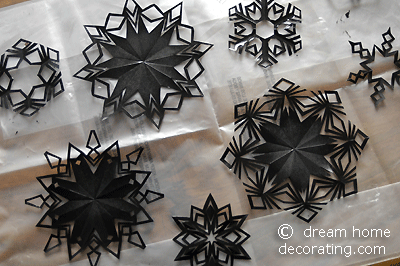 I sprayed each 'snowflake' with several layers of paint (with drying periods in-between), in an open cardboard box with crumpled paper on the bottom (this makes it easier to pick the snowflake up after spraying).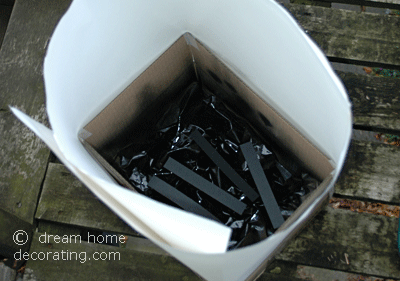 I also sprayed some strips of black card and glued them around a few tea lights. To keep the heat off my Grandmother's tablecloth, I made corrugated cardboard 'padding' (two layers), and glued it to the bottom of the tealights. Once a light is burned out, you can just drop a new candle into the old aluminum shell.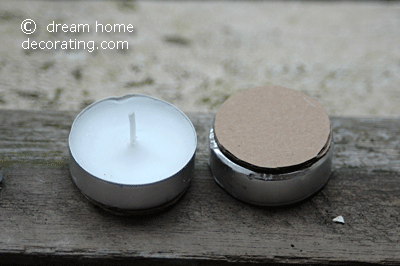 I'm happy with the look of my Christmas table setting, but
if I could start over, I would go and buy some black tissue paper
.
Because that would have been the REAL lazy option!!! Tissue paper is SO much easier and quicker to cut. I could have saved myself several hours of messing around with a blade and spray paint. Not to mention excessive ill humour (during and after :-)