Home
›
Christmas
› Paper snowflakes (8-pointed)
Easy Paper Snowflake Instructions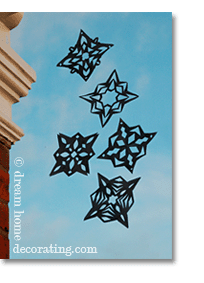 Paper snowflake instructions & templates: learn how to make paper snowflake patterns with
♦   octagonal shapes (on this page)  or
♦   hexagonal (six-pointed) shapes.
Use snowflake paper patterns for ...
♦   ornaments, giftwrap or Christmas stationery (some ideas here!), or make
♦   snowflake table decorations.
Download free paper snowflake templates here  (or just read on for the instructions).
Paper Snowflake Instructions (Octagonal Snowflakes)
1. Folding Your Paper
Start with a circle or a square of paper (I used regular printer paper).
Fold it in half,
then fold it in half again,
then (instead of folding it in half again)  fold both flaps backwards to align with the spine of the second fold, like so: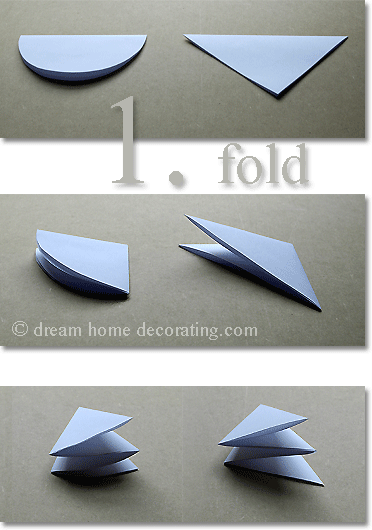 This makes it easier to align all folds properly, which in turn will help you get precise cuts when you create your snowflake from regular paper like this. (It's less important when you're making a paper snowflake out of tissue paper.)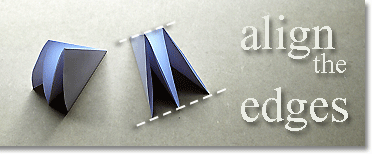 Paper Snowflake Instructions (Octagonal Snowflakes)
2. How To Cut The Snowflake Shapes
Just start cutting into the folded shape. You can cut from all sides. However, make sure you don't cut too much of the folds away, or else your paper snowflake will fall apart.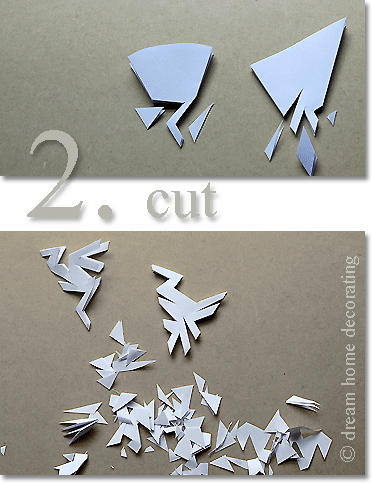 Unfold the paper and reveal the snowflake paper patterns you have created! The left shape was made from the round paper disk, the right one from the square: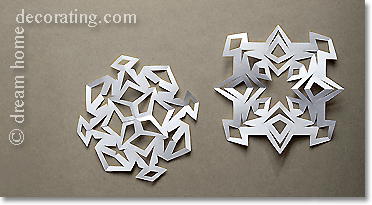 Paper Snowflake Instructions (Octagonal Snowflakes)
3. Download 5 Free Paper Snowflake Templates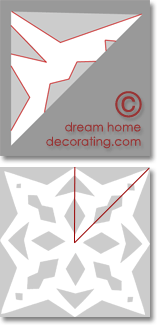 To download the snowflake patterns, you will need Adobe Reader (the latest version is recommended) installed on your computer.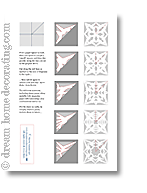 You can get Adobe Reader here (a new window will open so you can download it without leaving this page).
Click to download the free paper snowflake patterns!
Once you get inspired, it's almost impossible to create two snowflakes that look exactly the same (and you wouldn't want to anyway :-)
Happy crafting!

Paper Snowflake Instructions (Octagonal Snowflakes)
5. Things To Do With Paper Snowflakes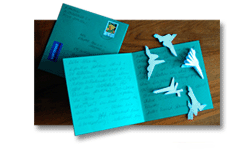 I'd never made paper snowflakes until I got a letter from my sister with five funny-looking squiggly bits of folded paper in it.
The note read: "...check these out - we've got them up as Christmas window decorations.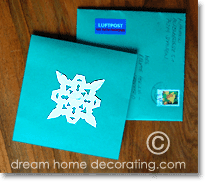 They cost nothing, they're fun to make, every single one's a surprise, completely different from the others.
I just quickly created this batch for you because your niece has already made a dozen & she's now gone to feed her rabbit."
So that's the Advent gift that started this page!


More ideas for paper snowflakes:
♦   Stick 'em on Christmas cards, envelopes, letterheads, gift tags, place cards, invitations, menus, thank-you notes.

♦   Try different types of paper: tissue, metallic, newsprint, magazine pages, fancy giftwrap, glitzy specialty papers.
♦   Spray-paint them with Xmas 'snow' or glitter for added effect.
♦   Create paper snowflake coasters, or even a 'table runner' for the Christmas table - or a 'lace edging' around a windowpane. This works particularly well with the octagonal, 'square' snowflakes on this page.
♦   Create really chic Christmas window decorations from a combination of round or hexagonal paper snowflake patterns in different sizes.

More Paper Snowflake Instructions & Xmas Paper Craft Ideas:
Yet to find the information you're looking for?
Type a word or phrase into the search box below: