Vibrant Living Room ColorsThat Go With An Oatmeal Carpet
by Bruce Brown
(Champaign, IL)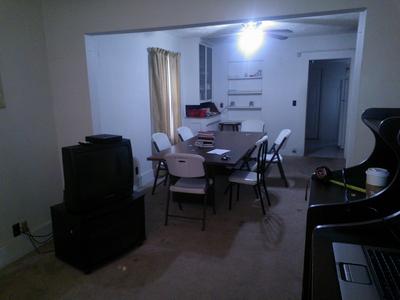 My church has acquired a residential property and we are converting the living and dining room area into a public access computer lab and we need a color scheme, preferably something vibrant, go with the oatmeal/tannish carpet.

Regards,
Bruce


Renate's Reply:

Hi Bruce,
I don't know what colors your computer tables and chairs are going to be, but I'm assuming you'll choose neutrals.

Given that almost all neutrals have a color bias, the only "safe" wall color for this room would be a clean blue without even the slightest trace of purple. Not particularly vibrant, but it could work.

If you used blue on all walls (as I've done here), there is obviously a danger you'd end up with a room that feels cold. To avoid a 'fridge feel', you might want to try very light tan walls (in keeping with the carpet), white trims and a seriously vibrant blue accent wall.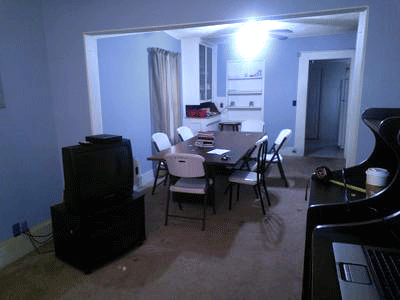 Instead of blue, consider using
rich, earthy reds
like red ochre, cotto, or terracotta. These would give you more of the desired vibrancy, but you would have to be careful to make sure they fit in with
all other colors
in the room: not just the carpet but also the furniture, trims, accessories, etc.
Also, earthy reds in a dark room might look a bit 'womb'-like and claustrophobic. People tend to have strong reactions to
red rooms
(not all positive).
Now, I understand that you only wanted to paint the walls to go with the carpet. However, I think you would be much better off
replacing the carpet
with a
cleaner, more neutral
color. For example, a straight charcoal would give you much more choice in terms of
wall
color, and you could pick the wall color to suit the new furniture.
I'll be interested to see what color scheme you go with .... wishing you the best of luck with your project!

Home

›
Color Questions
› Vibrant Computer Lab