French Country Curtains:
Real  French Curtains And Window Treatments
French country curtains are pieces of fabric with attitude - essential for French Country Decorating!
View examples of authentic French country window treatments - they're all super easy to copy.
Looking to buy  country French curtains or fabrics?   Click a pic:
France is large and diverse, so it's no surprise ...
... that authentic French country curtains can look very different across the country.
Even in Provence, where I took all the photos on this page, you'll find a lot of style variety at the windows.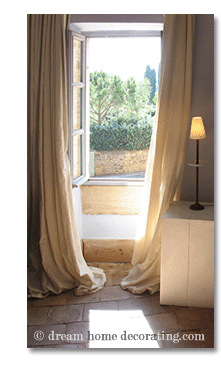 Check 'em out:
1. French toile drapes
2. Heavy French linen curtains
3. French ticking drapes
4. Elegant French cheesecloth sculptures
5. French style patchwork curtains
6. Simple & white French style curtains
7. Country French curtain rails

Learn how to create the look of real  country French curtains!
French Country Curtains #1:
Very  French Fabrics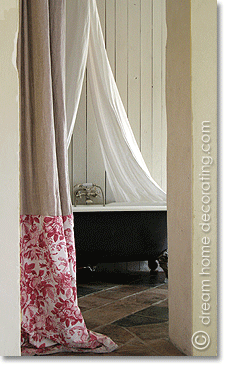 There are two types of fabric that say "French" louder than any other: Toile de Jouy, and Indiennes fabrics.

a) Toile de Jouy
When the engraver/colorist Christophe Philippe Oberkampf started printing Toile de Jouy  (="cloth from the town of Jouy") in 1760, it was the beginning of a print design style that is now perceived worldwide as the textile embodiment of "Frenchness".
Toile  is a favorite for French country curtains and window treatments, probably more so outside  France than inside.
Inside France, it's commonly used with restraint, as in this photo: heavy, coarse linen with a broad border of toile, rather than ceiling-to-floor country French curtains done entirely in toile. (Here are some more ideas for using toile or a contrast fabric on a French style country curtain!)
Where to get toile:
You can buy ready-made toile de Jouy  curtains in my shop on this site (in partnership with Amazon), where you'll find toile curtains & valances (valances are great if you just want to give a simple linen curtain a bit of French flair).
If you prefer to create your own French country curtains, do check out my toile de Jouy fabric and Waverly toile fabric stores as well.   eBay is another good source for high-quality lengths of vintage and new Toile de Jouy. There's always a good chance you'll find a steal! (Remember to click the "view all ... items on eBay" link in the bottom left corner).
Below is just a small selection of what's available:
b) Indiennes
Another, very French but lesser known group of fabrics are the colorful cotton prints from Provence.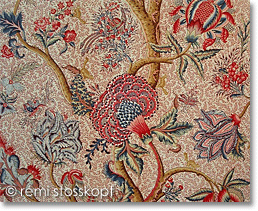 They're often called Indiennes because, just like toile de Jouy, they owe their existence to the hand block printing and fabric painting techniques that were developed in India.
They reached France through the port of Marseille (Provence), where the first French printworks were set up around 1640.

The patterns vary from very intricate, colorful florals to simple boteh  ("Paisley") repeats.
Indiennes  fabrics show up on eBay, too, but nowhere near as often as toile. Most of the time you just get Indiennes  bags or clothing, rather than fabrics. (Click "View all items" to see what's on offer today!)
More Information:
Authentic Fabrics For French Country Curtains
The Museum of Printed Textiles (Musée de l'Impression sur Etoffes)  in Mulhouse, France, has published an excellent overview of printed French textiles.  Worth a look!
(Return to Top)
French Country Curtains #2:
Linen Puddles on Terracotta Tiles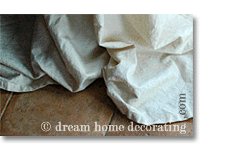 My favorite French curtains and window treatments are made of heavy, cream colored linen (pictured above, left & directly below).
In Provençal homes, I've seen these French style curtains unlined - all rooms had either interior or exterior shutters.
The typical crumpled appearance of linen creates a perfect complement for the glazed terracotta tiles that are so common in the Mediterranean part of France.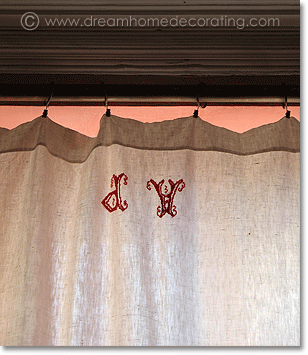 To get the full effect of these country French curtains, make them so long that they form a pool of yummy, creamy crinkles on the floor.
If you're using antique or vintage linen sheets as French country style curtains (monogrammed if you can get them), you may need to add a foot or so of extra fabric at the bottom (e.g. toile  or heavy, darker linen - here are some ideas!).
Of course, extra-long French country curtains aren't particularly practical. They're dust catchers. Your dog may want to curl up in a French linen curtain puddle. You'll probably have to wash these drapes a lot. But they're ... French. Treat them like they're special ('cause they are)!
(Return to Top)
French Country Curtains #3:
Ticking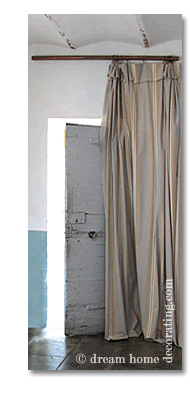 The picture (right) shows that French country curtains aren't reserved for windows alone.
French country 'window' coverings can cover doors, conceal 'closet' openings in the wall, and occasionally separate an ensuite from a bedroom, too.
Ticking is a sturdy, fairly rustic, tightly woven fabric, great for country French curtains that see a lot of wear.
French ticking comes in mellow colorways (a calm, cool antidote to sizzling summers), and it looks perfect against whitewashed or tinted walls, particularly the pale chalky blue or yellow umber walls of French Mediterranean houses.
Country French curtains made of ticking have an understated, 'Scandinavian' feel, reminiscent of the Gustavian style that the Swedish adopted from the French court in the 18th century. (So in an interesting twist of home decorating history, this photo shows the Gustavian style on a home visit!).

Create French country curtains from original, vintage French ticking - there's usually a wide selection of original French ticking for sale on eBay.
Even if you can't see any pictures of French ticking listed here, just click the "view all ... items on eBay" link in the bottom left corner. You're sure to find quality, vintage ticking in that list!


Also, don't reserve ticking for your country French curtains alone:


Slipcover a chair or a sofa with ticking;
Edge a quilt or a blanket with a strip of French ticking
Cover some throw pillows with it
Combine French ticking with

unbleached linen,
solid-color velvet, and/or
a bit of vintage white cotton lace, for an elegant yet rustic 'French country' look.
(Return to Top)
French Country Curtains #4:
Elegant Cheesecloth Sculptures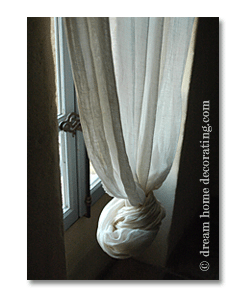 If you're looking for French country curtains with a special flair, these could be right for you.
The transparent curtain of loosely woven cheesecloth ends in the most amazing, artistic knot.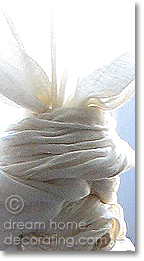 Apart from fulfilling their job as curtains (i.e. provide privacy and cover the black 'hole' that is a windowpane at night), these French country window coverings really are works of art, adding interest and panache to what might otherwise be a plain little room.
So if you have a room in your Mediterranean style country home that is in need of a little ooomph, these country French curtains could be just the ticket.
(Return to Top)
French Country Curtains #5:
Fine Patchwork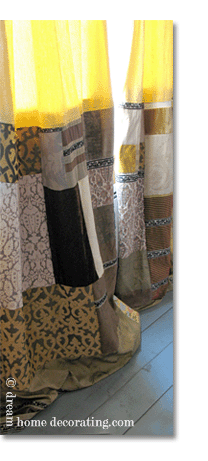 The last-but-one in our little défilé of French country curtains is this patchwork masterpiece.
Considering the fine fabrics that went into it, it probably doesn't really qualify as a French country  curtain, but I found it in a very small village in France, so maybe it does count ;-)

The general idea here is to use a plain fabric for the main body of the curtain ...
... and then add something more fancy & eye-catching to the lower third.
It's a simple but very effective way to give your French country window coverings that extra little bit of style.

(N.B. In order for this style of French country drapes to work, at least some of the fabrics that go into the patchwork need to be repeated elsewhere in the room. Some ideas: upholstery, cushions, a bed spread, a tablecloth, or a number of fabric-covered picture frames.)

There's a variety of options for combining fabrics & patterns in French curtains and window treatments.
Here are a few ideas for combinations:
Antique white linen (or cotton) and a floral print, e.g. Indiennes
Unbleached linen and a solid color
Unbleached linen and antique-white linen
You'll probably come up with a lot more ideas than this for your French country curtains - just let yourself get inspired by the fabrics that are available in your part of the world.  (And do send me a picture when you're done!)
(Return to Top)
French Country Curtains #6:
Back To Basics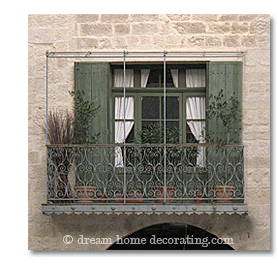 After all these exciting possibilities, I thought it might be a good idea to show at least one really simple  version of French country curtains.
So here's a pair of floor-length ones, made of lightweight cotton.
In this photo, the color combination of window, shutters and narrow iron balcony is typical of a Provençal house: warm golden gray, cream, pale bluish gray and dark green.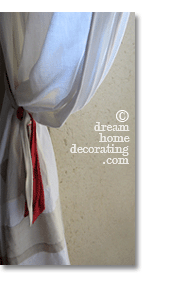 During the summer months, a wattle screen will be rolled down over the metal construction above the window, to provide dappled shade for the balcony and add a dash of straw yellow to the color mix.
If this type of French country curtains strikes you as a bit, well, low-key ...
... you can always embellish the fabric. In the picture to the left, strips of tan and sand colored cotton have been added to the lower part of the curtain.
It's not just the slight variation in color, but also the raised, 3D effect that adds interest to what might otherwise have been a rather bland example of French country drapes.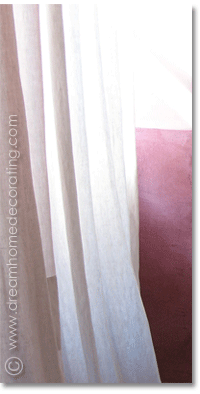 To achieve this subtle effect, you don't even need a sewing machine; just iron some ribbon onto the cotton fabric with the help of fusible backing.
Then complete this simplest of French country curtains by using the same ribbon as a tieback - voilà, job done!

Some more ideas ...
In the photo to the right, towards the lower left corner, you can see a white patch on the curtain.
This is a genuine patch over damaged fabric - but you could, of course, do something similar with an embroidered monogram you've cut out somewhere else: Just appliqué it in an interesting, unexpected but visible place on some plain white French country curtains.
Other ideas for a truly individual, original French curtain: instead of monograms, use white-on-white embroidery, or even a white vintage doily. If it's round or oval, cut it in half and appliqué the two halves directly opposite each other where the two curtain edges meet.
(Return to Top)
French Country Curtains #7:
How To Hang Them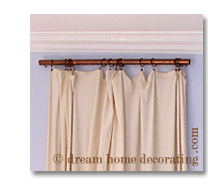 Keep your curtain rods really, really simple.
I've seen several homes where country French curtains were just attached to a length of copper piping.
So don't sweat fancy finials (unless you really love them, or find a fabulous pair you can't live without).
Whatever you do to hang your French country curtains, present them in a way that allows the fabric speak for itself.
You can make a room look higher if you hang your French country curtains from just below the ceiling. This works particularly well if the curtain rod is in a color that's similar to the wall and/or curtain fabric. With more color contrast, you'll get a distinct 'line' on the wall (as in this picture).
For a motherlode of information on how to make curtains, check out Lee Stevens' very practical Easy Curtain Ideas. Lee has 20 years of experience in making windows look good, and he's happy to share every bit of that with you!
Shop French Country Curtains Here
(In Partnership With Amazon):
And that's it ... for this page. I've also put a little 'library' of Amazon books together for you. The top carousel is about different aspects of French Style; the bottom slideshow contains all you've ever wanted to know about window treatments (and then some :-)
(Return to Top)
Yet to find the information you're looking for?
Type a word or phrase into the search box below: