Country Window Treatments:
European-Style Rustic Window Treatments
& Country Window Coverings
Country window treatments, ideas & inspiration:

Check out original photos of rustic windows in
... as well as beautiful exterior window treatments from the Italian Alps and Tuscany.

Rustic curtains, traditional interior shutters, 'rolladen' hurricane shutters and outdoor window shutters are used to keep out the cold and keep in the heat ...
... or, in the case of Southern Europe, keep out the cold and the heat.

Click a link to read more about:
a) window shutters
b) rustic curtains.
Does Your Window 'Need' Treatment?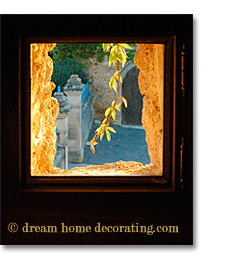 Some rustic windows don't actually need much in the way of 'treatments'.
For example, if your house has views to die for and there are no privacy issues, all you may need to do is 'get out of the way' and let the views speak for themselves. (Think of it as displaying a beautiful painting against a completely neutral background.)
In this case, some splendid hardware for the window and a pair of rustic curtains in unobtrusive, solid colors ...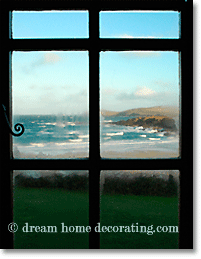 Cottage window, Cornwall, UK

... are all the country window treatments you'll ever need.
On the other hand, you can completely transform even a city apartment with rustic window treatments (curtains and/or shutters).
In Europe, country window treatments often consist of shutters as well as  curtains; either can give your home a country look and feel.
(Return to Top)

Traditional Interior Shutters,
'Rolladen' Shutters & Hurricane Shutters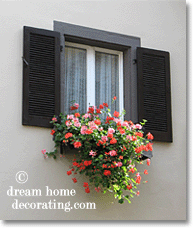 Windowbox & rustic shutters,
Baden-Württemberg, Germany
Exterior wooden shutters are used in many parts of Europe, both in rural and urban areas, particularly for houses older than, say, 100 years. (In Alpine regions, even modern houses tend to be fitted with exterior wood window shutters.)
Most shutters aren't actually in use during the summer (you know, too many flowers getting in the way ;-)
But in the winter, exterior shutters protect the windowpanes against hail and storm, and help insulate the room against freezing temperatures.
This function isn't strictly necessary any more in the day and age of double glazing and global warming, but shutters serve a decorative function, too: they provide color and visual structure for the façade. (You'll find examples & photos of exterior wood window shutters in the article about Exterior Window Treatments!)
20th-century buildings in Europe tend to have built-in roller shutters (Rolladen), which give excellent weather protection (and they're better at burglary prevention than traditional outdoor window shutters).
Also, because they're rolled up into an internal 'box' and only lowered when needed, they get less exposure to the elements than folding shutters do. (That said, in the looks department they really can't hold a candle to folding wood shutters. Rolladen are just plain boring ;-)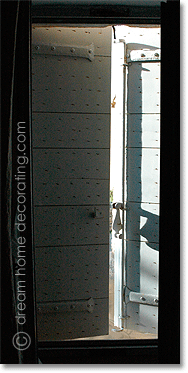 In Southern Europe, exterior wood window shutters are used as 'town' and 'country' window treatments - not so much for hurricane protection but rather to keep the fierce sunlight out and the rooms cool.
Wooden shutters are usually painted, often in the same color as the window frames. Occasionally, the interior woodwork is also included in the window treatment color scheme.
The most popular colors for exterior shutters are blue (a favorite color in Provence - they say it keeps flies away) and green (very popular in Tuscany). You can find anything between deep fir green or midnight blue and light, grayish tints of either color. Various shades of red and brown are used as well, but not as much.
(The photo above shows exterior shutters in the south of France - perfect country window treatments with a white cotton curtain on the inside!)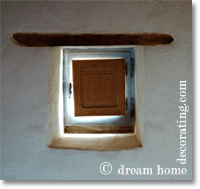 Traditional rustic interior shutters,
Provence, France

Instead of exterior  wood window shutters, Southern European houses sometimes just have traditional interior shutters (storm & hail not being much of a problem here).
These rustic blinds are usually solid wood affairs that can darken a room almost completely.
In the photo right, you see that the shutter is attached to the window frame rather than the wall (it's a tad wonky, but then so is the wall).

Louvered interior shutters are not widely used as country  window treatments in Europe, but city folk are definitely getting in on the act: London, my adopted home town, is full of 'plantation' shutters with movable slats that open and shut with the help of a sliding batten.
Louvered or slatted interior window shutters can also look good when they cover only the lower part of the window (a kind of interior café shutters). If you go for this solution, you could use rustic curtains or simple scarf window treatments over the shutters to soften the stark, angular look a little.
(Return to Top)
Rustic Curtains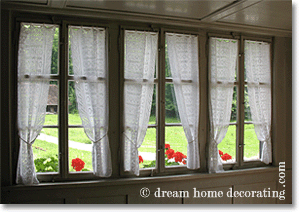 Country cottage window coverings, Switzerland
Traditional country window treatments are simple and fuss-free.
In the olden days they were usually home-made: the fabric was woven, knitted (!) or crocheted.
Below are a few examples of traditional fabric  country window treatments. The shape and style of textile country window treatments is quite similar throughout much of Europe ...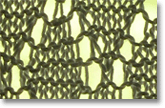 Detail of knitted
country curtain, Switzerland
... rustic curtains are parted in the middle and tied back to the sides with a ribbon or a simple band.
There is no fancy pelmet - the curtain is either fastened to the window frame itself, or hung from a simple, rustic curtain rod right above the window opening.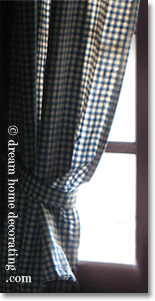 Alpine cottage window
treatments

Choose between several fabric options for traditional country window treatments.
The fine white curtains in the picture above are hand-knitted with thin cotton thread - I've added a little close-up photo (above right) so you can see how it was done.
The blue-and-white curtain to the left may well have been woven locally; a check is a simple type of weave that doesn't require any special loom or fancy technique.
The fresh blue-and-white is typical of Swiss country fabrics; in Austria or the South of Germany, country window coverings tend to be red-and-white.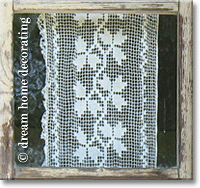 Filet lace curtain in a
Swiss mountain chalet
Apart from country window treatments, checked fabric was (and still is) often used for cushion covers and bedlinen, complemented by white linen sheets and crochet lace curtains ...
... which you can see in the picture to the right.
This crocheting technique, 'filet lace', is fairly easy to do, and young girls used to learn it from their mothers (or at school).
Filet lace is occasionally used for Tuscan Window Treatments, too.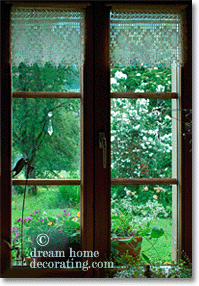 Country window valance made of
crochet lace, Switzerland
Depending on how fine a thread you use, you can produce extremely delicate lace (my Mom used to make handkerchief borders  with it!).
For a less time-consuming way of creating country window treatments, crochet lace was (and still is) often used just as an edging for simple cotton or linen curtains (you'll find an example of that on the page about Swiss Country Decorating.)
Filet lace is also a good way to adorn just the top of a window frame, as in the picture above.
If privacy is not an issue, and your room has a view, it might be quite nice to keep your rustic curtains at miniskirt length.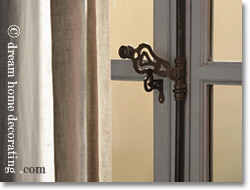 Now - have you found the country window treatment information you were looking for? If you'd like more pictures and ideas, check out the page on French Country Curtains for a few more (and slightly more fancy) specimens.
Also, I'm planning several more pages about country window treatments. So if you have a particular question or interest, please feel free to contact me!
(Return to Top)
Yet to find the information you're looking for?
Type a word or phrase into the search box below: