French Country Kitchen Design:
Create An Authentic French Kitchen Look

French country kitchen design: Here's what you need to know to create authentic-looking French country kitchens.
You can buy ready-made (or customized) kitchens with evocative names like "Provence" or "Arles" or "Avignon".
Will that give you an authentic French country kitchen? Not necessarily.

Real French kitchens rarely look like the fanciful creations of ambitious kitchen suppliers.
So have a look at this list of French country kitchen design elements ...
... before you go ahead and spend a lot of money.
Clicking on the links will take you to the relevant sections on this page:
N.B. If you're looking for shortcuts to help you create the look, rather than a complete kitchen makeover, check out the page on French Country Kitchens for ideas and pictures.
Cupboards & Shelving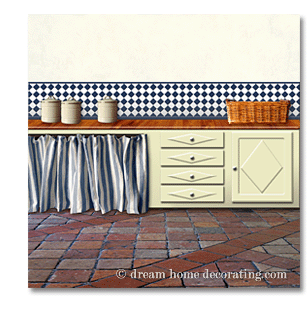 The style of French country kitchen cabinetry isn't as important as many people think - your French country kitchen needn't ever have heard of Louis XIV, XV or XVI.
Outside France, 'French country' kitchens are sometimes designed to look ornate and curvy (and sometimes downright frilly).
Inside France, country kitchen cupboards are generally simple, with minimal decoration or even completely plain fronts.
The most rustic kitchens of the past had brick-built, rendered and whitewashed open cupboards under a tiled worktop, with fixed shelving inside, and a curtain running along the front.
Sometimes wooden doors were used instead of the curtains.
Overhead cupboards are rare in traditional French country kitchen design. There is usually an open shelf above the splashback for storing crockery.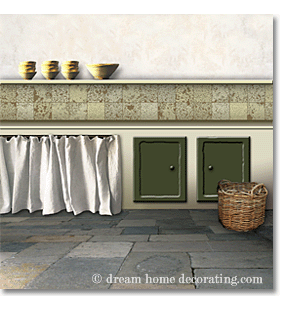 Pots and pans are hung directly on the wall, within reach of the hob.
Wooden cupboards are often painted. Occasionally, the wood is left bare and waxed, oiled or varnished.
In contemporary French country kitchen design, you can also see brushed and limed cupboard doors.
The hardware, for the most part, are simple wooden, porcelain or metal knobs.
Contemporary French country kitchens often combine open shelving with curtains and some closed cupboards under the worktop (when you look at the first three illustrations on this page, you'll see what I mean).
Appliances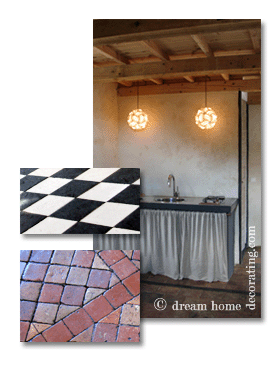 Gas cookers have long replaced the wood-burning stoves of old. Contemporary French country kitchen design uses mostly range cookers with a matte black or stainless steel front, sometimes with (antiqued) brass details.
Generally, brushed stainless steel (or aluminum) is the surface of choice for fridges, freezers, and other appliances - if you're going to keep them on view at all. If small enough, they're hidden behind the curtain, underneath the worktop.
There really are no hard-and-fast rules for kitchen faucets, sinks, and hardware, as long as you stay away from obvious 'space-age' shapes and industrial hi-gloss products.

But even those can work if you're creating a hip, 'cement-and-linen' French country kitchen, as in the picture above right.
Kitchen Nuts & Bolts: For some highly usable kitchen design info (not just of the French kind) have a look at Best Kitchen Ideas, a site that's saturated with down-to-earth tips for all corners of your kitchen (old, new, or in-between ;-}
Flooring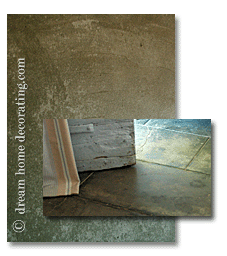 If you want authentic French country kitchen design, flagstones or tiles are top candidates for your kitchen floor.

Choose among:
Terracotta tiling - if you want a Provençal look, see if you can get tomettes.
Colored cement tiles, which are extremely hardwearing and look great. (You'll find pictures of both the cement tiles and the tomettes on the page about Provence Interiors).
A black-and-white checkerboard tile floor is another good option (see above right).
Alternatively, you could go for:
poured concrete (above left). There are specialist companies that create wonderful stained concrete flooring - this is a rather modern (but still rustic enough) version of French country kitchen flooring. Also a good choice if you have underfloor heating.
If neither tiles nor flagstones are an option, consider
linoleum,
vinyl, or
tile-effect flooring.
PS) No wood flooring? I haven't seen it much in French country kitchens. (But don't let that keep you from having wood or laminate flooring in yours.)
French Country Kitchen Curtains & Colors
French country kitchen curtains, hung from the worktop (as in the illustrations above), can be a very easy and convenient way to create instant French country kitchen design.
Even if you changed nothing else in your current kitchen, this type of French country kitchen curtains would add bucketloads of 'French Country' flavor to your kitchen.
Next, hang another set of French country kitchen curtains (of the same fabric, color and/or pattern) at the window(s). This may be all you need to do, to transform your kitchen into an oasis of Gallic charm.
Good fabrics:
antique or unbleached linen
heavy cottons in muted solids or stripes
ticking
Provençal fabrics (for swatches, please refer to the Provence Interiors chapter).
Toile de Jouy can work, too (it's easily overdone, though).
There is one drawback to replacing cupboard doors with French country kitchen curtains: dust. Curtains allow it in, and they spread it around. If you're prepared to deal with that, below-countertop curtains are an easy, elegant feature of French country kitchen design.
If you need ideas for color schemes, there's a list on the French Country Kitchens page, and another, more comprehensive list on the page about French Country Colors. In addition, check out the illustrations above for some more kitchen color ideas!
Worktop & Splashback
Splashbacks in French country kitchens are usually tiled; slightly irregular, glazed earthenware with a 'handmade' look, as well as stone or terracotta tiles, are all good options. If you want to spend a lot of money, you could have your splashback set with a large slab of marble (but that's rather posh for French country kitchen design)
For countertops, you'll find a wide range of materials in use: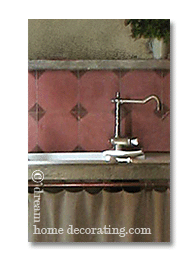 Stone (anything from limestone or slate to marble - marble is quite sensitive to staining, acids and cuts, but it does look lovely)
Hardwearing tiles (reclaimed or new, glazed or cut from stone)
Timber (oak is the most forgiving)
A slab of polished and sealed (and maybe colored) concrete
Brushed stainless steel. This may sound surprising, but when you surround brushed steel with handcrafted splashback tiles, fabrics and rustic flooring, it looks a lot less "industrial" than you might think. I've come across it quite a lot in French country kitchens.
Kitchen Island?
Not really - at least not if you're aiming for original French country kitchen design.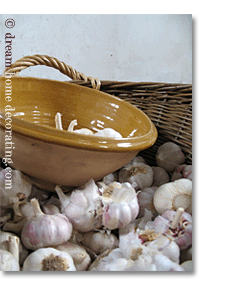 Traditionally, a country kitchen in France is not just for preparing the meal, it's also the place for eating it. Dining rooms are practically unheard of in rustic French dwellings (there are different rules for châteaux, of course!)
If you want to follow that tradition, have a kitchen table instead of a kitchen island (unless, of course, your kitchen has space for both!)
Collect friends and family round the table, and serve them food that's loaded with the mouthwatering flavors of sun-ripened ingredients.
Better yet, get them to come early and prepare the meal together with you!
Pour them a glass of Chablis or Beaujolais whilst they're sitting at your kitchen table, peeling the garlic, chopping the courgettes, and dishing the latest goss! (Actually - discussing the merits of Flaubert's Madame Bovary.  Or, uh, comparing notes on Carla Bruni's fashion choices ... you know what I mean!)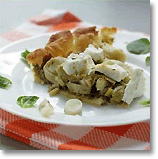 Fabulous French Cooking:
It's easier than you might think to impress your guests with authentic French fare!  Check out my friend Kim's website, Easy French Food.
Kim has lived in France for almost two decades; she's passionate about French cooking and shows how to prepare fine French food without any of the fuss.  
For example, take a peek at her mouthwatering French dessert recipes!
Seating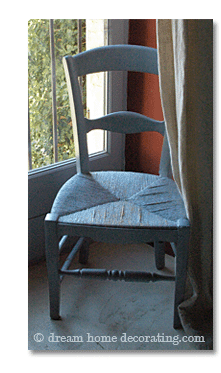 Old wooden benches, wooden chairs with straw seats (the one in this picture here is painted blue, but you get the idea), and wooden stools are some obvious candidates.
Putting wrought-iron garden chairs around the kitchen table is also a widespread practice in French country kitchens, but that wouldn't be a good idea on a high-maintenance floor.
You can integrate any run-of-the-mill chair into your French country kitchen design by slipcovering it (either just the back, or just the seat, or the complete chair).
To create a unified look, and for added comfort, kit the chairs out with comfy cushions that are covered in the same fabric as the French country kitchen curtains.
Accessories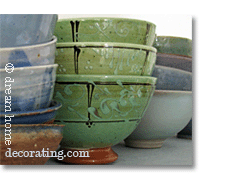 There are loads of things you can do to add rustic detail to your kitchen.
Whatever you keep on view can enhance the originality, or the 'wow' factor, or the authenticity of your French country kitchen design.
You'll find loads of ideas and pictures on the French Country Kitchens page.
Good Luck - and do send me a picture of your brand new French country style kitchen when you're done!
Yet to find the information you're looking for?
Type a word or phrase into the search box below: