Exterior Window Treatments, Trim & Decor Ideas
From Tuscany & Northern Italy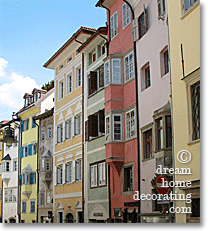 Exterior window treatments in Italy are all about expression. Simple, fancy, flirty, elegant, baroque or rustic - the one thing all Italian outdoor window treatments have in common is brio!
30+ unique window treatment photos:
♦   Wooden shutters & awnings;
♦   'Eyeliner' window trim & ornaments;
♦   Color schemes, and how to use ...
♦   ... flowers & climbing plants.

Exterior Window Treatments Between Florence & The Alps
Part 1: Flowers, Vines & Window Boxes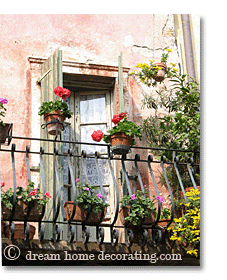 Balconies are an obvious place for flowers, but ...
... it's the exterior window treatments where the Italians' knack for abundant flower decoration really shines.

Because no matter how small the opening in a wall, there's always, always space for a flowerpot in a Tuscan window. (Actually, make that three, five, nay ten  flowerpots ;-)


Don't believe me? Do read on, there's proof!

And if you want a really rich, warm & vibrant Mediterranean look for your outside window treatment, flowers are definitely the way to go.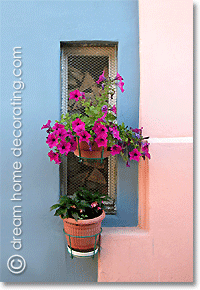 In Italy, if there is not enough space on the windowsill - and there hardly ever is - the pots are fixed directly to the wall, either around or just underneath the window ...

... because in the summer heat you want to be able to close outside window covers without flowerpots getting in the way.

There are several ways of creating a flower display around your window, and many Tuscan exterior window treatments combine all of them.

a) Metal Rings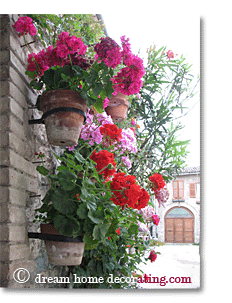 A wall covered entirely in flowerpots like these is not unheard of in Tuscany!
Generally, Italians prefer untreated, simple terracotta pots for their exterior window treatments - I've never seen rustic windows in Tuscany that were decorated with glazed, painted, or otherwise fanciful flowerpots.
The simple window treatments blend well with Tuscan stone walls and show off the deep, glowing color of the flowers in all their glory.

How do they do it?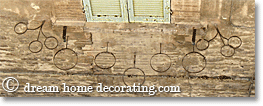 Simple & ingenious - bend a metal rod into a round eyelet with a 'handle', and insert that handle securely into the wall. Here's what the construction looks like from above, without the flowers ...
... yep, that's space for eleven flowerpots ;-)
CHEAT SHEET:
How To Fake Tuscan Exterior Window Treatments
When You're Nowhere Near Tuscany

Version 1)

You need a length of sturdy gardening wire and a strong hook per flowerpot.
Find something you can use as a spacer (e.g. some kindling or a pebble) and hold it to the side of the flowerpot, as illustrated. Wrap the wire (not too tightly) around the pot and the spacer a few times.
Then pull out the spacer, and twist the excess wire into a loop. Make sure the wire is tight enough and cannot slip over the rim of the pot, and the eyelet is large enough to fit over the hook.
Place the hook in the wall where you want the flowerpot to go ... job done!


Version 2)

Install a trellis below and/or to the sides of the window.
Wrap gardening wire around each flowerpot (as in Version 1), and hang loads of pots onto the trellis with butcher hooks.
For added oomph, paint the trellis dark green, or any color that works well with your house and your flowers. This is not a strictly Italian style of exterior window treatments, but in the absence of colorful outdoor wood shutters, a painted trellis can add interesting texture and color to the façade of your home.
(Check out this page about façade decoration to see what flowers & outside window shutters can do with a bare wall!)
b) Wrought-Iron or Wire Baskets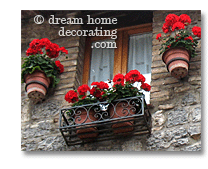 This type of exterior window treatments is very common in Tuscany and Northern Italy.
Suspend a wire basket from the windowsill;
Strap a few wire baskets to the inside or outside of your balcony;
If you have a grilled window with decorative wrought-iron bars, attach a wrought-iron window box to the grille.
Then pack the container tightly with pots of herbs and geranium.
In Tuscany, sometimes these metal window boxes have additional rings attached to the rim for even more flowerpots, so they really are overflowing with rich, hot color.
c) Terracotta Wall Planters for Rustic Windows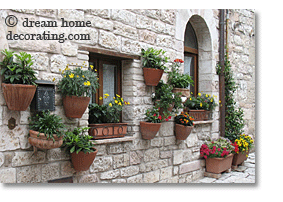 Wall mounted terracotta planters like these are easy to install.
If they have a wide enough hole in the bottom you can plant straight into them ...
... otherwise it's better to fill them with potted plants to ensure sufficient drainage.
(Notice how the planters are all quite simple but still different enough to add some interest to this type of exterior window treatment.)
d) Wall Crawl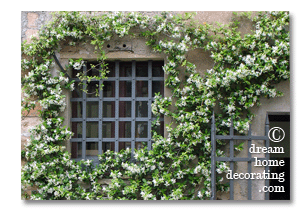 If it suits your tastes and your home, you could simply grow your exterior window treatments.
In Tuscany, the plant of choice is often star jasmine (trachelospermum jasminoides), as shown in this picture.
Star jasmine loves sunshine, can handle heat, and the elegant white blossoms have a lovely fragrance. If you live in a cooler part of the world, try hardy climbers like
climbing hydrangea (hydrangea anomala subsp. petiolaris)
a climbing rose like Gloire de Dijon (a.k.a. "Old Glory"), or the beautifully scented Madame Alfred Carrière, or the extremely hardy Wild Edric.
a clematis, for example the vigorous, evergreen clematis armandii,
(Return to Top)
Exterior Window Treatments Between Florence & The Alps
Part 2: Outdoor Wood Shutters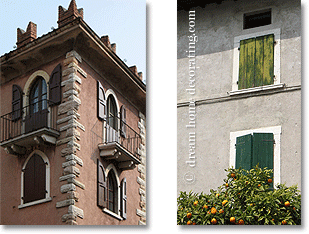 In Tuscany and Northern Italy, outdoor wood shutters serve several purposes. They ...
keep the glaring sunlight out;
protect from hot & cold temperatures;
give a façade color, rhythm and texture.

Italian outside window shutters often have several settings. Not only can you open and close the shutters themselves; you can also open and close the louvers, and  the shutters can be angled out to allow airflow while still providing shade for the room.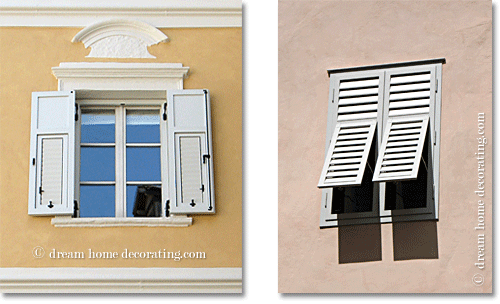 Like other wall decoration, outside window shutters have an important decorative function.
Combine them with an elegant transept and a few low pilasters and you have a clever, larger-than-life outside window treatment. See exhibit A (below left): The 'elongated' look of the exterior window design suggests floor-to-ceiling French doors behind an elegant balustrade - in reality, it's just a modestly sized window in a dolled-up façade ;-)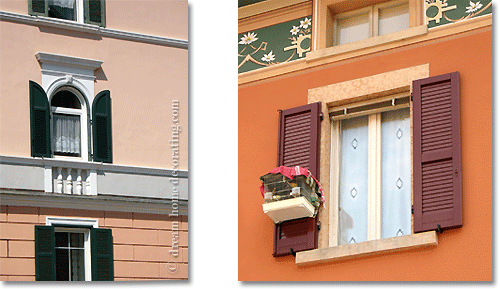 By comparison, the outside window treatment pictured right looks very unassuming. However, these shutters have their own way of attracting attention: They're home to the audio entertainment unit!

In addition to exterior wood shutters, many Tuscan windows have indoor window shutters as well. They are either hung on the interior wall, or fixed directly to the window frame. (More about that on the page about Tuscan window treatments!)

Exterior Window Treatments Between Florence & The Alps
Part 3: Awnings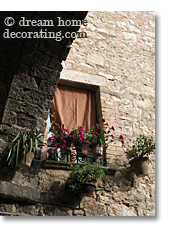 Not all windows in Tuscany have outdoor window shutters.
Those that don't sometimes have an outside curtain for sun protection.
It can consist of just a piece of sailcloth hung across the top of the window ...
... or it can be a regular curtain of outdoor fabric in front of a balcony door, suspended from a curtain rod on the outside wall.
On hot days, these curtains are often turned into makeshift awnings by slipping them across the balcony railing (there's a photo of this on the page about window treatments for sunny rooms.)
Modern awnings like the one to the right are relatively rare in old Tuscan villages and small towns; you'll see them mostly on new buildings.
Exterior Window Treatments Between Florence & The Alps
Part 4: Windows With 'Eyeliner' Trim


The above are pictures of window treatments on small farmhouses in the Italian Alps. I like the simplicity and effectiveness of these three-color schemes. (By the way, the term 'eyeliner' is not official terminology! I'm just using it because it describes the look so well :-)
You can see that most of these windows have a counterwindow inside. The air trapped between the two serves as a very efficient heat barrier in the winter.
The second window from the right combines the crisp look of the exterior window treatment with a useful function for the interior: Painting the recess white helps reflect sunlight into the room and, to some extent, makes up for the smallness of the window.


These two pictures of window treatments from Northern Italy take the 'eyeliner' approach a bit further by adding some flourish and, if you look at the left photo, a stylized keystone ornament. It's an easy-to-copy look that can be very effective, even if you just add a skinny line around the window and a very small ornament (in a contrast color) above the center of the lintel.
(Return to Top)
Exterior Window Treatments Between Florence & The Alps
Part 5: Baroque-Inspired Exterior Window Trim
Many antique town centers in Northern Italy retain beautiful Baroque features in their architecture - but you don't need to live in a 17th-century home in Italy to be able to enjoy this style yourself.
Last spring, I visited some towns in the foothills of the Italian Alps and took photos of exterior window treatments you could adopt for your own home, wherever you happen to live.
So here are some pictures of window treatments that show both the original idea and their translation into a modern or simplified version.


The photos above show a smart take on the ornament above the lintel. The ornament in the picture to the right was carved out of wet plaster at the time the house received its outer coat. The contrast between the white and light gray is minimal and, in combination with the 3D surface, gives this exterior window treatment a sophisticated look.

To the right, one of my favorite exterior window trim ideas:
Palladian grandeur rendered with a humble paintbrush!
(And notice how the exterior window trim of the "original" [left], with its molded classical pediment and white background frame, makes the window look at least twice its actual size!)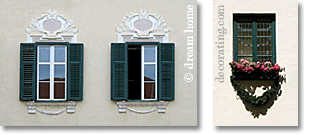 Next, a very pretty but labor-intensive version of the Baroque garland ornament (photo left).

This is quite a high maintenance solution for everyday exterior window treatments - but could you see yourself creating your own version of this for the next Holiday season? How about binding an evergreen Christmas garland with red ribbon, and planting the window box with fiery red cyclamen? (Just a thought.)

Anyway, here's another set of exterior window trim ideas from Alpine Italy:


This type of corner design was used from the Renaissance onward (I found a sketch by Giovanni da Bologna in the Uffizi gallery in Florence). However, I have no idea what the design is called. So if you're an architecture history buff reading this, please contact me, because I'd really like to know!
Of course it's nice to have a 3D version of this trim made by a plasterer, but it's also expensive. You could easily create the illusion of an exterior window trim by using masonry paint (there's another example of this in the next chapter, below).
(Return to Top)
Exterior Window Treatments Between Florence & The Alps
Part 5: Color Schemes
Having started out this page by praising the Italians' love of color, I feel I owe you at least some examples of how to use that color in your own exterior window treatments.
Here they are (they also make nice house paint color ideas!):

Buff yellow and green, with some white thrown in, is a popular color combination on Italian houses.
You'll find yellows with a lot of terracotta in them, as well as zingy, lime-infused tones, but the latter are quite rare in the north.
If your house is painted white or gray (or any other non-yellow color), skip the yellow altogether and just use two tones of green for your exterior window trim.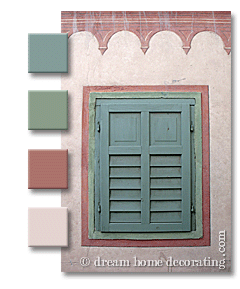 Here's one of the most-used exterior paint color combinations in home decorating (and in nature): red and green.
Unlike candy colors, these pastel tints are grayed and mellow, as if bleached by decades of sunlight.
If you've been to Italy, or had a look at the page about Tuscan color schemes, you will recognize 'dusty' pink as one of the mainstays of Italian house color schemes - not just for exterior window treatments.
These colors work well under a Mediterranean sun, but they tend to appear out of place in the cool Northern light.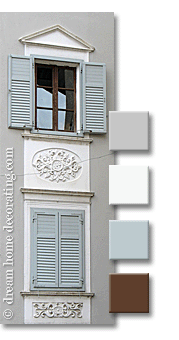 The next set of colors on this list is subtly elegant, with not a trace of warmth to it, except for the deep brown.
This is the most 'northern' house color scheme of the collection (the colors would be perfectly at home in a Gustavian interior.)
You can use this palette successfully for exterior paint color combinations anywhere in the world, under any type of light.
If you were to add flowers as exterior window treatments, reds and pinks look great here, with fresh (or dark) green foliage.

The last sample in this collection (below) is taken from a Renaissance-style mural in Northern Italy - a colorful exterior window treatment that was extended to include the entire wall.
I'm not suggesting that you paint your home in all these colors at once, but you could utilize the little swatches (or the whole mural) as a starting point for some house paint color ideas.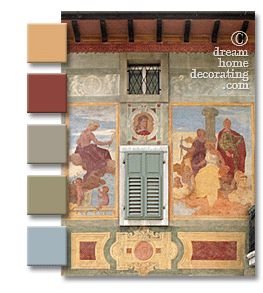 I'd say you're safe to pick any two swatches and combine them with a creamy or chalky white.
You could also dream up successful exterior paint color combinations from the top three, middle three, or lower three color swatches.
Whatever you do, add white accents with a liberal hand!

Here are a few ideas for house color schemes and exterior window treatments:
paint the walls buff yellow and add very light gray 'eyeshadow' and cotto red 'eyeliner' paint around your windows, or
paint the house a warm, misty gray, the window recess white, then add white windowboxes and red or sage green outdoor window shutters. Or,
paint the walls a sage green, the window recess white, and add very pale, smoky blue 'eyeliner' and/or outdoor window shutters as exterior window treatments.
(Return to Top)
Yet to find the information you're looking for?
Type a word or phrase into the search box below: