Interior Design Inspiration: Interview
High school senior & design aficionado Zoe de la Varre wanted to know about my interior design inspirations, philosophy and career as a designer.

Zoe: "What made you want to go into the design business?"

Renate: I've always been intrigued by the ways people organize and decorate their homes - in my own culture and elsewhere. When I was a little girl, we spent a lot of vacations in the German and Austrian Alps, and I was spellbound by the wooden balconies, the checkered bedlinen, the flavors of the food, the crockery, the tools, the clothes, and of course the dialect and the music! When I got my own room as a teenager, I wanted pine boards and red-and-white checkered curtains, because it "felt like the Alps".
What fascinates me most about interior design is how you can turn a humble, small room into a space so beautiful and personal that there's no other like it.
Beyond that,
I love making stuff
. That's why I decided to major in textiles and not interiors. I want to be able to pick up inspiration wherever I go, and turn it into
Beautiful Useful Things
.

Zoe: "Which factors do you believe are the most important to having an ideal living space?"

Renate: I believe the most important thing is that your space is perfectly tailored to your daily needs and preferences, to what matters most to you.
In the most general terms, your home should help you to
For someone who organizes a busy family life, it's important that things are sturdy, low-maintenance and easy to keep clean and tidy. This doesn't mean your space should look somehow pedestrian and plain - it can be enormously beautiful, serene and glowing with life, as long as it's also smart and saves time and effort on the daily donkeywork.
On the other hand, someone who sees their home only mornings, nights and weekends would probably focus it entirely on the things he or she does in their leisure time.

Zoe: "Do you believe psychology (such as in color) is an important part of designing a home? Why or why not?"

Renate: I think psychology is important on several levels, and an interior designer needs a strong set of psychological skills. Before you can support a client with getting what they want, you have to be able to find out what they are about. So you have to ...
Zoe: "Where has most of your inspiration come from?"

Renate: Firstly, travel. The world is so incredibly rich and diverse! Whenever I can, I go somewhere that's different from home. It keeps me in ideas :-)
Secondly, limitations! When you can't just go ahead & buy whatever you fancy, that's when interior design gets really interesting - when you have to find original solutions to unique creative challenges.

Zoe: "How do you feel different colors can affect a room?"

Renate: Apart from the psychological effects of any given color, I think the secret is in combining colors well, and in getting the saturation, proportion and extension of each color right. You can actually get away with very whacky color combinations, as long as you don't use them in more than 10% of the room! (There'll be a lot of information about all this in the book I'm currently working on).

Zoe: "How do you go about choosing your ideal color for a room?"

Renate: I always start with what's already there and what can't, or won't, be changed. Then I check out the aspect and the type of daylight you get in the room (cold? bright? warm and golden?) - this helps to determine what kind of color the room needs so that it feels right for its intended use.
Zoe: "Out of all the places you have visted, which resounds the most with you because of the architecture and/or interiors?"

Renate: Awww, that's a tough one ... every place has its own unmistakable character and attraction. Probably the most jaw-dropping place I've seen is the old fort of Jaisalmer in Rajasthan, India. The Jain temples and the carved window screens of golden sandstone were awesome - if you want to get drunk on beauty, I suggest you try Rajasthan.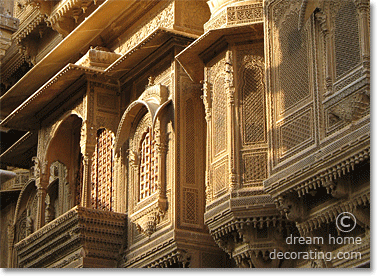 Apart from that, for attractive architecture in gorgeous locations, I think Italy takes some beating. And for interiors, France is generally my #1 - the French are very creative with color, nonchalant about mixing textures, shapes, and periods, and the way they often repurpose antique objects to fulfill new functions is really inspiring as well.

(Return to Top)
Zoe de la Varre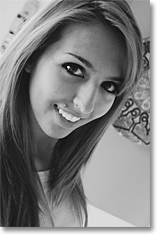 Zoe de la Varre is a senior at Woods Charter School located in North Carolina. She was born in Scotland, UK and grew up in a cultured and creative environment.
She has always been interested in art and will be attending East Carolina University in the fall, majoring in interior design.
She is looking forward to being able to design and decorate homes in the future and hopes to bring her creativity into her designs.

(Return to Top)
Yet to find the information you're looking for?
Type a word or phrase into the search box below: