Home
› French Interiors
French Interior Design & French Home Decor
French interior design is bold, sophisticated, and chic. It is also very quirky and personal, as you'll see in these articles and photos of real French homes. Use my tips & tricks to create your own, authentic French home decor. It's easy!

Quick Links: Click A Pic!
French Interior Design Ideas:
7 Essential Elements Of French Decorating

French interior design is less ostentatious - and more earthy & fun - than most people think.
It's usually a mix of art, antiques, repurposed vintage items and the latest fashions ...
... with the occasional bit of country or kitsch stirred in.


French Interior Design:  Earthy country elegance with a gilt edge.

Of course, it takes a serious amount of sophistication to pull this off, but trust the French, they have it in spades.  And so will you - just read on for some of their best decorating tricks!
French style decor is about creating spaces with a truly original flair - and the occasional healthy dash of flamboyance.
French Interior Design, Rule #1:
Under-decorate.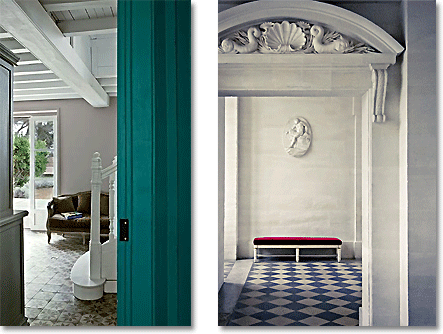 French Interior Design:  Hallway seating.  © left: Gilles Trillard for côté maison; right: campra

'Flamboyance' and 'flair' doesn't mean filling your home with loads of impressive, attention-grabbing things.
After the excesses of the French royal court in the 18th century, French home decor took a route of (comparative) restraint, and has stuck to it ever since.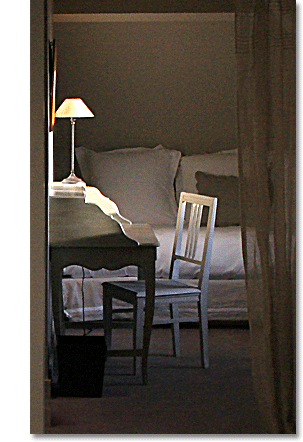 Writing desk, northern France.  © toprural

'Underdecorating' can take many forms, and you can show your French decorating savvy by using some (or all) of them:
♦   Leave some walls completely bare - without pictures or ornaments.
♦   Use simple, natural fabrics: raw linen, cotton duck, cheesecloth.
♦   Go easy on the frills: stay away from ruffles, tasseled fringes or an overdose of floral fabrics.
♦   Pair baroque curves with straight lines.
♦   More examples of this on the page about French Provincial Decor!
French Interior Design, Rule #2:
Be Bold!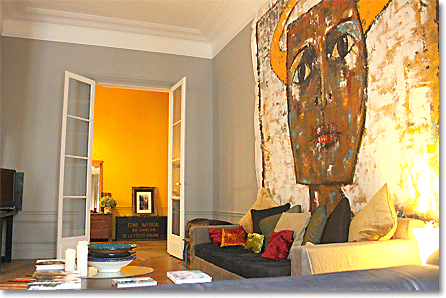 French Interior Design:  Living room in a Paris apartment.  © paris sharing

This may sound like a contradiction to Rule #1, but it isn't.
Because while French home decor can be many things, timid isn't one of them! So bring just one  oversized or otherwise spectacular item into your French style interiors: a sensationally colorful, extravagantly large ceramic bowl on the coffee table, or a piece of wall art the size of an entire wall ... that sort of thing.
French Interior Design, Rule #3:
Mix Old & New.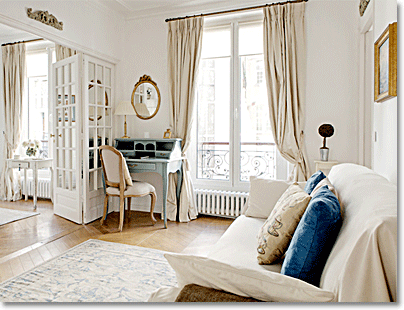 French Interior Design:  Parisian living room.  © private homes

If you have a Louis XV chair, don't surround it with more  Louis XV chairs. An antique piece comes across with more weight and dignity when you contrast it with simple contemporary, modernist or even minimalist furniture. (In the picture above, the baroque elements are balanced by a clean-lined contemporary sofa.)
French Interior Design, Rule #4:
Mix Raw & Refined.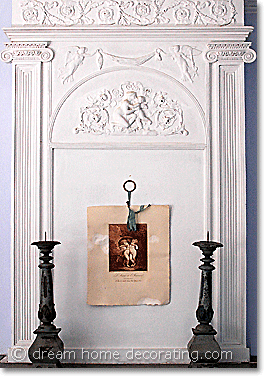 Stucco mantelpiece in a Provençal farmhouse.

One of the things that strike me about French interior design is the playful attitude towards the past.
There is so much gorgeous old stuff sitting around in people's homes that it doesn't need any 'packaging' to make it look even more special, gorgeous, or old.
For example, the plasterwork on this chimney breast (in a Provençal house) is antique, and so is the somewhat frayed copperplate engraving.
Why frame it?
The owner just hung it on a rusty iron hook and fastened it with a faded silk bow.
French Interior Design, Rule #5:
Mix Country & Court.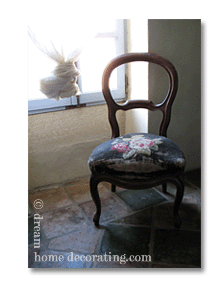 Just because you're not in Paris doesn't mean you don't do things with a flair ... and just because you're in the country doesn't mean you can't have a living room or bedroom that is elegant and, well, regal.

The antique chair of the photo, right, sits in the (gasp!) bathroom  of a small, rustic-chic and rather exquisite country house in southern France, Les Sardines aux Yeux Bleus  in Gattigues.
It displays its elegant lines against the backdrop of a sheer linen curtain that's been swept up from the floor in a big, sculptural knot. (More about French country curtains here!)

By the way, it was Madame de Pompadour, the most famous of Louis XV's maîtresses, who introduced straw-seated chairs from Provence into the royal interiors of Versailles castle. If she  could plant rustic elements in silk-and-giltwood rococo salons, then certainly you  shouldn't hesitate to add some raw country elements to your own French interior design :-)
French Interior Design, Rule #6:
Look Up!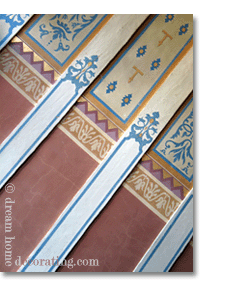 Here's a picture I took at one of the prettiest castles in the Loire valley, Chenonceau.
This painted ceiling is just one of its many marvels.
Now you could of course say, castles are a special case of interior decorating - after all, they're built to show off wealth and power, right?
So really, having gorgeous ceilings is the least you can do if you're a castle, French or not French!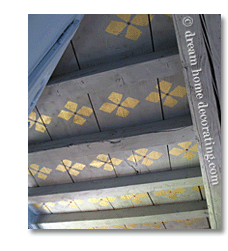 Now check out the ceiling to the right: it's part of a contemporary country French bedroom in a sky blue/gold color scheme. Especially gold. Loads  of gold!
It's in a lovely little hotel, La Maison de Blauzac, tucked away in a tiny town in the south of France. (Click to view French country designer bedrooms!)
For more pictures & ideas for French ceilings, head over to the page about French Provincial Decor.
French Interior Design, Rule #7:
A Bit Of Gold Never Hurt Anyone.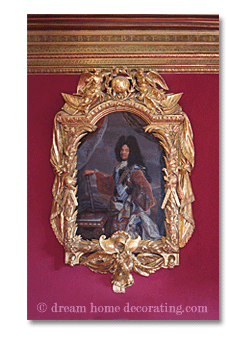 Obviously, French interior decorating isn't all  about gold or castles (in fact, much of it isn't!)
However, I wanted you to see this picture, just for the heck of it.
It's a life-size  portrait, given to the owners of Chenonceau  castle by the sitter himself, King Louis XIV ...
...and it has the most over-the-top giltwood frame I've seen in my whole life. (It looks much more amazing when you look up to it in person ;-)
To be sure, contemporary French interior design doesn't generally go to these lengths, and that's not just for the current lack of kings. But if you're into French home decor, something gilded, or at least something polished to a high sheen, will never go amiss.

That said, I also find that French interior decorating is much more interested in gracious living than in Parisian uber chic.
It's about the art of making everyday life really, really enjoyable.
Now if you're not currently the proud owner of a French castle, or of an antique pile in the countryside, how do you  create convincing French interior design? Below is some selected reading:
French Interior Design Examples, Tips & Accessories
A. French Country  Decor


French Country
Decorating
Decorating 'French country' is one of the most popular styles around - an elegant, subtle mix of history, shabby chic and eclectic contemporary charm.  The page about French Country Decorating has an overview of all country French decorating ideas on this site.
Provence Interiors from the south of France are the darling of French country home decor. You'll see some of the decor ideas & style elements I found in Provence on the page about French Country Interior Design.
B. French Interior Design For
Colors, Walls & Fabrics


Antique & Vintage
French Fabrics
A successful way to develop your color schemes for French interiors is to start with the fabrics  you're going to use - bedcovers, furnishing fabrics and window treatments. Look for ...
♦   Antique linens, grain sacks and ticking - they're highly popular French furnishing fabrics. Check out the page about French Country Fabric for gorgeous photos, shopping and decor inspiration!


What Is
French Toile Fabric?
♦   Toile de Jouy - it's still the most well-known and 'quintessentially French' of all decorating fabrics.
♦   French Country Curtains are a secret weapon for elegant & rustic French interior design, and lastly ...
♦   French Wall Art: an instant, high-return Frenchifier - find out how to get the look right!
C. French Interior Design Shortcuts & Cheat Sheets


'Frugal French'
Tips & Tricks
Many people believe you need at least a few pieces of Louis XV reproduction furniture (if not genuine antiques) to create a French look.  But you don't!
♦   French interior design can be done on a shoestring. Check out these 5 Frugal French Country decor ideas for quick, inexpensive touches of "Frenchness"!
♦   Also, have a look at 5 Creative French Country Interior Decorating Ideas - little tricks to give your French interiors an easy, relaxed vintage feel. (More tips below!)
♦   In Preparation: How to "Frenchify" your home in 7 simple steps, from inexpensive to pricey. Knowing these simple tricks can make all the difference to your French home decor!
D. French Interior Design Ideas, Room By Room


French
Bedroom Design
♦   French Bedroom Interior Design - lots of examples from all parts of France: Provence (designer bedrooms), North, West & Central France and the South & East.
♦   French Bathroom Decorating Ideas: a potted history of French bathrooms, loads of authentic French country bathroom examples, plus bathroom furniture to buy.
♦   French Country Kitchen Design: Style elements and materials that constitute a French country style kitchen.
♦   French Country Kitchens: Get the Look  of French style kitchens without replacing the kitchen you already have.
E. French Interior Design Shops:
Furniture & Accessories
1. Accessories


Toile Bathroom
Accessories
♦   French wall art (eBay)
♦   Toile bathroom accessories (Amazon & other)
♦   Black 'toile' dinnerware (eBay & Amazon)


2. Fabrics, Wallpaper & Curtains:


Toile Wallpaper

♦   Matelassé bedspreads (Online retailers)
♦   Toile wallpaper (Online retailers)
♦   Toile de Jouy fabric by the yard (Amazon)
♦   Waverly toile fabric by the yard (Amazon)
♦   Toile curtains & Valances (Amazon)
♦   Country French curtains & valances (Online retailers)
♦   Toile shower curtains (Amazon & eBay)


3. Furniture:


Louis XVI Settee

♦   French country beds (Online retailers)
♦   Canopy iron beds (Online retailers)
♦   Black metal beds (Online retailers)
♦   White metal beds (Online retailers)
♦   Louis XVI settee (Online retailers)
♦   French settee - includes straw seated Provençal style settees (Online retailers)
♦   French country bathroom vanities (eBay)
For further research, I suggest you look into some French interior design magazines, too. Here's a selection for you:
French Interior Design Magazines
French home decor magazines are renowned for their originality and inspiration. Whenever I'm in France, I bring back an armful.
Even if your French is rusty, scant, or non-existent, French interior design mags are worth it just for the pictures.

My personal favorites (most of them pictured here) are
Art & Décoration (artistic, inventive & very elegant)
Marie Claire Maison (great French design news and inspiring color schemes)
Elle Décoration (hip, fresh & eclectic)
Campagne Décoration (focuses on French country interior design and is a great bi-monthly inspiration booster)
Marie Claire Idées gets rave reviews from US readers ("I subscribe to Martha Stewart Living and I'd have to say this beats it").
Côté Sud is the cream of the crop when it comes to photography. A reliable trans-atlantic subscription option doesn't appear to be standard, but if you get a chance to buy a copy somewhere, check out the fabulous pictures of gorgeous French interiors, all bathed in glowing Mediterranean light :-)
Have a look for yourself:
French Interior Design Books
Next to magazines, books are an invaluable resource when you want to create authentic French style decor. And most books come with the added bonus of having been translated into English ;-)
The following selection of French interior design and decorating books is a combination of best rated / best selling on Amazon.com, plus a few books that are currently out of print but still listed & available second-hand on Amazon (and so good that I just had  to mention them here!)
This 'Best Of'  selected reading list (in partnership with Amazon) is focused exclusively on real French homes & interiors:
Yet to find the information you're looking for?
Type a word or phrase into the search box below: