Decorating With Toile de Jouy  Fabric:
40+ Decorating Tips & Shopping Resources
Decorating with toile de Jouy  fabric adds a touch of luxury to French interiors and French country homes. Here are decorating ideas & easy DIY projects for all rooms of the house!
Looking For Something Specific?  Click A Pic:

Decorating With Toile De Jouy  Fabric:
Room By Room
If you have a specific decorating project in mind, use a link for tips & info:

Decorating With Toile 101:
The Ground Rules
Toile prints attract the eye with their vivid, elaborate, busy pattern designs. To show off the beauty of these fabrics, use them with zen-like restraint ... because overdecorating with toile is very easy to do. Exhibit A: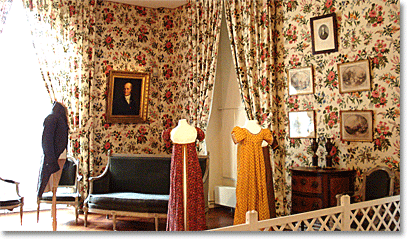 Co-ordinated Toile  wallpaper and Toile curtains at the Musée de la Toile de Jouy,
Jouy-en-Josas, France. (Photo courtesy of Marilane Borges)

Highly patterned walls go in and out of fashion, and they can  look great - but if you want to create a calm, soothing environment, there are other ways to use toile de Jouy fabrics and/or wallpapers to great advantage.

Too much toile = too much visual information. To avoid visual overload, focus the eye on just a few details - an exquisite accent pillow here, a stunning window treatment there. You'll get the best results with the following approach:


1. Combine toile de Jouy with simple geometric patterns, like stripes and checks (plus solids), and ...
2. Group no more than two color families (plus neutrals) together.
Decorating With Toile In French Bedrooms
How to use (and not to use) Toile de Jouy in a bedroom: here are three illustrated bedrooms with toile.
I used black and cream toile fabric because it looks classy, elegant and grown up: perfect for a master bedroom (You can buy black toile here.).
#1: Toile bedlinen. This puts the black and white toile bedding center stage - all other surfaces are decorated in solid neutrals.
A simple black (or dark grey) headboard shows off the toile pattern to great effect. (Just paint a rectangle of black glossy paint on the wall!)
The two toile pillows add a 'sculptural' element to the bed and stand out against the flat headboard.
This would look good with:
♦   black and glossy bedside tables (repeat the headboard color);
♦   a crystal chandelier, and/or
♦   smart wall lights with black or grey shades (gold lining on the inside)
♦   a small piece of wall art (e.g. a wrought-iron ornament or a small picture) above the headboard. Some examples of this are on the French country bedroom page.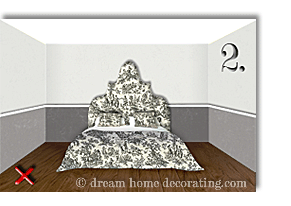 #2: Bedlinen AND headboard in toile? Not a good idea. You get a visual mess - just a fuzzy blob of pattern gone haywire.
The same would happen if you combined a toile quilt with
♦   toile bed hangings, or
♦   toile wallpaper behind the bed.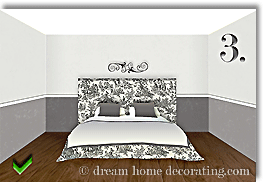 #3: Toile headboard & toile accent(s): this will immediately 'Frenchify' your bedroom to great effect - more examples on the page about French Provincial Decor!
Repeat the toile pattern somewhere else in the room, e.g. in a cushion, a slipcovered chair, or a blanket edging. See examples of this effect on the page about black and white bedrooms!

More ideas for decorating with toile in your bedroom:
If most of your bedding is in a solid color, combine toile curtains at the window with a chair slipcovered in toile (or with a toile chair pad/cushion), and have toile pillows on the bed.
If you have black and white toile bedding and a dark, simple headboard, hang a mirror or a few black and white photos in wide, toile-upholstered frames, and add a few smaller, glossy black frames to the group - a 'French' version of the Tuscan bedroom on this page.
For instant elegance at low cost, keep the bed covers in a solid, neutral color and wrap two sturdy (cardboard) boxes completely in toile fabric or toile wallpaper for makeshift bedside tables.
Decorating with toile gone frugal: line a wooden crate with toile fabric and stand it on its side next to the bed; turn it so the toile-clad interior faces the room. Leave the crate unpainted for a rustic look, or give it a coat of paint to fit with the rest of your decor. Pile some books onto the bottom 'shelf', and top the 'table' with a handsome vintage reading lamp from the flea market.
If you're choosing red toile bedding, temper the intensity of the color by adding a few light neutrals (cream, sand, unbleached linen, gray) to the room. (There are some good examples on the red bedrooms page.)
Next up: Decorating with toile in the Living Room, Kitchen, Dining Room & Home Office!


Decorating with toile can be done on a shoestring with bargain toile fabrics. And what better place to find a bargain than eBay? If you're looking for, say, a yard of inexpensive toile to experiment with, chances are you'll do much better buying a duvet cover second-hand on eBay and cutting it up, rather than buying a yard of new fabric in a dedicated store.
Yet to find the information you're looking for?
Type a word or phrase into the search box below: