Tuscan Window Treatments
Pictures of Tuscan window treatments:
Easy-to-copy, inexpensive, original Tuscan curtains for your Mediterranean style home.
Tuscan style window coverings are an all-white affair.
---

They're usually rather simple, and old pieces of Tuscan style drapery are almost always handmade.
There's enough variety in styles to keep you entertained for a long time.
And if you're the crafty type, you could have some fun copying the Tuscan style curtains that work best for your home.

This page is about simple window curtain treatments in traditional Tuscan homes.
To jump to a particular section, please click the respective link:


If it's Exterior Tuscan Style Window Treatments you had in mind - flowers, window boxes, exterior shutters, awnings, ornaments, color schemes and all that - please click the link & you will be sent to a different, very colorful page :-)
Cotton-And-Lace
Tuscan Window Treatments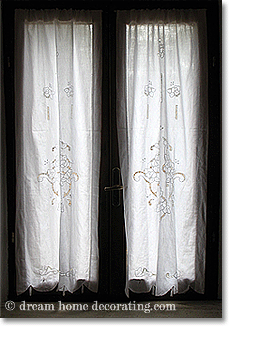 Houses in Tuscany have casement windows that open into the room.
Tuscan window treatments are usually attached to the window frame itself, rather than to a curtain rod on the wall above the window.
Most traditional window curtain treatments cover the entire windowpane, or at least most of it, and remain in place during the day.
As you can see in the photo to the left, the lightweight cotton fabric is translucent, but you can't actually see through it.

I've looked around and found very few transparent net curtains and floaty voiles as window curtain treatments in Tuscany, and there may be two reasons for this.
Firstly, while you do want the daylight, you also want to protect your living space from the glare of the sun. (And glare it does, pretty much year-round!)
Secondly, a semi-sheer fabric protects your privacy better. This is particularly true for Tuscan window treatments in small towns and villages, where the houses practically sit on top of each other and your neighbors know (or want  to know) all about you.
(Return to Top)
Styles Of Tuscan Window Treatments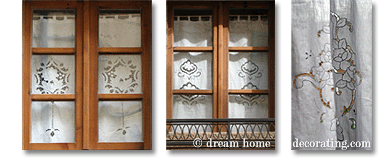 a) Renaissance cutwork embroidery, on plain cotton panels, is a style of Tuscan window treatments you'll find throughout Tuscany, even in the larger cities.
This type of window curtain treatment looks good when gathered onto a (skinny) curtain rod (as in the picture above left), but the designs really come into their own when you hang them as flat panels to the inside of your windows (above right).
Originally, this type of Tuscan style drapery was made by hand, but hardly anyone does that any more. Besides, you can buy good-looking machine embroidered panels like these at street corners all over Tuscany.
Apart from Renaissance cutwork, there are several further options for original Tuscan window treatments:

b) Crochet lace (the middle photo above). It's easy to make these little panels yourself, but you may be able to buy similar ones where you live.
c) Lace borders added to a rectangle of cotton fabric (photo right - if you're in a hurry, this is an efficient way to 'duct-tape' some Tuscan window treatments together before breakfast!)
d) Lace/crochet inserts  (photo above left). Even very small 'intarsia' can turn boring rectangles of white cotton into intriguing Tuscan window treatments.
If you would like to make your own Tuscan style drapery, the the next chapter has a few tips for you ;-)
(Return to Top)
How To Make Your Own
Tuscan Style Drapery
Tuscan Window Treatments DIY:
a) Renaissance Cutwork

Renaissance cutwork is done entirely in buttonhole stitch. Even the little bars that bridge the cut-out gaps in the fabric are covered with buttonhole stitches.
This embroidery technique is intricate and takes a good while, but the results are well worth it.
Above is an example by my friend Rosa, who lives in a tiny Tuscan hilltop village, makes fresh pasta for her family every week, pickles large amounts of fragrant tomatoes, and cures the (dead) wild boar that her husband brings home from his nightly adventures (no, I'm not  making this up!)
Anyway, back to Rosa's Tuscan window treatments.
You can see that she didn't plan to spend weeks on this - she limited her efforts to a small but perfectly formed section of Tuscan style drapery for her kitchen window. That's all you need to make white-cotton window curtain treatments look sufficiently 'Tuscan'!
(Return to Top)
Tuscan Window Treatments DIY:
b) Simple Crochet Pictures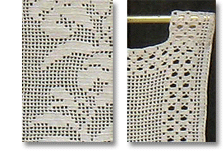 The crochet lace in this close-up of the photo above, consists of only two types of stitches: the basic chainstitch  and the plain treble.
Even if you have never held a crocheting hook in your life, you can learn this technique in less than an hour (it's best to have someone show  it to you!)
To create a "hole", you skip one (or more) stitch(es). The parts where you have stitched solid trebles make up the 'picture' in the finished product.
This is a simple and rewarding technique - by the end of the first afternoon, you'll have completed half a panel of your new Tuscan window treatments already.
(Return to Top)
Tuscan Window Treatments DIY:
c) Just Add Lace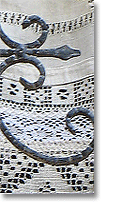 Lace borders are easy and quick to do, and they're quite a widespread type of original Tuscan window treatments. All you need to do is to machine-stitch a few strips of ready-made lace to the edge(s) of a length of cotton.
1. For the simplest version, just attach some lace along the bottom of the curtain.
2. For a more sophisticated look, first stitch several borders to the bottom alone, and then add a final border (or two) around the bottom and sides.
3. For expert  Tuscan window treatments, start out with two cotton panels, connect them with a strip of lace down the middle, then  add lots of lace to the bottom and finally some to the bottom and sides. (There's a further example in the "Large Window Treatments" section below.)
4. If all this doesn't quite fulfil your ambitions yet, consider adding some hand embroidery to your work. The photo (above left) shows a line of drawn thread work  ('openwork') along the top. There are absolutely no limits to what you can do ... as long as you're doing it in white  ;-)

You can see in the picture that different styles of lace were used on this old piece of Tuscan style drapery, and the whites don't actually match.
So don't worry about getting it right. Relax, experiment and have fun - whatever you do, it will most likely look very, very good. (When you're done with your Tuscan window treatments, send me a picture and I'll publish it on this site!)
(Return to Top)
Tuscan Window Treatments DIY:
d) Insert Special Bits


The picture to the right shows a sophisticated way of inserting decorative, lacy patches into plain Tuscan window treatments.
It involves cutting the fabric open and making a proper seam around the opening before stitching the insert into the secured opening.
But there's also a quick method, which produces a slightly less durable result, but hey. It's fast. Here's how you do it: Baste (tack)
a strip of lace, or
a little crocheted 'picture', or
an old-fashioned lace doily ...
... flat onto a sheet of cotton, and then machine stitch along its edge. (A narrow zigzag stitch will often do the trick.)
Once you're convinced that the border of your insert is securely fastened to the cotton sheet, cut the cotton backing away from underneath with sharp scissors and a sure hand ... and you're done.
(Return to Top)
Large  Window Treatments, Tuscan Style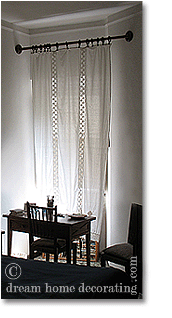 Generally, farmhouses in the Tuscan countryside don't have large windows.
Palazzi, of course, are a different story, as are the refurbished antique properties whose owners want to let a bit more light in than they used to have in the olden days.
Here are a few examples of large window treatments in Tuscany.

First up, a town house in the historic hill town of San Gimignano (left). While the window isn't actually tall, the ceilings are quite high, and the owner took that as a cue for an oversized window curtain treatment.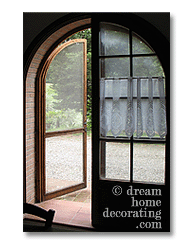 This idea is not just great for Tuscan window treatments - you could scale it up and use it on any Mediterranean-style property with large glass fronts. All you need is ample lengths of light weight cotton or linen and a long, long  strip of pretty cotton lace.
The next example is from an old Tuscan podere, a small farmhouse in the countryside (right).
The door that leads from the outside directly into the kitchen-cum-lounge-cum-dining-room has large glass panes, but there is not much of a need for window curtain treatments here, because the house is well shielded from the road. The little café curtains are just there to soften the look, rather than protect privacy.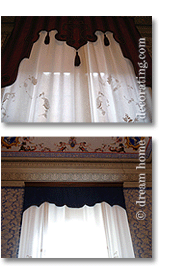 But what about a real palazzo?  Surely their   Tuscan window treatments must be a little more fancy than those of the humble country folk?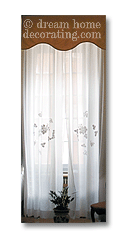 They are. A little. Here are some examples of large window treatments from the mediaeval town of Volterra.
You can see the curtains are still made of plain white cotton, and the glory is all in the beautiful embroidery and in the elegant silk damask and velvet pelmets.
Below are a few design motifs from the hand embroidered curtain panels. The chain-stitch embroidery was done over an extra layer of organza, to introduce a bit of 'shade' into the picture.
This is a kind of Tuscan style drapery that you could use in a grand old house with high ceilings and windows.
The style is, however, easily adaptable to more modern homes as well - for example, light weight scrunchy linen or cheesecloth for the curtains and heavy jute, sailcloth, or even corduroy for the pelmets would look quite hip, I think.


So ... you've come to the end of a rather long page. And ... there's more!
(Return to Top)
Tuscan window treatments outside the house are much more colorful than inside: read up on Exterior Window Treatments in Tuscany and Northern Italy (a page with loads of photos, tips & tricks).
If you're into Tuscan decorating, do visit the Tuscan Decor section, too!
Many Country Window Treatments in Europe are made of white cotton, just like Tuscan style curtains. But there's variety: Check out pictures of window treatments in rural Europe.
French Country Curtains are pieces of fabric with, well, attitude.  Have a look at window treatment photos from southern France!
Yet to find the information you're looking for?
Type a word or phrase into the search box below: