Christmas Traditions In Germany:
Childhood Memories
Of German Christmas Customs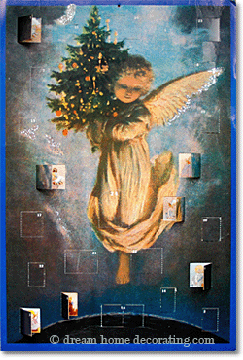 Christmas traditions in Germany, where I grew up, started with lighting the first candle of Advent ...
... and ended on the Day of Three Kings (Epiphany, January 6) with a blessing, written in chalk on the door frame of our home.
During those five magical weeks, we made/decorated our Advent wreath, crafted Christmas tree ornaments, sang Christmas songs with our family, made our own Christmas gifts, helped Mom bake cookies and made rum balls.
Celebrating Christmas in Germany is what I've missed most since moving to England 13 years ago!

Christmas Traditions in Germany,
Part 1 - Advent
Advent (= the Coming of the Christ) begins on the first Sunday after November 26, or on the first day of December, whichever happens to arrive ahead of the other.
The beginnng of Advent marked the start of a long wait, not just for us kids - according to tradition, it was the beginning of 'four thousand years of waiting for the Messiah'.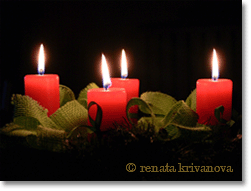 So, Christmas traditions in Germany essentially start with preparing your Advent wreath.
Ours was usually made of fresh fir twigs, with four red Advent candles, bound with red ribbon, and it sat on our kitchen table. (Here's an instruction for creating your own, moss-coated Advent wreath!
When I was very young, I remember we used to hang our Advent wreath on a red wooden stand, which remained our centerpiece until Christmas. That was the really old-fashioned way - you can see a 'historic' photo of it on my friend Gerhild's page about celebrating Christmas in Germany!  
Each Advent candle symbolizes a thousand years of waiting for the Christ, and on the first Sunday of Advent, after Mass, we would light the first candle. Every Sunday after that, you light an additional Advent candle, until all four are burning and the kids can barely contain their excitement.
We children also had an Advent calendar - that was one of the most important Christmas traditions in Germany, at least as far as we kids were concerned. (You must have an advent calendar :-)
Our favorite type of Advent calendars were the ones that depict a winter village, like the one below. It has the numbers 1-24 on the paper doors, shutters & windows of the village, one for each day until Christmas eve.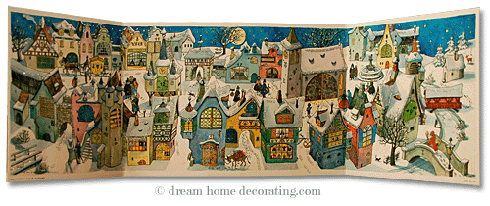 I remember when they introduced Advent calendars with pieces of chocolate instead of pictures behind the flaps ... my sister and I found them so naff, we always wanted the ones with the beautiful watercolor illustrations behind the little doors.
But Christmas traditions in Germany ain't what they used to be - my little niece Franziska will turn up her nose at any Advent calendar that doesn't have chocolate in it!
By the way, just in case you were looking to use a few of these German Christmas customs and traditions in your own family, I've selected some items that faithfully capture the spirit of celebrating Christmas in Germany:


Christmas Traditions in Germany,
Part 2 - The Christmas Bakery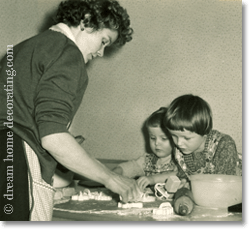 Whenever there was a sunset glow on the winter evenings before Christmas, my Mom would say: Look, the little angels in heaven are baking Christmas cookies - they're heating the oven, see?"
So when we made Christmas cookies at home, it was to "help the Christ Child with the baking".
We loved it; it was so nice and messy (particularly the bit where you painted the cookies with chocolate.)
(My Dad took this photo - it shows me, my adorable little sista and my lovely Mother in one of our messier moments. The year, I believe, was 1962.)
One thing we didn't make at home was Lebkuchen. (In English it's called "gingerbread", but there's absolutely no ginger involved :-) We always bought the Lebkuchen. Lots of it.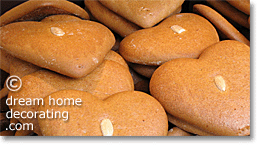 However, we had one 'in-house specialty' that was in super high demand throughout the Holiday season: our Mother's famous Rumkugeln (rum balls - click here for the recipe!).
When we were young, Mommy used rum flavoring instead of real rum, but the taste was great nevertheless.
My sister and I make rum balls every year, and our Mom's recipe - together with some of my easy to make Christmas decorations - was published last year in a book, The Ultimate Christmas
(by HCI, publishers of the legendary Chicken Soup series).
Christmas Traditions in Germany,
Part 3 - Santa Claus Day
Celebrating Christmas in Germany is not about Santa. It's (ahem) about the newborn Jesus. - Nikolaus, the legendary saint and bishop of Myra (the town of Demre in modern-day Turkey), has his big day on December 6 in Germany.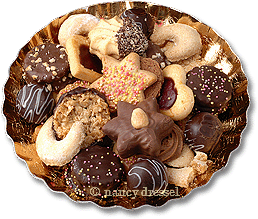 That's Nikolaustag (Santa Claus Day), and on the evening of the 5th, you put out your shoe (or a red plastic boot with white fluff around the rim, as it were).
Over night, Sankt Nikolaus (i.e. Mom) fills it with cookies and candy!
In my family, instead of shoes or boots, my Mom would fill ornate paper plates with homemade cookies, nuts and a few clementines; everybody in the family got a Nikolausteller like that.
We kids preferred the plates, too, for a simple reason: more space. That plate would last us until Christmas if we paced ourselves a bit, and it sweetened the long weeks of waiting for the Christkind.

If you feel like adopting Nikolaustag - one of our yummiest German Christmas customs - into your own Christmas festivities, I've put a collection of plate/shoe/boot fillers together for you. These are exactly the kind of goodies Mommy would have put on our Nikolaus  and Christmas plates!
And - just in case you're wondering - this is proper Stollen and genuine German Lebkuchen & marzipan. All the good stuff.  (And allow me to say, those Lebkuchen  tins are so pretty and so well-made that many people collect them year on year - either to store their own, homemade Christmas cookies and cookie-making tools, or just to put the tins out on display during Christmastime. I absolutely adore the designs. There's a new collection every year.)
Christmas Traditions in Germany,
Part 4 - Christmas Eve
In Germany, the countdown to Christmas ends on December 24, Heiligabend (Holy Evening). Christmas Eve is the highlight of celebrating Christmas in Germany, seeing as Santa has already made his visit on December 6.

You get to open that last 'door' in the Advent calendar, the one with the Biggest and Most Beautiful Picture of all. In the calendar below, no. 24 is the church portal: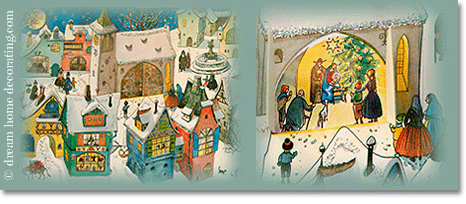 When we were little, we never got to see our Christmas tree before Holy Evening.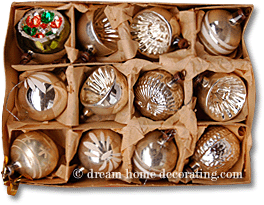 The 'Christmas room' (= our living room) was locked - top secret - and our parents would decorate the tree with antique silver blown glass baubles and live candles.
Then, around 5 in the evening, a little bell would ring.
That was the sign that the Christkind had come and left presents for us!
Click for instructions to make your own 'snow'-covered Christmas tree balls, pinpricked paper ornaments and gilded walnut decorations!

Christmas Traditions in Germany,
Part 5 - Midnight Mass
As soon as we could convince our parents that we were old enough to stay awake for at least part of the night, they took us to the Christmette, the "Christ mass". For some, this midnight service on December 24th is the most special church event of the whole year, and celebrating Christmas in Germany is not really complete without it.
At the end of mass, everyone goes to see the Krippe, the nativity set. In our church in my home town, it was life-size and colorful - I never took a photo, but to give you an idea, here's the Krippe of an old church in the Black Forest: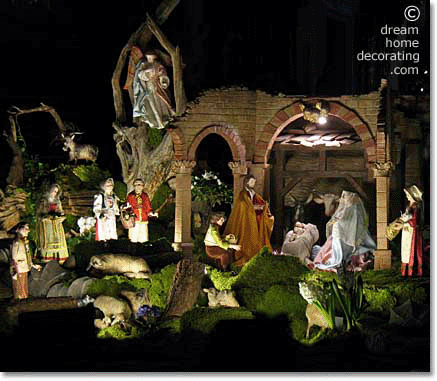 Every church, even the tiniest village chapel, has a nativity set of their own, usually made locally. The sets vary in style, but they often feature local scenery and figures dressed in the traditional costume of the region to signify: Jesus was born right here, for you. The people around the manger, that's us.  Click here for a picture gallery of German and Italian nativity sets!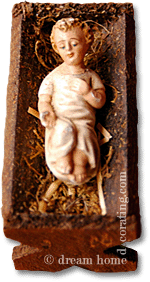 According to German Christmas traditions, the typical elements of the nativity are:
A makeshift shelter with the newborn Jesus in a manger, Mary and Joseph looking on in wonder and adoration
The ox and the donkey (a tradition going back to Isaiah 1,3)
Shepherds, surrounded by their animals, who arrive to bring sustenance for the young family
The Three Kings, complete with camels, golden vessels and ornate exotic dress, and
Angels. At least one, but usually quite a few (according to the Bible, there were loads of them around that night.)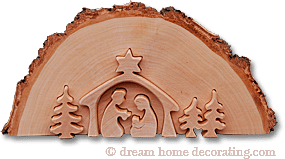 Many families have a Krippe at home, too. You can set it up during Advent, but if you're following strictly traditional German Christmas customs, you leave the manger empty until the evening of December 24.

I love Christmas cribs - they're one of the highlights of Christmas traditions in Germany. For centuries, artists and craftspeople and regular folk like you & me have put their love and talent into depicting the Nativity, as an expression of devotion and real tenderness.
Christmas Traditions in Germany,
Part 6 - "Between The Years"
Between Christmas and New Year's Day lies my favorite time of the year ... one of the best parts of celebrating Christmas in Germany as I remember it. Long walks in the snow (if there is any), reading all the books I got for Christmas (usually a nice big pile), writing my 'thank you' notes, and just being, with nothing to do. Wonderful.
Christmas Traditions in Germany,
Part 7 - The Three Kings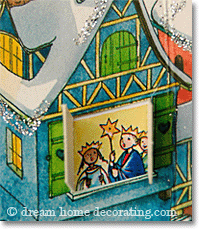 Christmas traditions in Germany end with Dreikönig, the feast of the Three Kings on January 6.
(In English speaking countries, this day is known as 'the Twelfth Day of Christmas', or Epiphany if you're Catholic.)
To celebrate the Wise Men who followed the star to find the newborn Jesus in Bethlehem, some of the older boys dress up as the Magi themselves.
They go round the houses to sing and collect donations for a charity. We call them Sternsinger (star singers).
Wherever people open the door for them, Caspar, Melchior, and Balthasar (as they're traditionally called) leave their inscription on the doorframe:


This inscription has a double meaning. C+M+B are the initials of the three Magi, but the letters also stand for "Christus mansionem benedicat" - 'may Christ bless this house'.
Once you have your inscription from the Three Kings, that's Christmas traditions in Germany complete.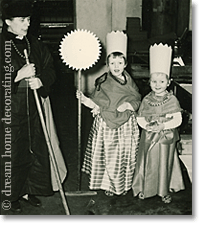 The Kings write their blessing with a piece of chalk, and we make sure the inscription stays on the doorframe until January 6 of the following year.
When I was little, girls weren't allowed to be Sternsinger. But our wonderful Aunt Hanna had a dressing-up chest the size of other people's garden shed. (She also had a wicked sense of humor, but that's for another page!).
Hanna saw our problem and decided to help us out. Here she is, the third magnificent King, with my little sister and me in our Grandfather's workshop!
Yet to find the information you're looking for?
Type a word or phrase into the search box below: